Rupee Surges to Three-Month High as Current-Account Gap Shrinks
This article by Jeanette Rodrigues for Bloomberg may be of interest to subscribers. Here is a section:
India's rupee surged to the highest level in almost three months after a report showed the nation's current-account deficit shrank to the smallest in four years.

The currency jumped the most since Nov. 18 after the Reserve Bank of India yesterday reported the shortfall was $4.2 billion in October through December, compared with $5.2 billion for the prior quarter. Gains will be limited due to the risk that elections scheduled to start next month will result in a weak or indecisive coalition, according to Citigroup Inc.

The rupee rose 1.1 percent to 61.1150 per dollar in Mumbai, according to prices from local banks compiled by Bloomberg. It touched 61.1050 earlier, the strongest since Dec. 10. The S&P BSE Sensex index of shares climbed to a record as exchange data show global funds bought a net $596 million of Indian stocks this year.

"The upcoming general elections are an important event to watch," Rohini Malkani, an economist with Citigroup in Mumbai, wrote in a report yesterday. "Despite an improvement in the current-account deficit, we expect the rupee to remain in the 61 to 64 range."

India's current-account deficit narrowed from $31.9 billion in the October-December period a year earlier. The deficit is the least in data going back to 2010, which are calculated using the latest International Monetary Fund guidelines.
Currency markets have come into focus over the last 18 months as first Japan, then other Asian countries, called a halt to appreciating currencies. India is somewhat different since its currency weakness has long been attributed to persistent current account deficits. The Rupee fell to an historic low of INR68.84 in August which prompted the central bank governor to aggressively raise interest rates in order to stem the decline. They succeeded in that objective and the Rupee has stabilised over the last six months below INR64. A sustained move above that level would be required to question the central banks resolve in supporting the currency.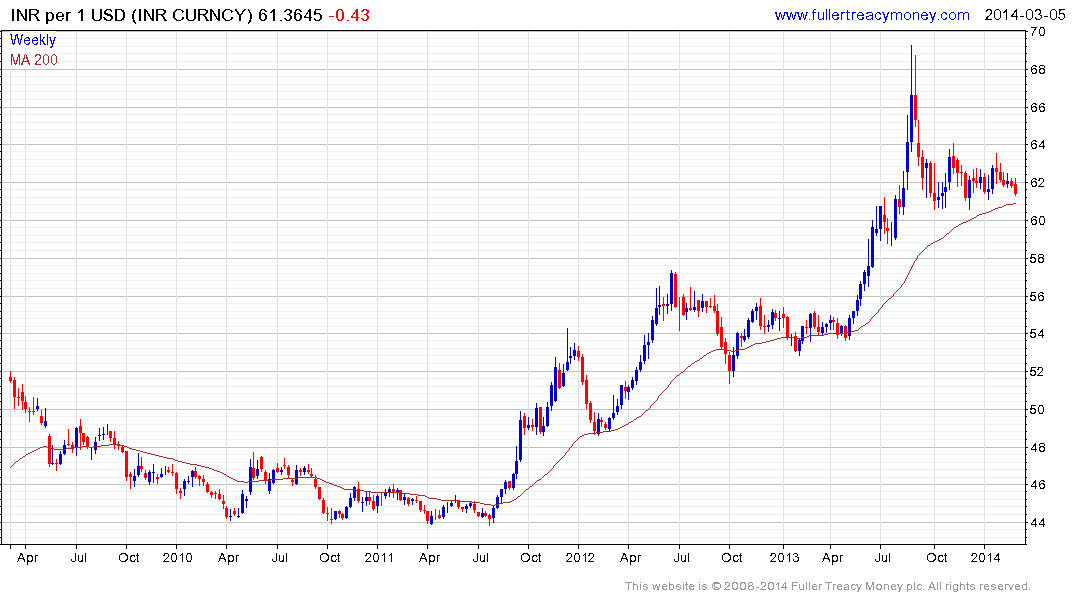 The weakness of the currency acted as a deterrent to foreign investors last year but the more recent stability of the Rupee has served to enhance the economy's competitiveness and the stock market is responding. The Sensex Index hit a new all-time high today while the Nifty Index is testing its highs. The market is being led higher by India's world class export sector.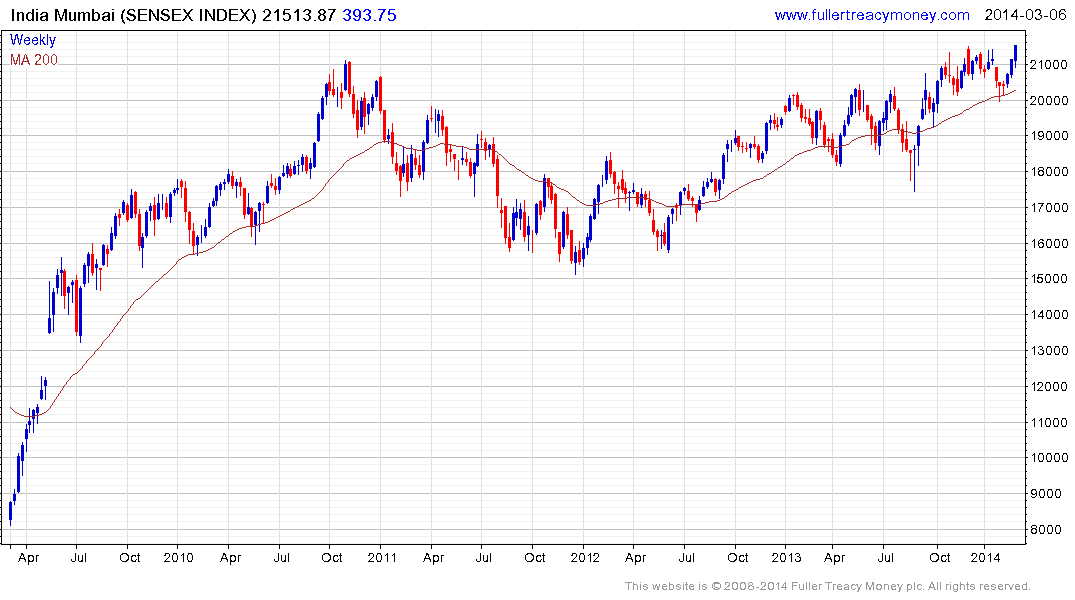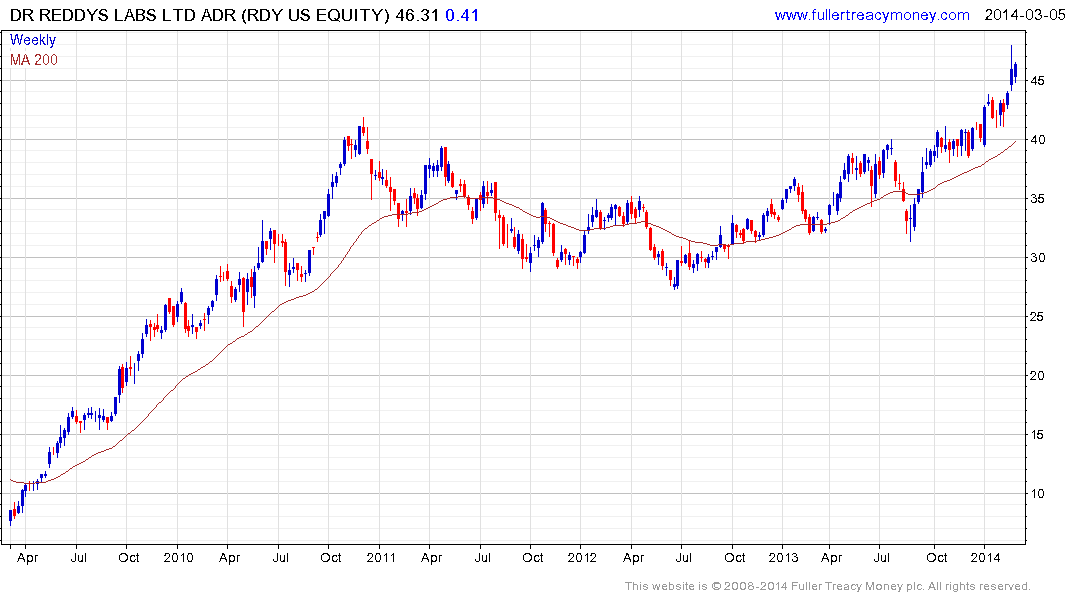 Dr. Reddy has a US listed ADR and shares a high degree of commonality with other generic drug manufacturers. The share hit a medium-term peak in 2010 and developed a saucering characteristic over the last three years before breaking out to new all-time highs in December. While somewhat over extended relative to the trend mean at present, a sustained move below $40 would be required to question medium-term upside potential.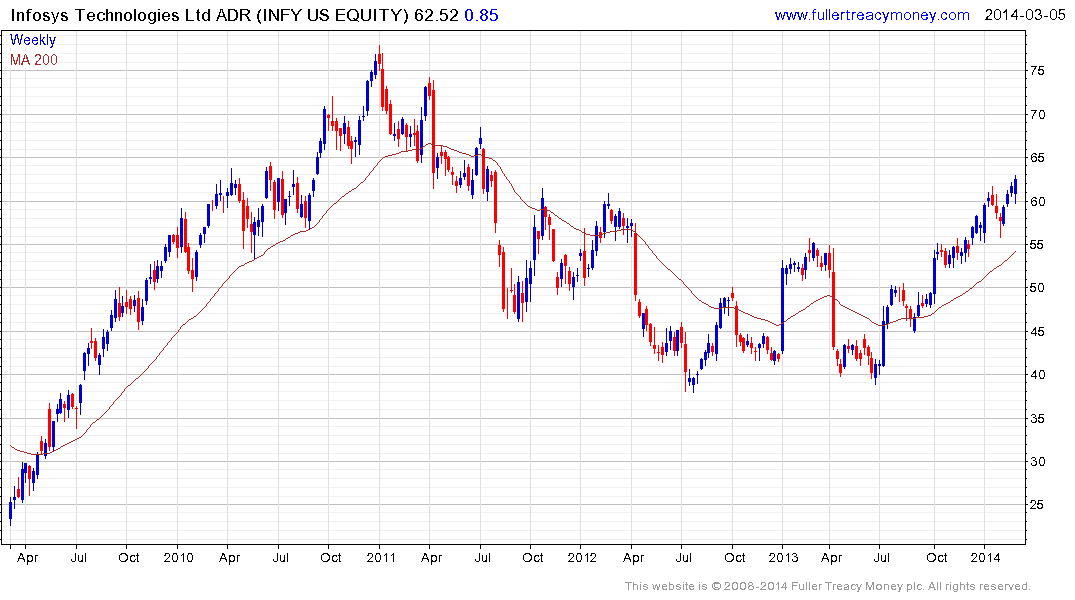 The performance of Infosys' ADR was hampered by the weakness of the currency, so while it is hitting new highs in local currency terms, the ADR only broke its progression of lower rally highs in December. A sustained move below $55 would be required to question recovery potential.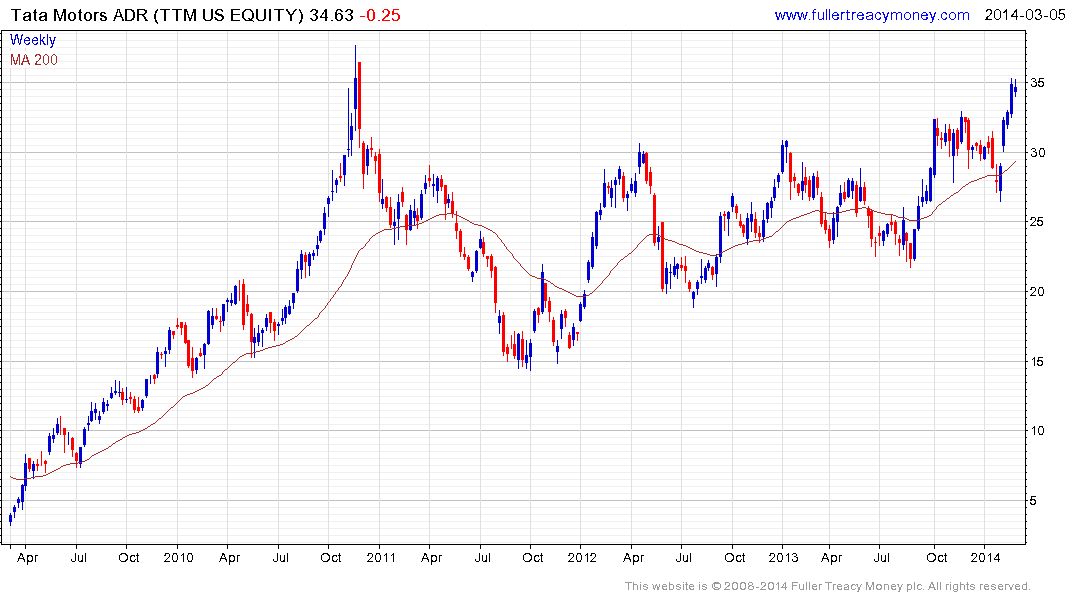 Tata Motors' ADR has held a progression of higher major reaction lows since late 2011 and is now testing the 2010 peak. Some consolidation of recent gains is likely but a sustained move below $30 would be required to begin to question medium-term scope for a successful break to new all-time highs.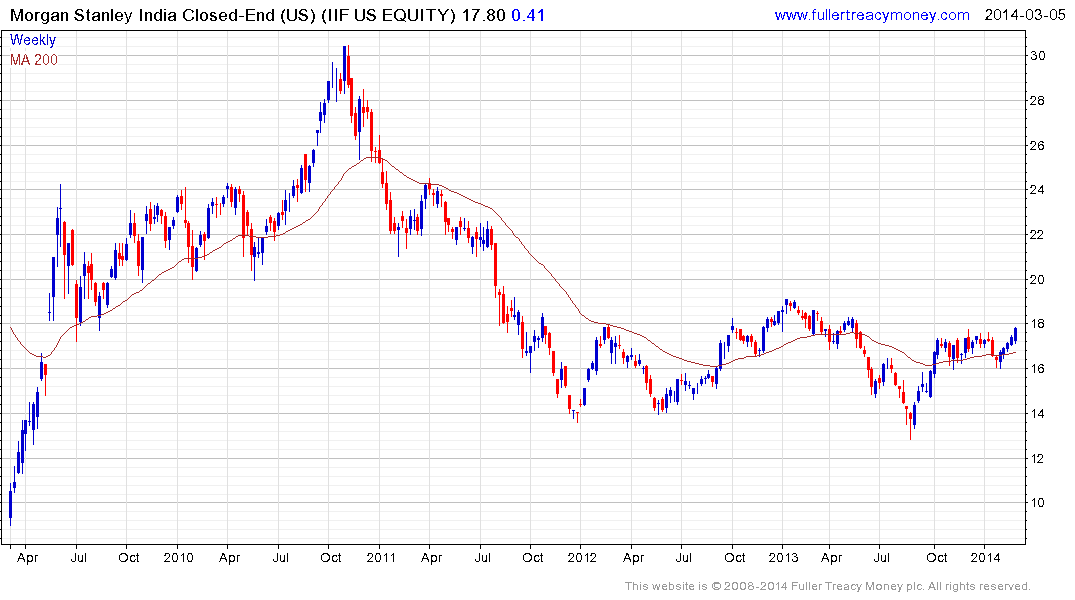 The US listed Morgan Stanley India Closed End Fund is among the better performing instruments in its category, trades at a discount of NAV of 10.845% and is rallying towards the upper side of a two-year base.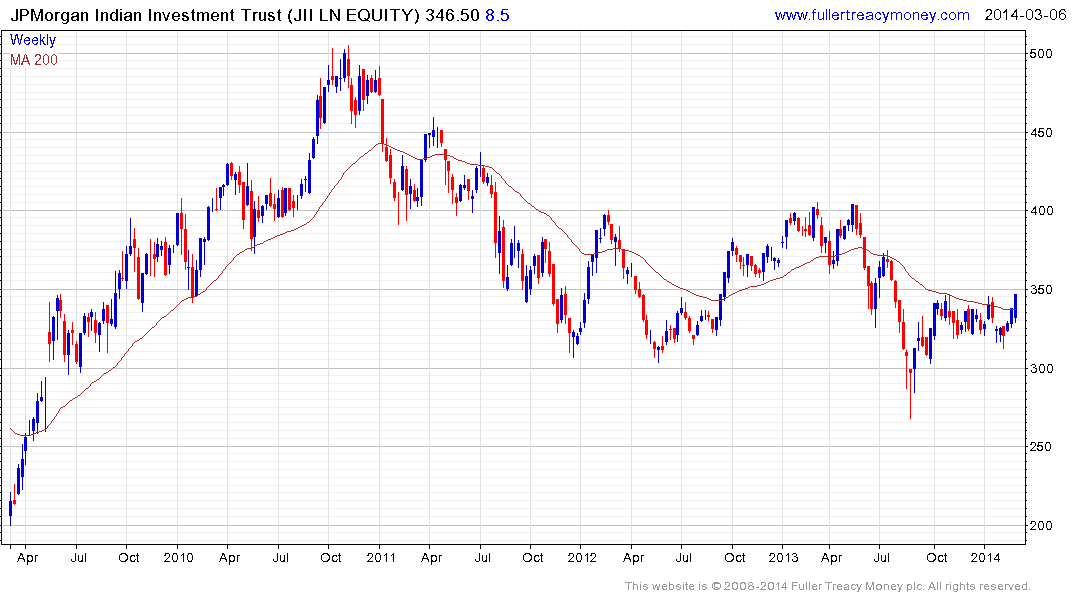 The UK listed JP Morgan India Investment Trust trades at discount to NAV of 11.09% and has rallied over the last three weeks to test the upper side of six month range.
Back to top