Rolls-Royce Disposal Raises Questions Over Balance Sheet
This note from Dow Jones may be of interest to subscribers. Here is a section:
Rolls-Royce's GBP2 billion disposal announcement is materially more than what the market had in mind, and may imply a lower need for fresh equity to repair its balance sheet, Credit Suisse says. This raises questions as to whether the company was waiting for things to improve before a rights issue or taking the risk of seeing things get worse, the Swiss bank says. The lack of visibility on the balance sheet rebuild, persistent volatility in forecasts and the unattractiveness of the underlying investment case mean the stock remains unappealing for many investors, CS says. The bank has an underperform rating on the stock, and lowers the target price to 200 pence, from 210 pence. Shares are down 9% at 219.40 pence.
As a major plane engine supplier Rolls Royce has been significantly negatively impacted by the Boeing 737 Max debacle. As if that were not enough the collapse in air traffic and cancellation of orders for new planes has been a double blow. The share is down more than 80% since early 2019 and made a new low today.

The UK government is not about to allow Rolls Royce to go bankrupt so terminal decline is off the table. The company has an enterprise value of around £8 billion at today's valuation. That's a pittance relative to the speculative frenzy in the technology sector.
Rolls Royce has partnered with Reaction Engines to commercialise the SABRE (Synergetic Air Breathing Rocket Engine) which is ramping up to its first test flight and aims for Mach 5 flight and Mach 25 for escape trajectory on space vehicles.
The company is also working with Boom Supersonic to develop a personal supersonic aircraft. They expect to have the first test flight in little more than a month.
All of the main military powers are investing in hypersonic missiles, drones and planes. They are viewed as first strike weapons and there is understandably a race to field battle ready designs.
The promise of hypersonic travel is no more aspirational than autonomous driving yet investors do not afford legacy companies the leeway they do start-ups.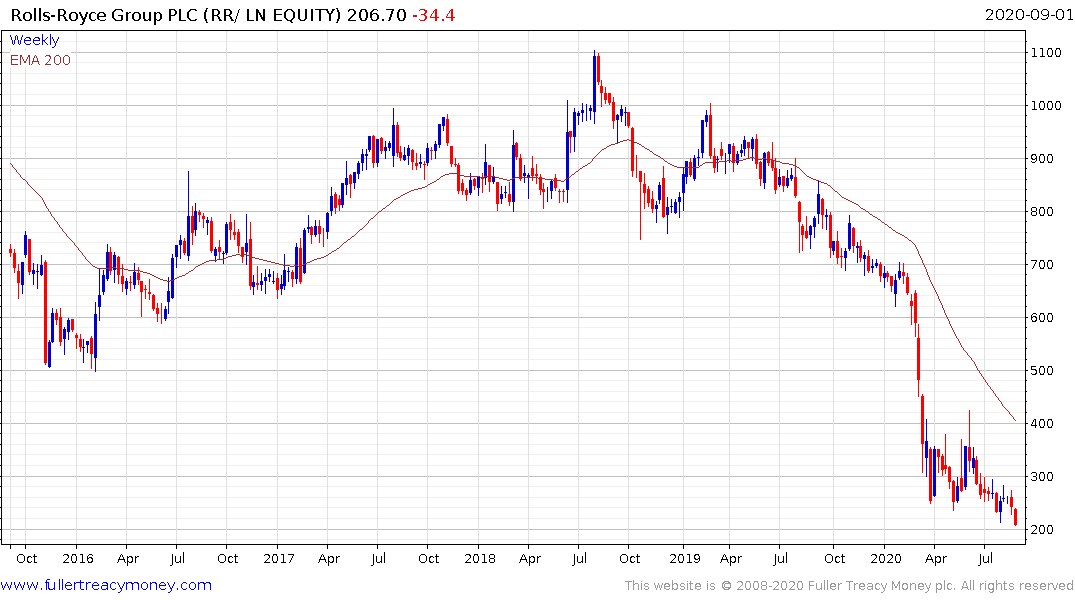 Rolls Royce has lost downward momentum over the last few months and there have been a series of failed downside breaks. Even so the succession of lower rally highs remains intact. This is potentially a developing Type-2 bottoming characteristic. A massive reaction against the prevailing downtrend would confirm the low. Before that, a rebound to post another failed downside break will be required.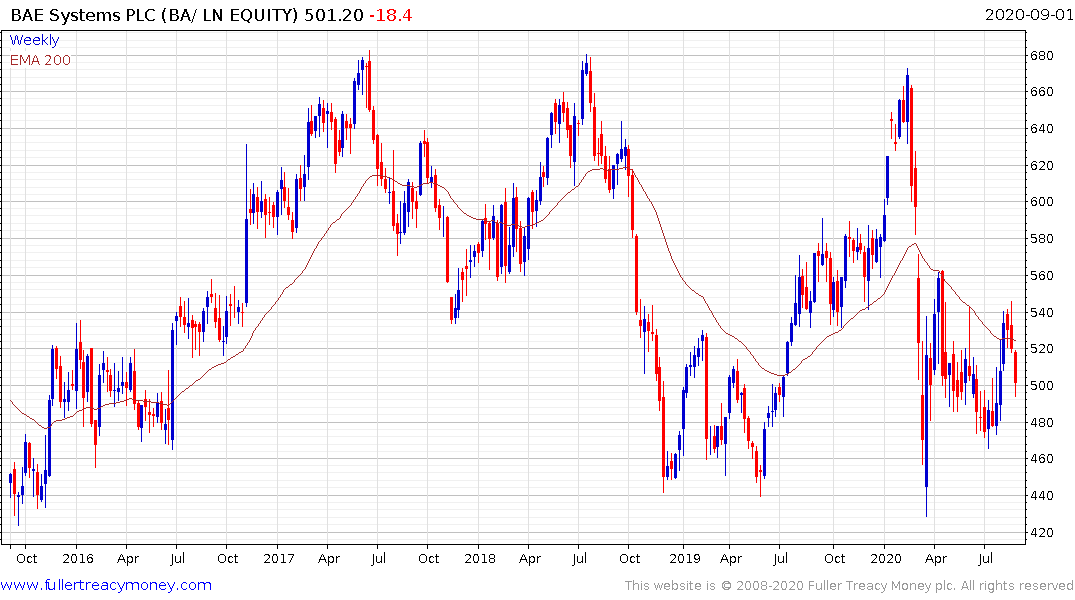 BAE Systems encountered resistance in the region of the trend mean last week and remains in a medium-term range overall.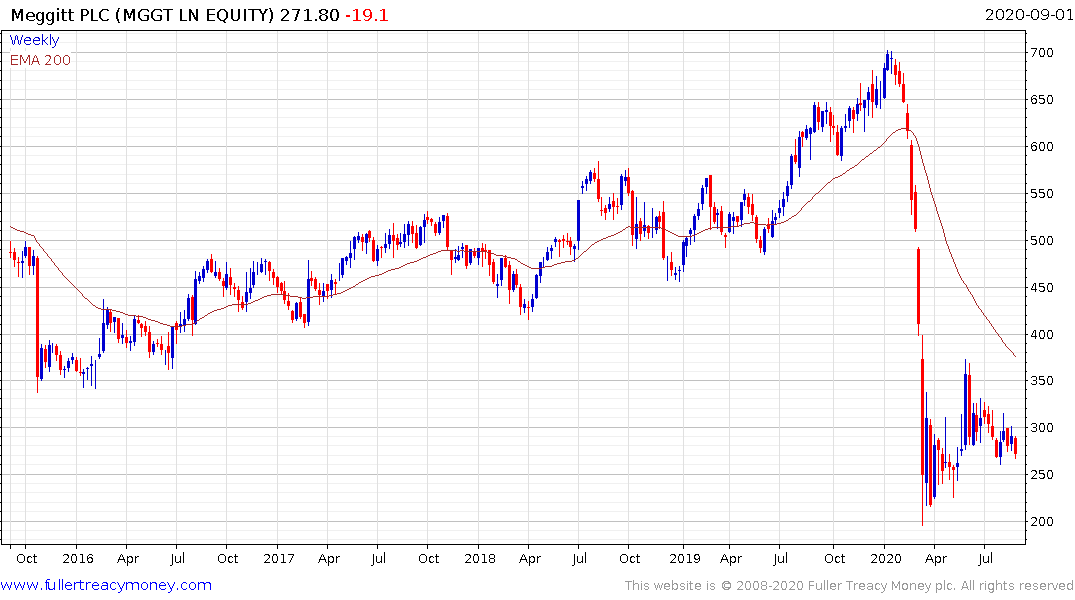 Meggitt has also collapsed and has pulled back of late to test the near-term sequence of higher reaction lows. If support building is underway the 200p level will need to hold.
Back to top