Rolls-Royce Chief Unveils $6.5 Billion Covid Survival Plan
This article by Charlotte Ryan and Christopher Jasper for Bloomberg may be of interest to subscribers. Here is a section:
The funding plans:
* A 10-for-three rights issue, which will come at a 41.4% discount to Wednesday's closing price, has been fully underwritten
* A 1 billion-pound bond offering will proceed in the near future
* Contingent on completion of the equity offer, Rolls said it also has commitments for a two-year term loan of 1 billion pounds
* U.K. Export Finance has indicated backing for an extension of its 80% guarantee to support a 1 billion-pound increase in an existing loan, subject to completion of the rights offer

The fundraising would boost Rolls-Royce borrowings to almost 16 billion pounds, according to data compiled by Bloomberg and company announcements. BNP Paribas SA, Citigroup Inc. and HSBC Holdings Plc are coordinating the company's bond offering and new term loan facility, according to people familiar with the matter.

The package is based on a worst-case projection where a second wave of the coronavirus leads to a slower recovery, East said. The financing should "take any liquidity questions off the table" through the crisis, he said, adding that Rolls-Royce doesn't have any plans to seek a bailout from the U.K. government, owner of a so-called golden share.
Refocusing the company on defense innovation and renewable energy reflects the evolving market environment. The future is about hypersonic missiles and travel, airbreathing rockets and significant efficiency gains in fuel consumption. Meanwhile, the company's daily revenue is heavily exposed to the service agreements on the existing and future number of engines flying around the world.
The airline industry is in the midst of a massive rationalisation and tens of thousands of layoffs are being announced as worker retention programs are wound down. That represents near-term headwind because they are unlikely to be ordering new aircraft while this is going on. However, the outlook for the sector is closely tied to the strictness of quarantines.
China's airline industry is recovering. Pictures of dense crowds of people at Shanghai's Pudong airport reflect the willingness of consumers to get on a plane even with a pandemic raging in the media. Golden Week is still Golden Week. That kind of enthusiasm for travel might be a few months away for many other countries, but the Christmas travel season will be a significant test. That's particularly true amidst increasing unease with the slow pace of reopening.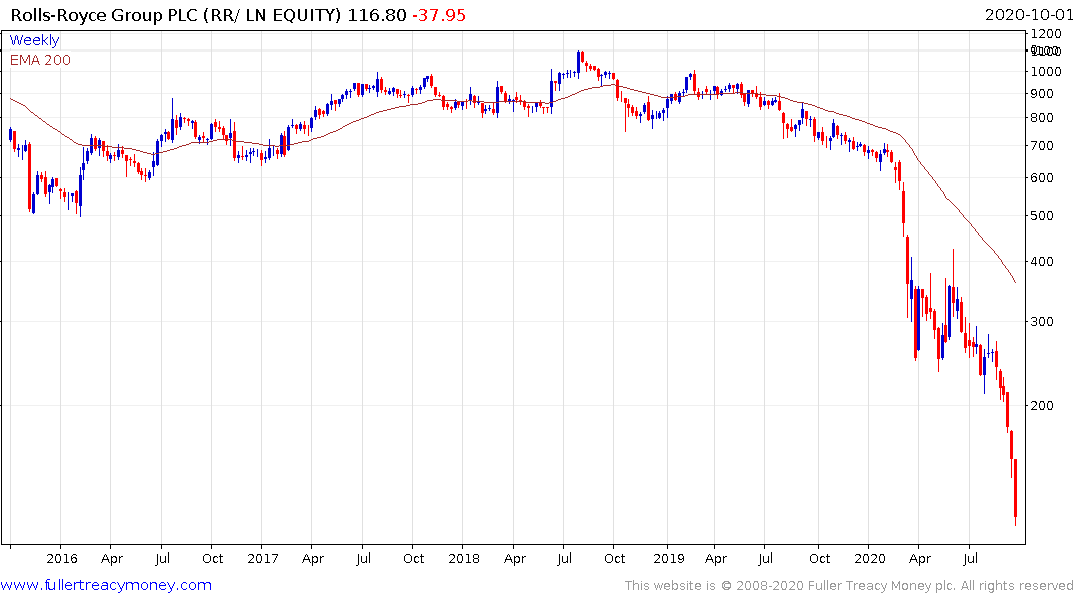 The threat of dilution of shareholders has resulted in Rolls Royce's share continuing to accelerate lower. Management's desire to avoid a government bailout and to eschew overtures from sovereign wealth funds points to a solid ambition to remain independent. Pricing at present represents a worst-case scenario being priced in. If that does not occur, and it rarely does, there remains significant scope for rerating.
Back to top