Rocket Eggs Revive China Soy Demand as New-Crop Orders Rise
This article by Bloomberg News may be of interest to subscribers. Here is a section:
China's soybean demand is rebounding as surging prices of eggs and pork help the world's biggest meat producer recover from first-quarter losses for oilseed producers, feed makers and farmers. Chinese crushers last week ordered about 600,000 metric tons to be shipped after Sept. 1 when the new-crop year begins for U.S. marketing, according to a Bloomberg News survey of seven China based traders and researchers. Since April 1, egg prices in China have surged about 26 percent while hogs jumped 20 percent, according to data from Shanghai JC Intelligence Co.

"The surge in egg prices, dubbed 'rocket eggs' to describe the sharp gains, followed by gains in pork are quickening a turnaround in the feed industry," said Tommy Xiao, an analyst at Shanghai JC, the country's biggest independent animal feed researcher. A resumption of Chinese purchases, which account for more than 60 percent of the world's traded volume, will lift futures traded on the Chicago Board of Trade. Last month, China was seen at risk of defaulting on some orders for shipment after bird flu and slumping pork prices curbed soybean-meal demand.
Any market is a story of the interaction between supply and demand. Brazil's ongoing drought is contributing to reduced supply and this spring's harsh weather in much of the USA may have an impact on its harvest. Meanwhile, pig and cattle prices are at all-time highs. This is encouraging attempts to increase supply by investing in breeding programs which require more feed.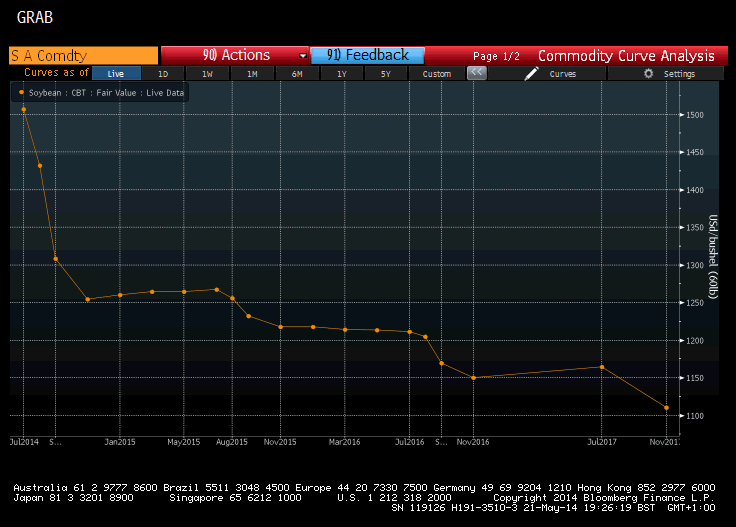 Soybean contracts are in steep backwardation for the remainder of the year emphasising just how tight supplies area. The front month continuation chart pulled back sharply earlier this month in sympathy with the other grains. However while corn and wheat extended their respective declines soybeans have been steady. A sustained move below 1450p would be required to question medium-term scope for additional upside.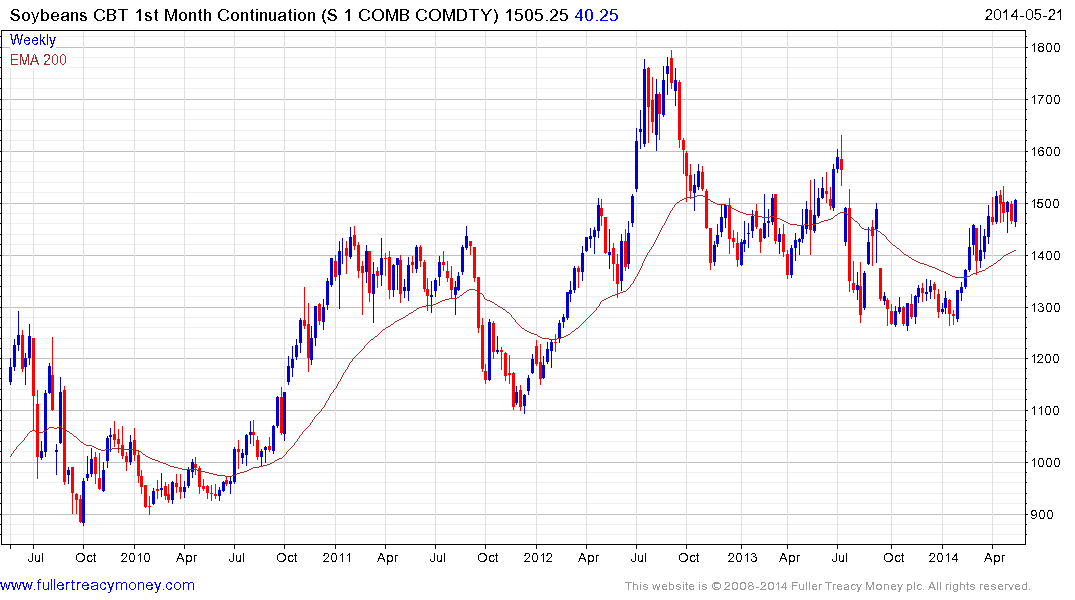 Back to top