Rio Tinto to deploy Heliogen's AI-powered industrial "solar refinery"
This article by Loz Blain for New Atlas may be of interest to subscribers. Here is a section:
That temperature can be used to generate steam and turn turbines to produce electricity, or the heat can be stored for later use outside daylight hours. It's also hot enough to be used in cheap hydrogen production – Heliogen's Bill Gross told the Abu Dhabi Sustainability Week 2021 conference in January that a 600 x 600-m (656 x 656-yd) plant could produce around a million kilograms (2.2 million lb) of green hydrogen per year at an impressively low cost around US$1.80 per kilogram (2.2 lb) – lower than the average price of dirty hydrogen today.

Rio Tinto's boron operation, rather fittingly located in Boron, California, currently uses natural gas co-generation and boilers to produce steam for its processes. The Heliogen installation will contribute up to 35,000 lb (15,876 kg) of steam per hour to the plant day and night thanks to energy storage, and Rio Tinto says this has the potential to reduce total plant emissions by about 7 percent – "equivalent to taking more than 5,000 cars off the road," says the company, neatly sidestepping the fact that it's leaving more than 70,000 cars on the road in this metaphor.

This is just a pilot, though; should it prove viable, the company will assess whether to upgrade the facility to more than three times its current production rate, and the state intention here is to pilot the technology with a view to replicating it at other Rio Tinto facilities around the world where there's enough sunlight.
Rio Tinto's management have displayed impressive foresight in positioninmg the company as the supplier of materials to drive the development of a carbon free economy. Making headlines for supporting concentrated solar plants in California is another example of sound PR strategy that detracts from the destructive nature of mining.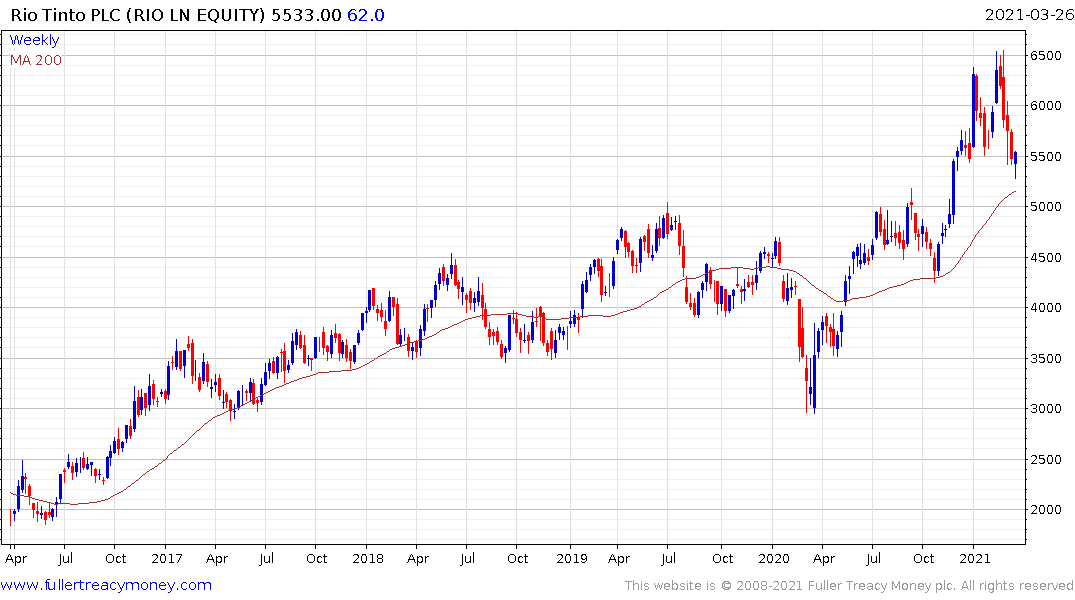 The company concentrates on iron-ore, copper and aluminium production which has allowed them to make a big play on being the most ESG-aware miner. Pollution is one portion of the ESG gambit the other is mine safety.
This story about Resolute Mining's efforts to develop completely autonomous mining operations is also significant. If miners can cut down on the number of employees and introduce autonomous systems for the most dangerous activities that will also help perceptions of their safety record. This is a sector that will need to be handled even more delicately than pollution. One of the primary supports for mines is they provide high paying jobs in rural backwaters.
Rio Tinto bounced today from the region of the trend mean. It remains in a medium-term uptrend as it consolidates the move to new all-time highs earlier this year.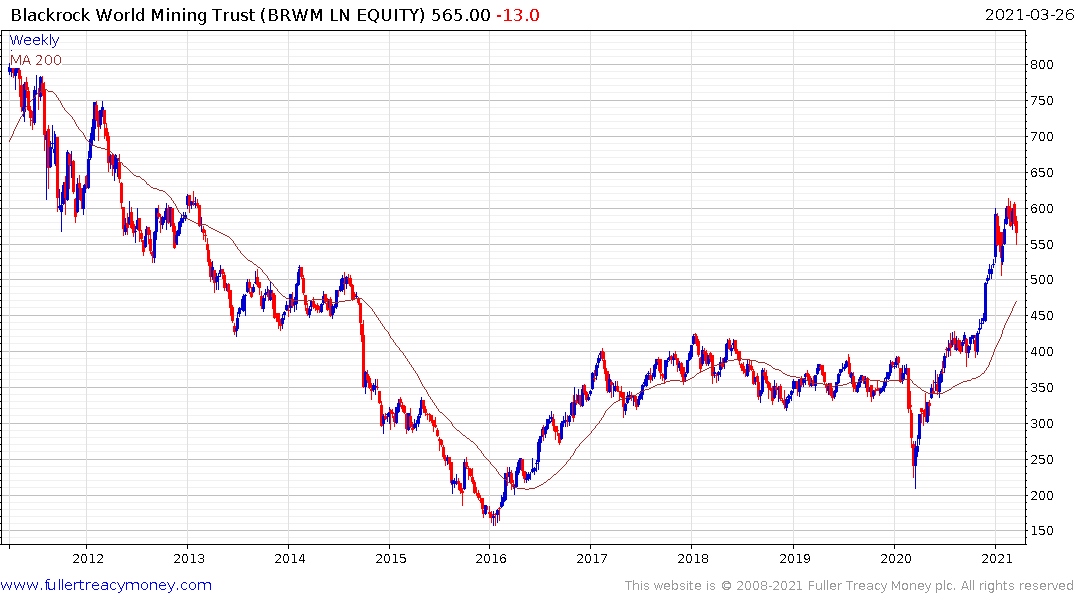 The Blackrock World Mining Trust completed its base formation late last year and remains on a recovery trajectory. A sustained move below 500p would be required to question that hypothesis.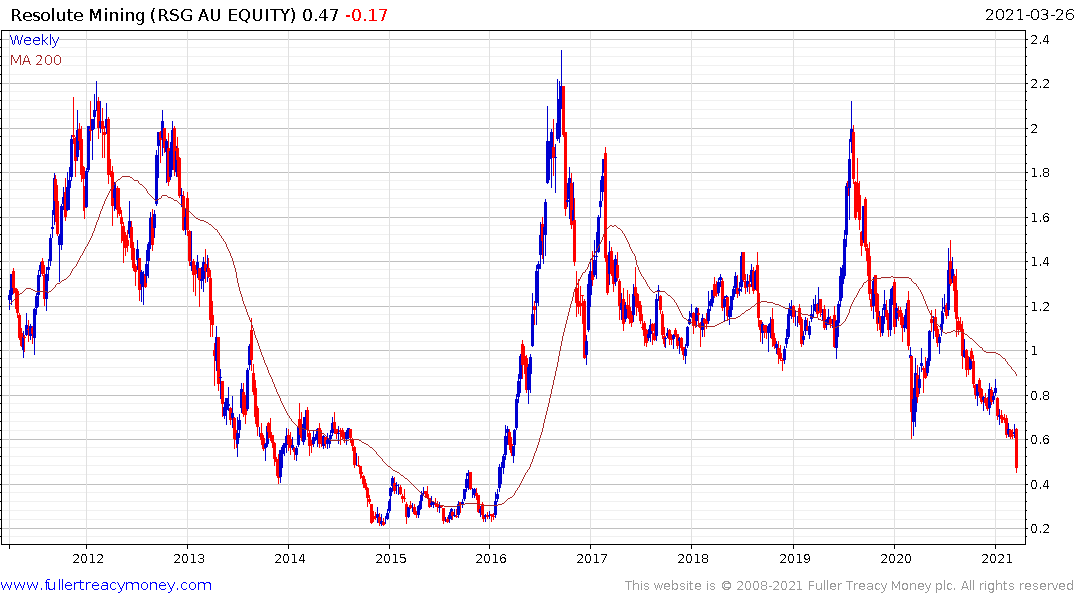 Ghana scrapped one of Resolute Mining's licences this week. That resulted in a kneejerk reaction with investors liquidating positions. The share's decline accelerated to a new reaction low. With the pace of the decline picking up, after what has already been a steep decline, there is scope for any form of bullish catalyst to spark a revival. There is no sign of that just yet, however.
Back to top