Retail Chains Abandon Manhattan: 'It's Unsustainable'
This article from the New York Times may be of interest to subscribers. Here is a section:
For four months, the Victoria's Secret flagship store at Herald Square in Manhattan has been closed and not paying its $937,000 monthly rent. "It will be years before retail has even a chance of returning to New York City in its pre-Covid form," the retailer's parent company recently told its landlord in a legal document.

"In the prime real estate areas, all the stores rely on having half international tourists and half local tourists or those from the local neighborhoods," said Thiago Hueb, a founder of a jewelry company who had decided to close his flagship store on Madison Avenue before the pandemic struck because of high rents.

Now brokers are calling him trying to lure him back to the block, but Mr. Hueb, whose jewelry is sold in 80 department stores nationwide, is not interested.

"The avenue is no longer what it used to be," he said.

J.C. Penney and Neiman Marcus, the anchor tenants at two of the largest malls in Manhattan, recently filed for bankruptcy and announced that they would shutter those locations.
It easy to give into the groupthink that the lockdowns will last forever. They won't. By the time next summer swings around the world is going to be awash in tourists again. The lure of US retail will still be powerful for international travellers. The sheer scale and variety is hard to beat, but the high sales taxes and import taxes elsewhere make the USA a favoured shopping destination. Between now and then we can expect a significant transfer of assets from weak to strong hands.
Private equity firms have been actively buying up bankrupt brands. Back in 2015 there were already stories about how over populated the USA is with retail space. There has been significant rationalization since then. The survivors will be leaner and nimbler, but they will have a large addressable market to play in.
The ecommerce sector will continue to prosper but even with live streaming it is impossible to replace the social element of a day out at the shops. I took my daughters to a fencing tournament tin Columbus Ohio last year, where L Brands has a large open-air mall populated with all of its brands. I don't know how well the mall was doing but more mall owners are now taking positions in the businesses of their tenants. That will help to pad out earnings as economic recovery takes shape over the coming year.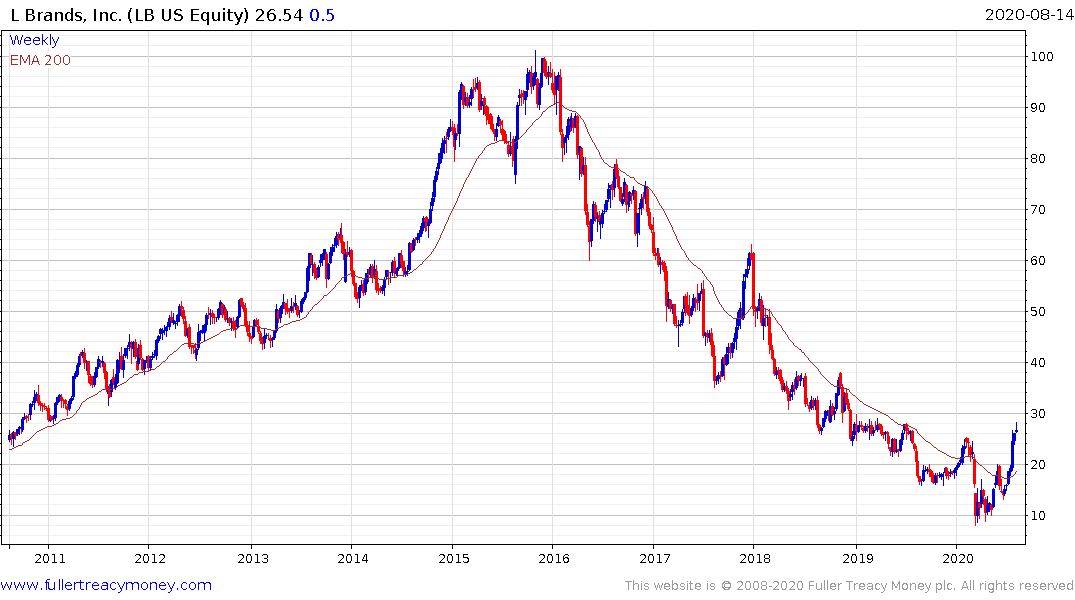 L Brands has now rallied to break an almost five-year downtrend.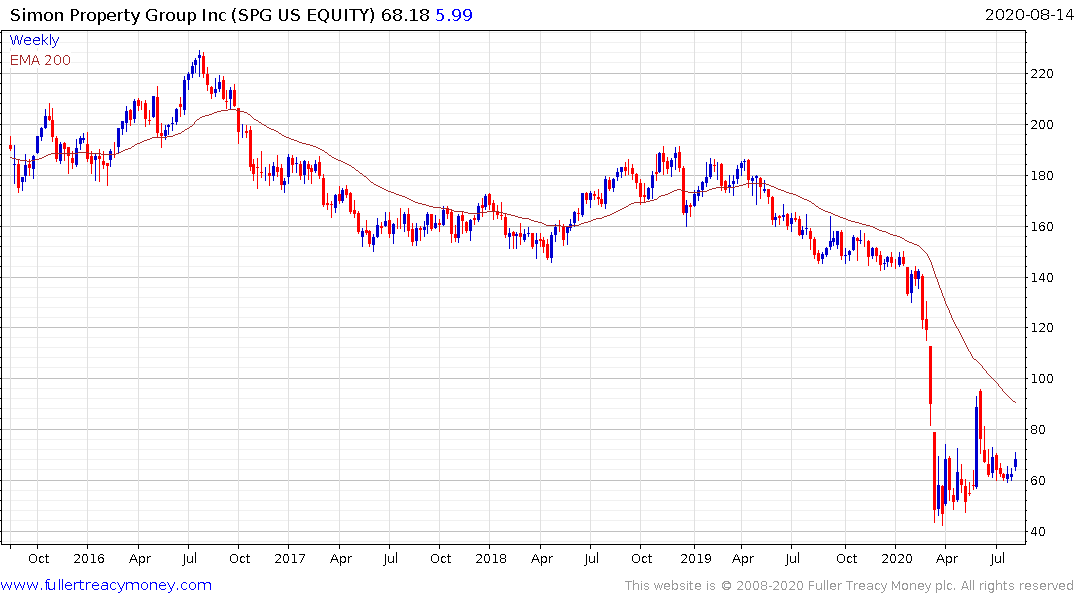 Simon Property Group has also been trending lower since 2016 but it accelerated to the low near $50 in March and has held a sequence of higher reaction lows since.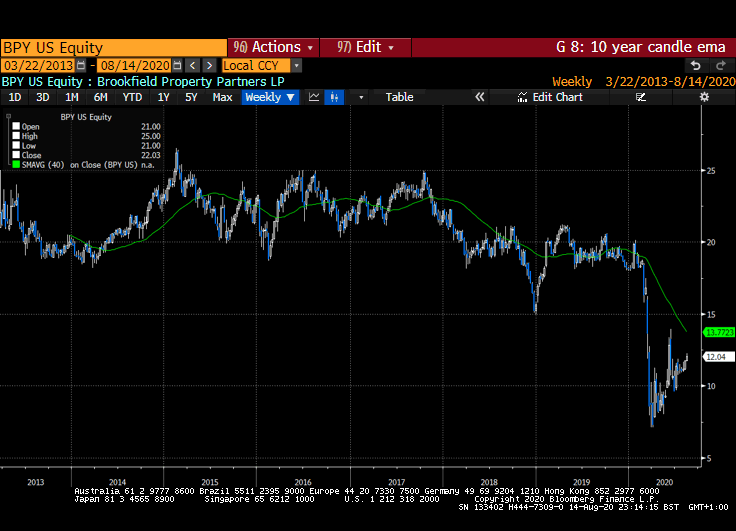 Brookfield Property Partners has also held a sequence of higher reaction lows since March.
This report from Morgan Stanley focusing the evolution of the private equity sector may be of interest.
Back to top