Requiem for a construction bubble
This article by Pete Wargent appeared in Livewire and may be of interest to subscribers. Here is a section:
Apartment construction to fall sharply
​We have significant evidence to show that new apartment projects are struggling to get finance approved, and therefore total residential construction is expected to slow in H2 2018. Dwellings approved but not yet commenced have already increased to the highest level on record, driven by apartment project approvals

Apartment default rising
Liaison with industry contracts indicates that settlement defaults for some of the major developers have increased, particularly in relation to offshore buyers. The resale market is considered healthy enough at this juncture for most developers not to be materially impacted, however there is a strong likelihood that residential construction activity will now fall

Employment growth to fall
Construction now directly employs just under 1.2 million persons in Australia, recently capturing a record high in absolute terms and, at 9.6 per cent of employment, the construction sector is at its most bloated in approximately a century4.

About ¾ of construction jobs are accounted for by the residential sector5. There is significant potential for employment growth to slow sharply over the next 12 months
The Royal Commission has been a major source of uncertainty for the banking sector in Australia over the last year as rampant overcharging across a broad swathe of their businesses has ben brought to light.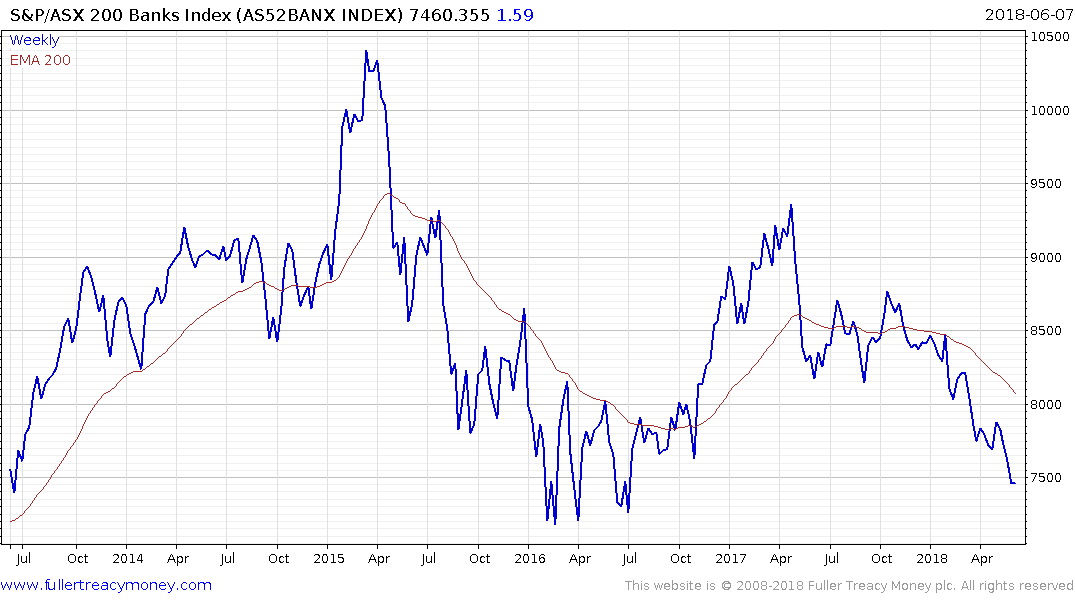 The S&P/ASX 300 Banks Index hit all-time peak in 2015 and following a rebound has been trending lower since last year. It is now approaching the 2016 lows and while oversold in the short term a break in the progression of lower rally highs will be required to question supply dominance.
There have been concerns about the pace of Australia's property boom for years and it is reasonable to expect that if prices are about to fall home building supply companies should be at least be coincident if not lead indicators.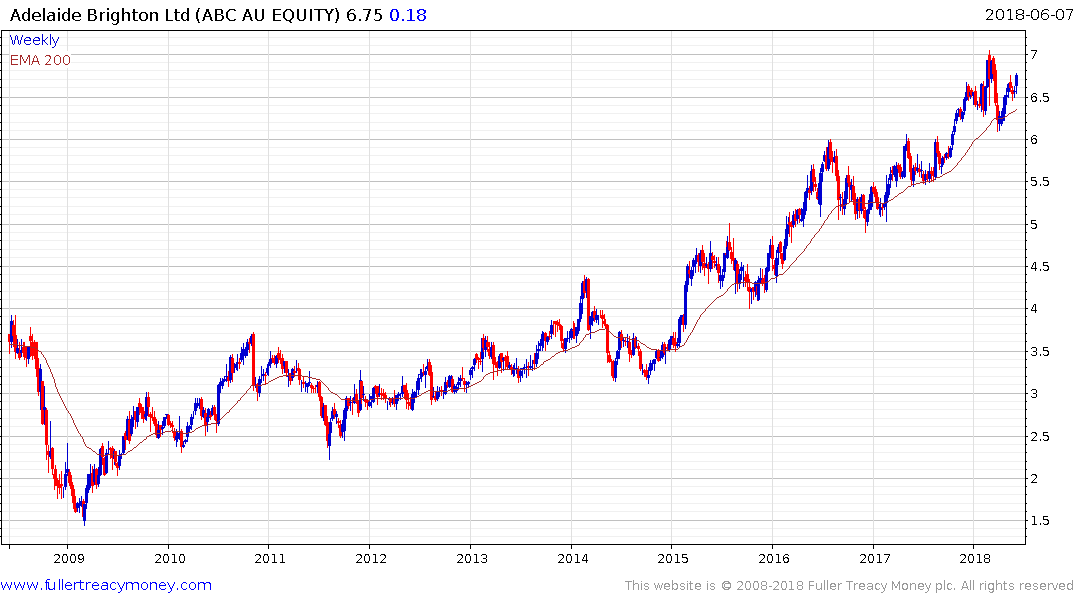 Adelaide Brighton, which produces cement and concrete products, remains in a generally consistent medium-term uptrend.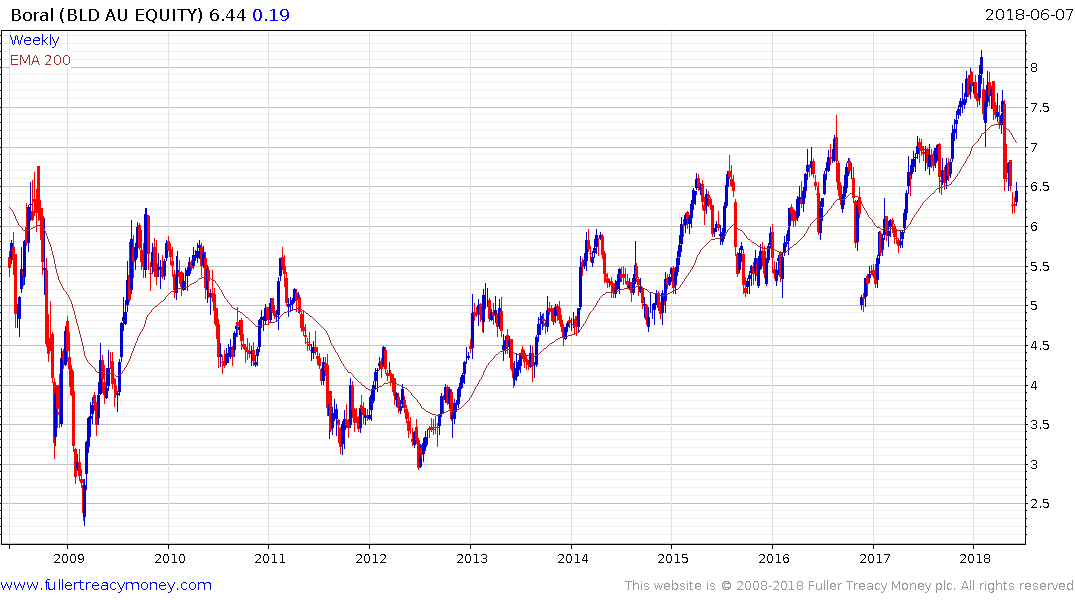 The shares of Boral Ltd, which produces construction materials, has a history of dipping back below the trend mean during pullbacks. It will need to rally soon if the sawtooth pattern of advances and declines is to be sustained.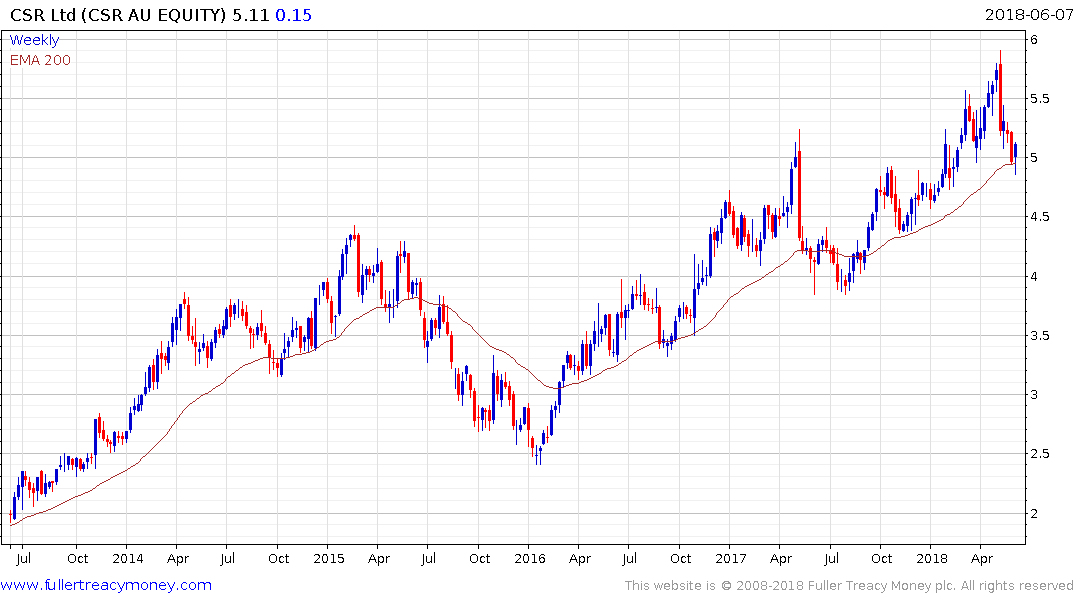 CSR also produces construction materials and is currently firming from the region of the trend mean.
Back to top