Regulatory Concerns Dampen Bitcoin Volatility
This article by Charles Bovaird for Forbes.com may be of interest to subscribers. Here is a section:
"It seems that a lot of activity has been suppressed," said Marshall Swatt, founder & president of Swatt Exchange, emphasizing that digital token sales are having the same experience.

Leveraged trading appears to have declined lately, emphasized Mati Greenspan, senior market analyst for social trading platform eToro.

Marius Rupsys, a digital currency trader and investor, offered a slightly different take on the situation.

"Some traders and investors are waiting for clarity from regulators," he asserted.

However, Rupsys described both the statement made by U.S. Securities Exchange Commission (SEC) Chairman Jay Clayton that bitcoin is not a security and the government agency's decision to appoint a crypto czar as "very positive" developments.
The last week has seen volatility in the cryptocurrency markets disappear. The last time the bitcoin market, for example, has been this inert was back in June and July of last year when the price was a third of what it is today; even after the crash from the December peak.
For assets that are characteristically volatile periods of relative quiet will inevitably be resolved by outsized volatility. The question on many lips will be in which direction will prices break.
There are two big arguments in the market right now. The first surrounds regulation both in the US and China. The second is on the pace of innovation in the sector and whether bitcoin has any hope of keeping up. I suspect the much anticipated Qubic network from Iota and how well it gains market share will have an influence on that second argument. https://qubic.iota.org/faq
Bitcoin continues to exhibit a progression of lower rally highs but has also posted a succession of higher reaction lows since the February nadir. That kind of triangular pattern reflects the narrowing of the differences in opinion between supply and demand until the argument, whether bullish or bearish, is resolved.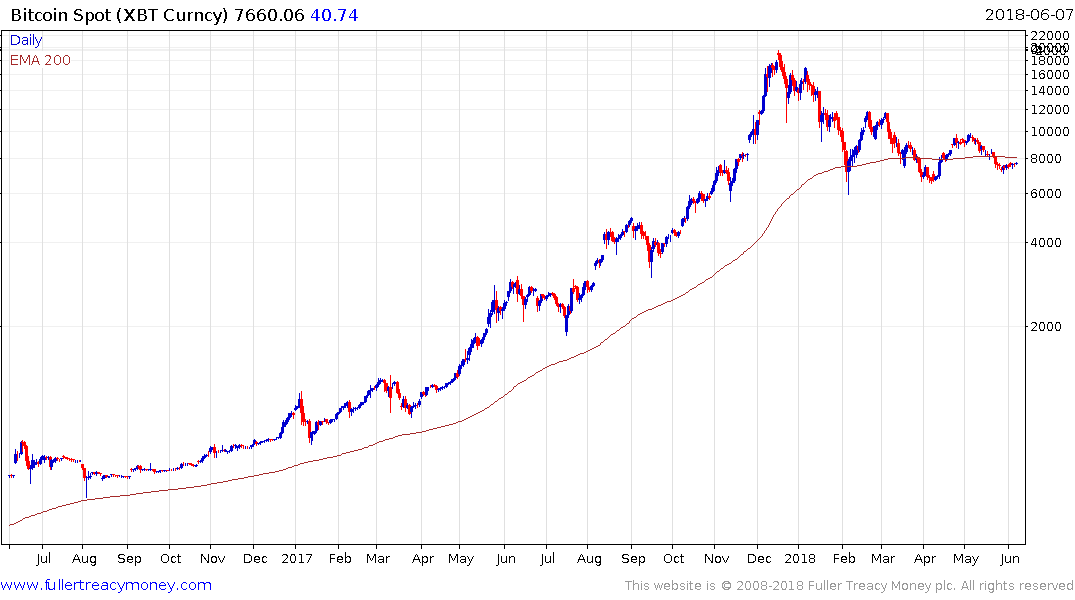 This two-year log scale chart highlights how much the price rallied and that a sustained move below $6000 would signal another significant downleg is in the offing.
Back to top