Regeneron Gets the 'Ultimate Validation' After Trump's Treatment
This article by Cristin Flanagan for Bloomberg may be of interest to subscribers. Here is a section:
Regeneron Pharmaceuticals Inc. climbed the most in almost seven months on Monday after U.S. President Donald Trump received the biotech company's antibody cocktail to treat Covid-19.

President Trump's treatment was the "ultimate validation" for Regeneron, according to SVB Leerink analyst Geoffrey Porges. Like Regeneron, Eli Lilly & Co. and AbCellera Biologics Inc. are developing an antibody therapy, not only as a treatment for the virus but also as a preventative.

When used as a prophylactic, these products could be considered a passive vaccine as opposed to the active shots most people think of as a vaccine, Bloomberg Intelligence's Sam Fazeli said last week. AstraZeneca Plc, as well as GlaxoSmithKline Plc and partner Vir Biotechnology Inc. are testing similar therapies.

The primary reason for the lockdowns in March was because there was no effective treatment for the virus. Considering the speed with which it was spreading there was a clear risk hospitals would be inundated with patients. As news headlines are filled with talk of second waves, we really should be looking at the response from a first principles basis.
The medical community is now much better informed as to how to treat the disease. The demographics of who is most acutely affected is well understood. That's been true from the outset. Meanwhile, the range of new and existing treatment options has increased substantially. If the chances of hospitals being inundated has been removed that suggests there is a clear rationale for easing social distancing guidelines outside of the most acutely affected age groups.

Regeneron's solution is one of the most promising. That fact a patent law suit was lodged against it today is a testament to that fact. We are likely to see vaccines and additional treatment options made available before Christmas. The rationale for reopening is becoming increasingly compelling. That suggests the 4th quarter is likely to be a big one for retail.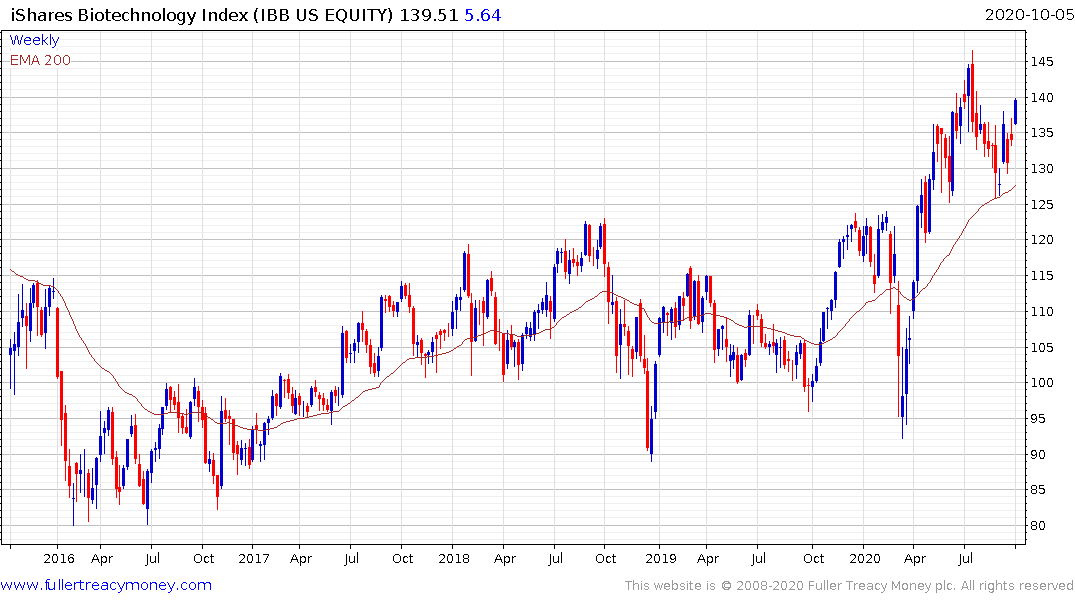 Meanwhile, the biotech Index continues to rebound from the region of the trend mean. The delivery of solutions to a novel infection in such a short time is about as much validation as anyone needs that the pace of technological innovation has accelerated in the field.
Back to top