RCEP: A new trade agreement that will shape global economics and politics
This article by Peter A. Petri and Michael Plummer for the Brookings Institute may be of interest to subscribers. Here is a section:
CEP will connect about 30% of the world's people and output and, in the right political context, will generate significant gains. According to computer simulations we recently published, RCEP could add $209 billion annually to world incomes, and $500 billion to world trade by 2030.

We also estimate that RCEP and CPTPP together will offset global losses from the U.S.-China trade war, although not for China and the United States. The new agreements will make the economies of North and Southeast Asia more efficient, linking their strengths in technology, manufacturing, agriculture, and natural resources.

The effects of RCEP are impressive even though the agreement is not as rigorous as the CPTPP. It incentivizes supply chains across the region but also caters to political sensitivities. Its intellectual property rules add little to what many members have in place, and the agreement says nothing at all about labor, the environment, or state-owned enterprises — all key chapters in the CPTPP. However, ASEAN-centered trade agreements tend to improve over time.

Southeast Asia will benefit significantly from RCEP ($19 billion annually by 2030) but less so than Northeast Asia because it already has free trade agreements with RCEP partners. But RCEP could improve access to Chinese Belt and Road Initiative (BRI) funds, enhancing gains from market access by strengthening transport, energy, and communications links. RCEP's favorable rules of origin will also attract foreign investment."
The ratification of a free trade deal between China and much of Asia and Australasia is a significant bonus for its ambition of enmeshing as many countries as possible in dependency on its economy. China is already a major destination for exports from the wider region as well as a source of manufactured goods. This agreement will expand its role in the debt/credit markets too.
The biggest factor over the last few years has been the fact that China is now also a major creditor to emerging markets. The creation of Asia Development Bank is a clear policy tool to ensure countries are favourably disposed towards China because they depend on it for access to capital.
The simultaneous expansion of influence at UN committees can also be seen as part of this wider strategy of using existing and new platforms to expand international influence. For example, China now controls four of the 15 primary UN committees (International Civil Aviation Organization, the International Telecommunication Union, the Food and Agriculture Organization, and the U.N. Industrial Development Organization), was appointed to the UN Human Rights council in April and is looking to gain control of the Intellectual Property Organization.
This expansion is occurring the power vacuum left by US isolationism and is a symptom of the wider trend towards increasingly geopolitical competition. This Bloomberg interview with Henry Kissinger today highlights what the risks are if either or both sides lose patience with the emerging status quo.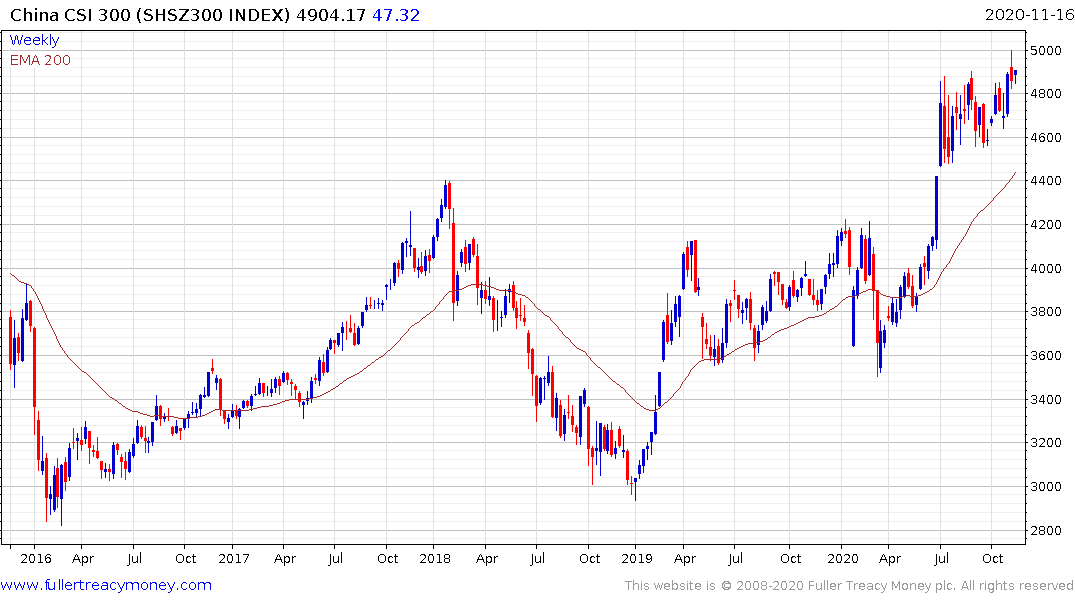 The CSI 300 Index found support today in the region of the upper side of the four-month range.
Back to top