Rare Griffon vulture saved with help from a military drone
This is a fascinating video which may be of interest to subscribers.
The short section about 1:30 minutes in highlights how the drones are piloted with virtual reality headsets with a great deal of accuracy.
This kind of accurate control of aircraft is transformational for the aircraft sector and not least as autonomous applications improve. The reality is that it is a lot easier to develop autonomous aircraft than ground vehicles. There are simply fewer obstacles.
This article from Janes.com may also be of interest. Here is a section:
Ido Bar-On, vice-president of business development and sales at Xtend, toldJanes on 20 April that the Xtender is an indoor intelligence, surveillance, and reconnaissance (ISR) solution built for close-quarters combat and urban warfare. The Xtender provides a unique, human-centric machine interface technology that enables operators to remotely intervene in dangerous situations from a safe distance.
An Xtender operator wears virtual reality (VR) goggles to view the aircraft's video feed. Bar-On said this allows the operator to feel part of the aircraft.
The operator has one hand controller to direct the aircraft, which Bar-On said is similar to the that used by the Nintendo Wii video game system. Xtender was demonstrated at the 2021 US Army Expeditionary Warrior Experiment (AEWE) held from 5 February to 5 March at Fort Benning in Georgia.
The foundation of Xtender is the Skylord operating system (OS) built on UAS racing technology that allows an operator to fly the aircraft after 30 seconds of training. Bar-On said that it typically takes 9–12 months of training for an operator to achieve a high proficiency in unmanned aircraft operations. This also provides redundant capability as a specialist UAV operator is not required.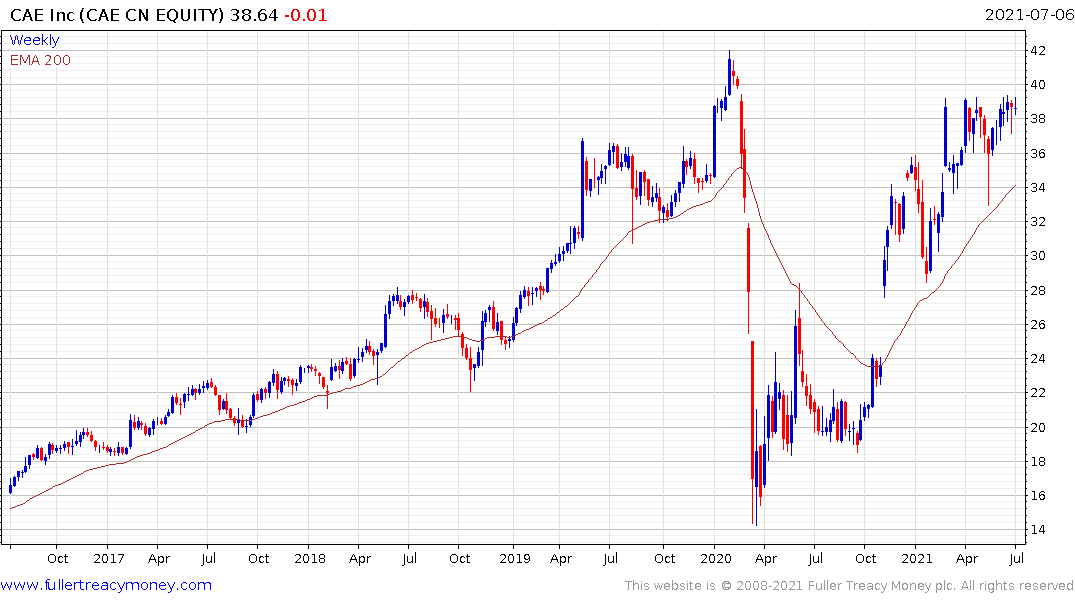 Xtend has passed through a number of hands over the years but appears to currently be owned by CAE Inc. The share has returned to test the region of the pre-pandemic peak and is consolidating at present. A sustained move below the trend mean would be required to question medium-term scope for continued upside.
Back to top