Rajan Plays Long Game by Building Reserves Chest as Rupee Slumps
This article by Kartik Goyal for Bloomberg may be of interest to subscribers. Here is a section:
"There was a bit of a pause, but they are back to the policy of reserves accumulation, building up the war chest, and really being able to continue to be able to dampen the volatility in the currency market," said Mitul Kotecha, head of Asian foreign-exchange and interest-rate strategy at Barclays Plc in Singapore. "Rajan's comments indicate the RBI is likely to steer the currency on a fairly steady depreciation path along the lines of keeping a fairly stable real-effective exchange rate."

The rupee is Asia's worst performer after South Korea's won in the past three months as overseas funds pulled a net $3 billion from Indian stocks, and foreign holdings of local debt fell by $1.5 billion amid a global wave of risk aversion and slowing growth at home. The Indian currency fell 0.5 percent to 68.3825 a dollar on Tuesday. It sank to an unprecedented 68.8250 in August 2013.

"Our intent is not to depreciate the rupee in a steady way or anything of that sort," Rajan said in a speech in the southern state of Kerala. "Our focus is on bringing down inflation so that people will not have to ask why the rupee is weakening."
Reserve accumulation means the central bank is buying Dollars. That would appear to be an example of watching what the central bank is doing rather than listening too intently to what Rajan is saying. India wants a somewhat weaker currency and is unlikely to intervene unless it weakens too quickly.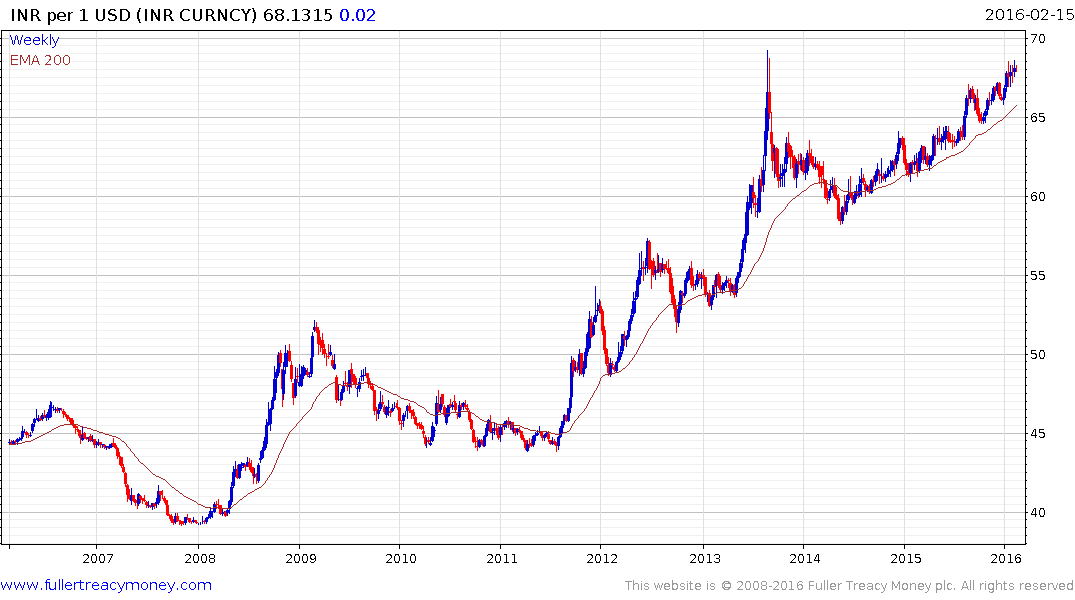 The US Dollar remains in a consistent medium-term uptrend against the Rupee and a sustained move below the trend mean would be required to question potential for additional strength.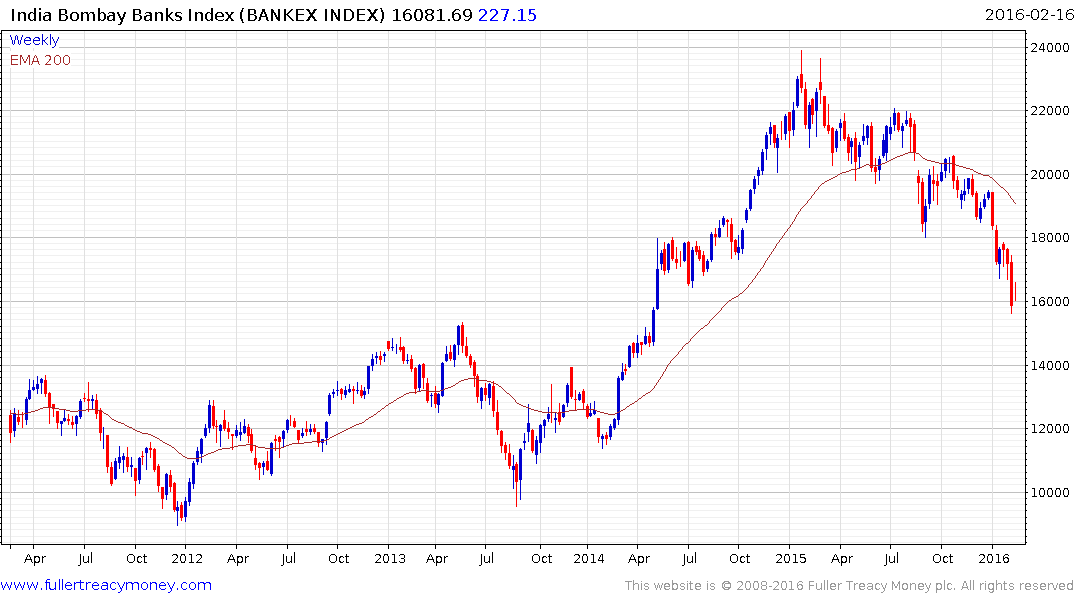 The Bombay Banks Index has been a reliable lead indicator for the performance of the stock market and remains short-term oversold. Today's failure to follow through on yesterday's bounce suggests a clear countermanding upward dynamic will be required to signal mean reversion is underway.
Back to top