Quarterly Global Outlook 4Q 2021
Thanks to a subscriber for this report from UOB which may be of interest. Here is a section:
Here is a link to the full report and here is a section from it:
In conclusion, the main takeaways are summarized as follow. First, while some Asian EMs e.g., Indonesia, Philippines, and India may continue to face a twin deficit challenge ahead, their external resiliency have been stronger, supported by a build-up in FX reserve, and higher real interest rate (especially for Indonesia).
Second, the fiscal space, which has been used to battle the crisis, is still available. These countries embark on massive fiscal stimuli during the current pandemic crisis to support growth. For example, in the case of Indonesia, around 4.4ppt of the 6.1% fiscal deficit was due to the additional fiscal stimulus for the economic recovery program, leaving the "hypothetical-no-COVID" fiscal deficit of only 1.7% of GDP.
Nevertheless, we reckon that as we expect fiscal deficit to narrow next year as the pandemic becomes relatively more under control, it will mean that the posture of fiscal prudence exhibited by these EMs will likely to still command sustained interest for portfolio capital flows.
Third, an accommodative monetary policy environment in these selected economies which hasten the support of domestic growth recovery would mean that they are ready to receive more benefits, in terms of portfolio inflows as well, as the global economic recovery reaches more traction and as we leave the pandemic behind.

Every country had to break the piggy bank to deal with the pandemic. That helped to boost economic activity and demand for just about everything over the last 18 months. Going back to less profligate ways will be a challenge everywhere, but emerging markets have the benefit of growth to ease the challenge. They also have more recent experience of doing what is necessary to combat inflation which should be a useful skillset going forwards.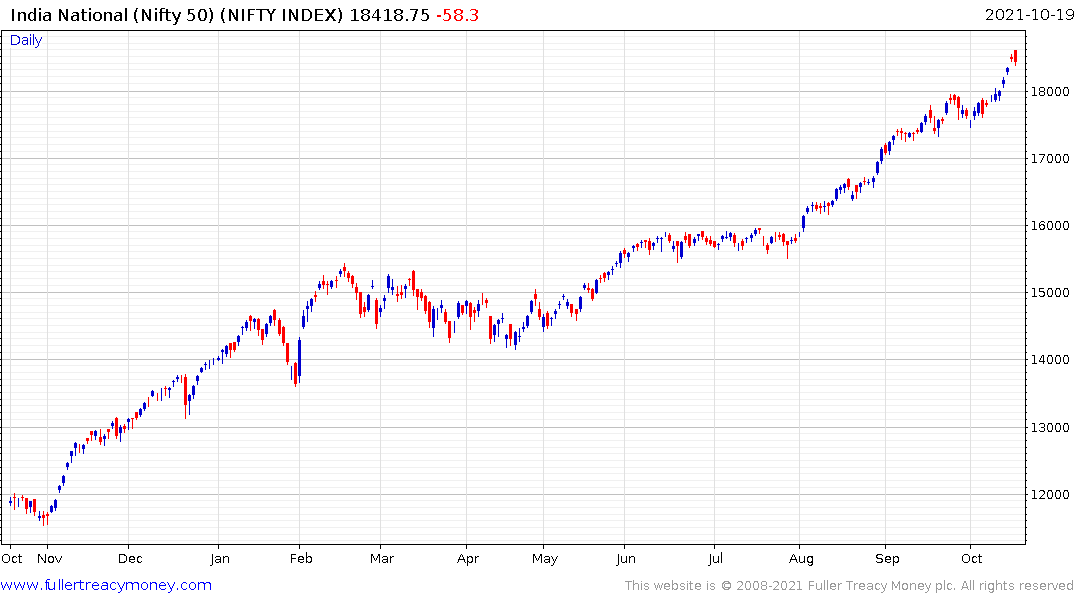 The Indian rupee is testing its lows over the last year and will need to steady soon if an additional down leg is to be avoided. The stock market is very overbought in the short and today's small downside key reversal suggests potential for some consolidation of recent gains is growing.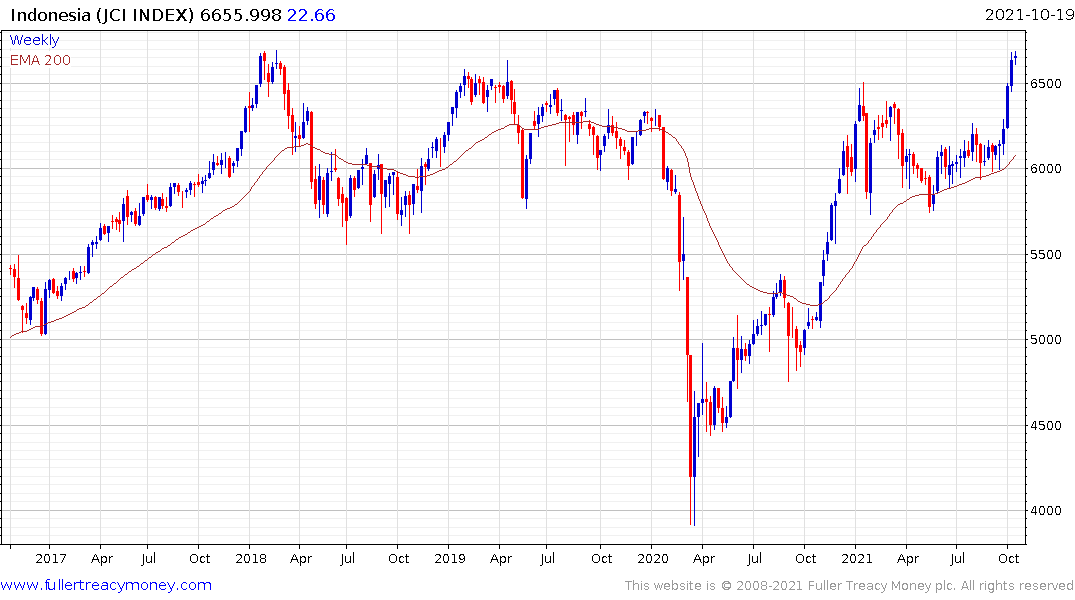 The Indonesian Rupiah is back testing its high over the last three years. The Jakarta Composite continues to extend its rebound and is back testing its highs over the last four years.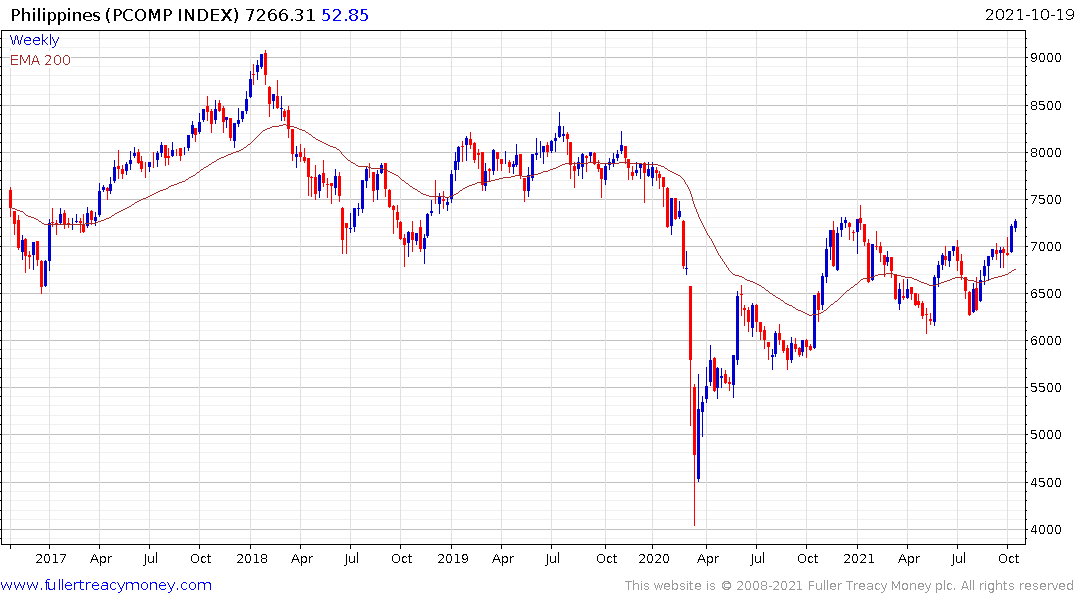 The Philippine Peso was among the strongest currencies in the world between late 2018 and the peak in February. It continues to trend lower; suggesting the uptrend is over for the time being. The stock market continues to extend its rebound and is back testing the year-to-date peaks.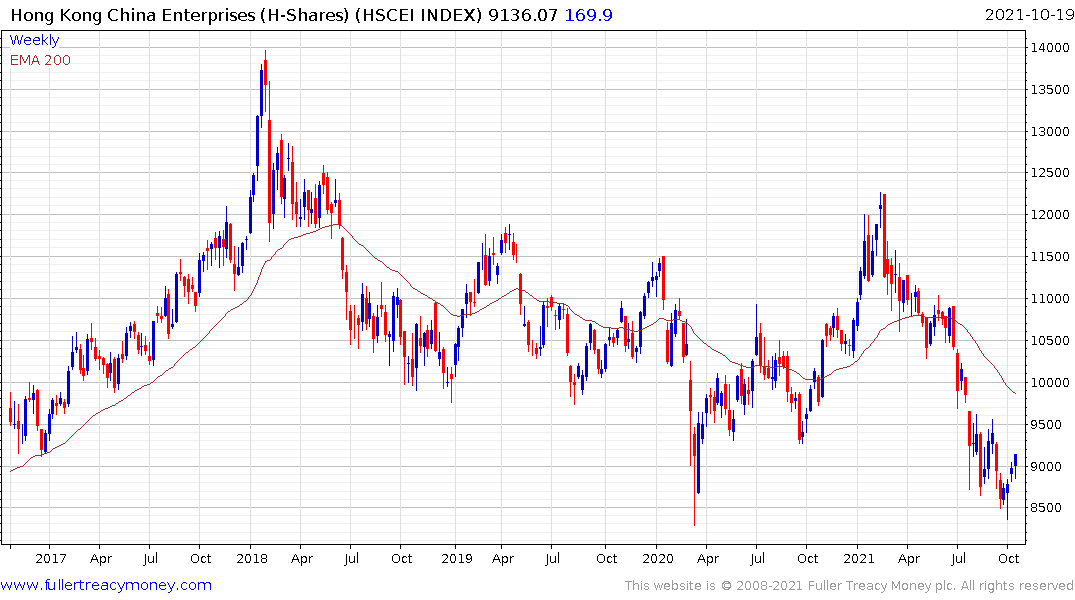 The Hang Seng China Enterprises Index continues to rebound from the lower side of a decade long range.
Back to top