Putin's Hypersonic Nuclear Missile Stirs Fears of Arms Race
This article by Henry Meyer and Jake Rudnitsky for Bloomberg may be of interest to subscribers. Here is a section:
"This is an unprecedented situation in which we see that Russia is technologically ahead of the U.S. and the Pentagon is playing catch-up," said Nikolai Sokov, a senior fellow at the Vienna Center for Disarmament and Nonproliferation. "The U.S. only woke up this year to this technology and has started to throw money at it."

Russia successfully tested Avangard in December last year, firing it from a military base in the southern Urals 6,000 kilometers (3,700 miles) to the Kamchatka peninsula. After a ballistic launch, the Avangard glides toward its target with a high degree of manoeuvrability.

The difference between the hypersonic weapon and a traditional ballistic missile is that it "disappears and we don't see it until the effect is delivered," Hyten said in testimony before the Senate Armed Services Committee.

Claims the Avangard can evade any defenses are overblown since it can be shot down in the early ballistic phase of its trajectory, said Golts, the defense analyst. The real breakthrough will come when Russia implements the same technology in another weapon class, like cruise missiles, according to Sokov, the disarmament expert.

Abandoning New START at this juncture would be a major mistake, Democratic Senator Jeff Merkley warned this month. There's bipartisan support in the U.S. Congress for extending the agreement, which "has successfully kept the U.S. and Russia out of a modern-day nuclear arms race," he said on Twitter. "We cannot risk unleashing a new Cold War.
Hypersonic weapons are first strike options that represent a clear escalation of the risk from deteriorating international relationships. The bigger picture is hypersonic vehicles are not exactly new since the Blackbird SR-71 flew in the 1950s. However, the technology has progressed enough that companies like Boeing and SpaceX are investing in bringing extremely quick transportation to commercial reality.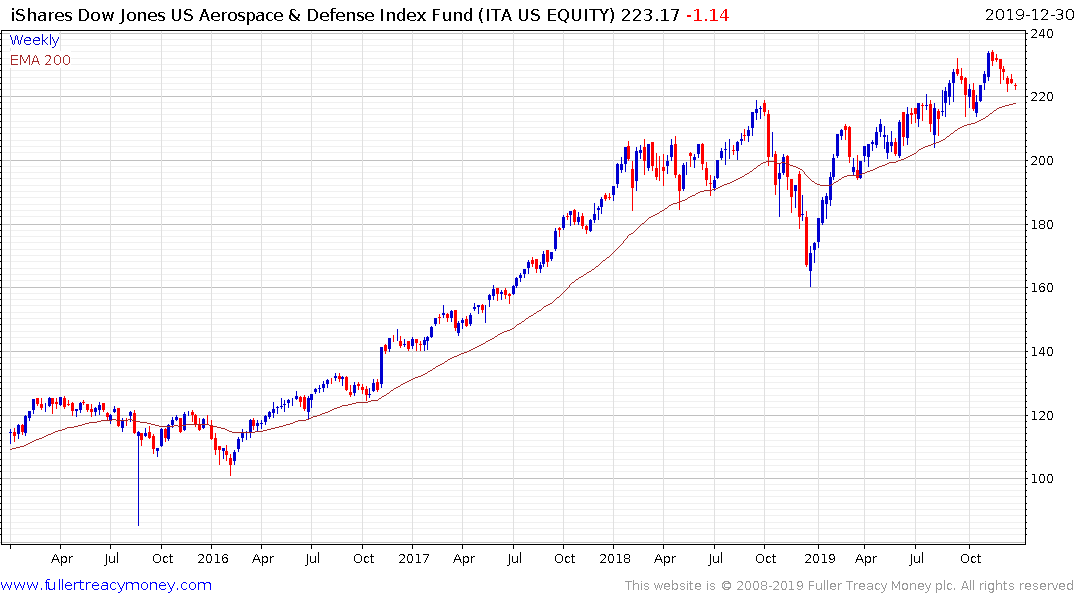 The iShares US Aerospace & Defense ETF is back testing the region of its trend mean and needs to find support soon if the uptrend is to remain consistent.
Back to top