Putin Offers to Stabilize Gas Markets "on an Absolutely Commercial Basis"
This article from investing.com may be of interest to subscribers. Here is a section:
Russia is ready to supply more natural gas to head off a growing energy crisis, President Vladimir Putin said Wednesday, on a day when U.K. and continental spot prices again hit all-time highs.

"I would like to hear your suggestions as to what more we can do to stabilize global energy markets," Putin told ministers in a carefully stage-managed broadcast of his introductory statement at the start of a video conferenced cabinet meeting. "We are ready to work on this, and we would like such work to be based on an absolutely commercial basis."

Russia is the one country capable of increasing gas flows substantially to European markets, where the shortage of gas is greatest, at short notice. However, the newly-completed Nord Stream 2 pipeline, which gas monopoly Gazprom (MCX: GAZP) would use for such additional flows, is still awaiting certification from German regulators before it can ship gas. The pipeline project has also been beset by U.S. sanctions and by opposition within the European Union, where fear of Gazprom's dominance in the market is widespread - especially among countries in the former Soviet bloc.

Elsewhere in his comments, Putin repeated previous criticisms of what he called "mistaken" European policy shifts that had left the EU and U.K. markets vulnerable to supply squeezes, notably its refusal to sign new long-term contracts with Gazprom and its desire to buy more at spot prices.
The challenge for countries accustomed to exporting energy is their consumers are now more interested in energy independence than energy security. Europe's desire to buy at spot rates opens it up to exactly the kind of volatility experienced over the last couple of months. That a feature rather than a bug of this energy transition.
One of the less discussed impacts of the shale revolution is it turned the largest energy importer into a net exporter. That delivered a significant geopolitical advantage to the USA which has allowed it to be more self-interested on the global stage while also investing less in securing Middle Eastern supply chains. That prompted both Europe and China to accelerate plans to become energy independent. That is being proffered under the façade of climate mitigation strategies.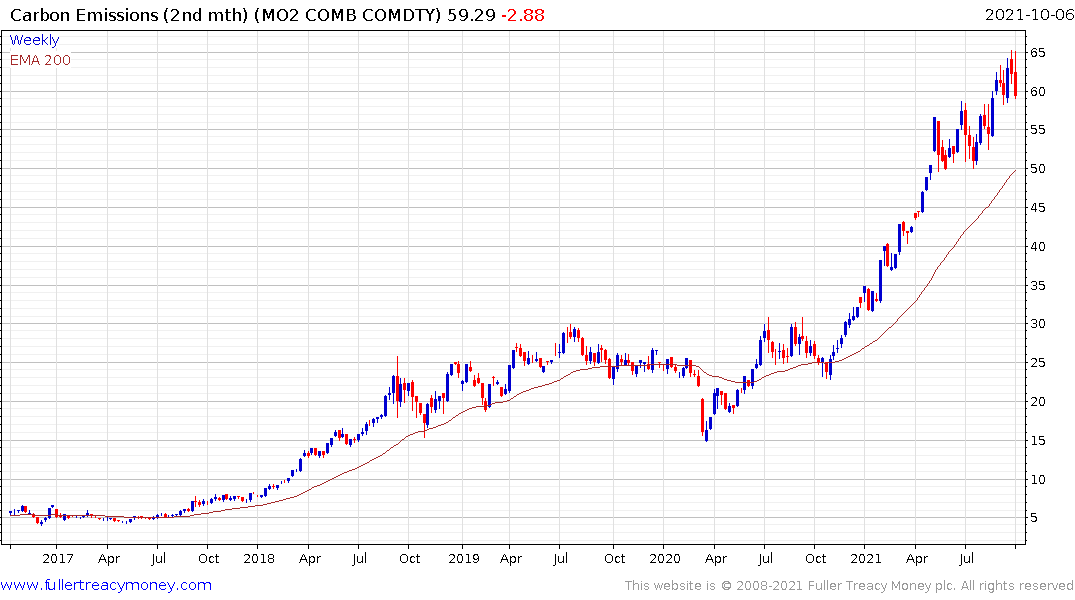 Europe is finally waking up to the fact that ever-increasing carbon prices are contributing to the spike in gas and coal prices. The pullback on carbon futures today suggests a process of mean reversion is underway.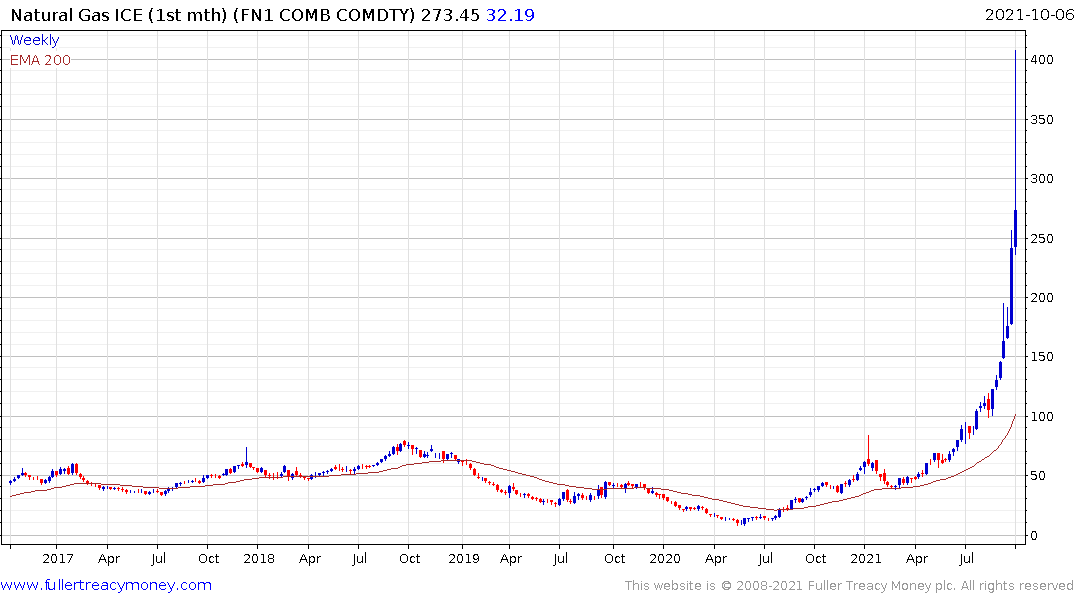 UK natural gas is pulling back following the blow-off peak posted this morning. That is likely a peak of medium-term significance.
Meanwhile, Russia has some big impending bills to pay. This article from the Wall Street Journal discussing melting permafrost may be of interest to subscribers. Here is a section:
After the spill, Russian President Vladimir Putin declared a national state of emergency and the country's Prosecutor General ordered regional prosecutors to inspect all hazardous facilities built on permafrost. Russia's Investigative Committee, the nation's main investigations agency, later blamed the incident on negligence and poor maintenance. Officials at the Norilsk Nickel mining company that operates the installation—along with some government scientists and elected officials—said thawing permafrost caused the failure of posts supporting the basement where the storage tank laid.

"In the near past, everybody believed that permafrost would have an impact on infrastructure by the end of the century. Now we know we don't have much time,"
The cost to melt-proof Russia infrastructure will run to tens of billions. Much of that cost will be borne by companies and efforts are already underway to tackle the threat. Melt-proofing cities in the far north means it will be cheaper to just build new structures on a piecemeal basis as required. This increasing cost base, even as demand increases with the demise of coal usage, means Russia is less inclined to ride the rescue every time the wind stops blowing.
Meanwhile China has signed long-term contracts with Russia. Gazprom's Power of Siberia pipeline transported its first gas in 2019 but volumes are expected ramp higher in 2022 as full commissioning is completed.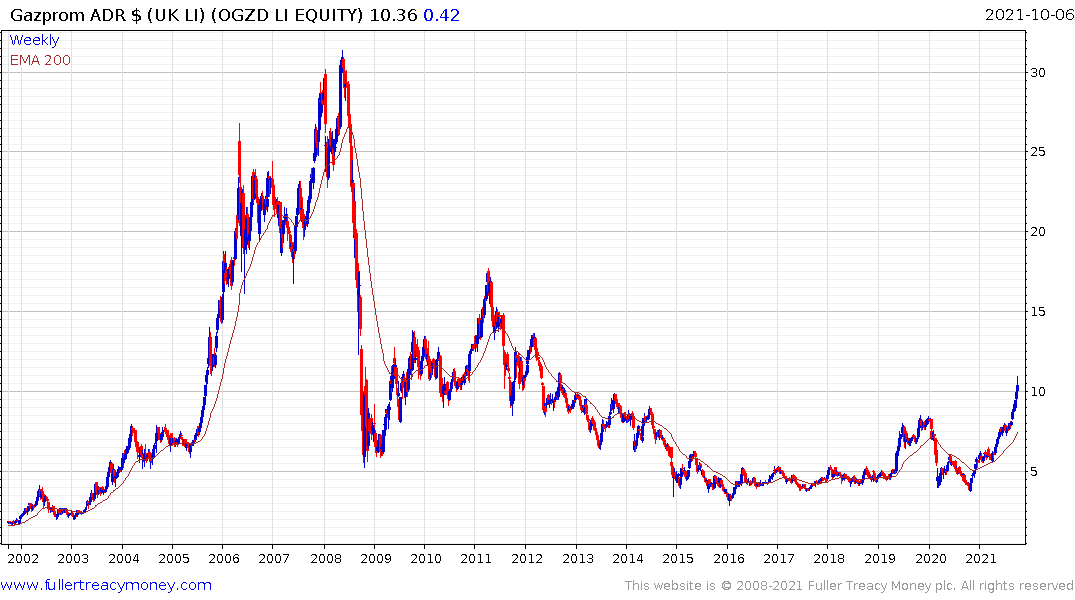 Gazprom surged higher on the energy supply shortages in Europe so some consolidation is likely overdue. However, a sustained move below the trend mean would be required to begin to question medium-term scope for continued upside.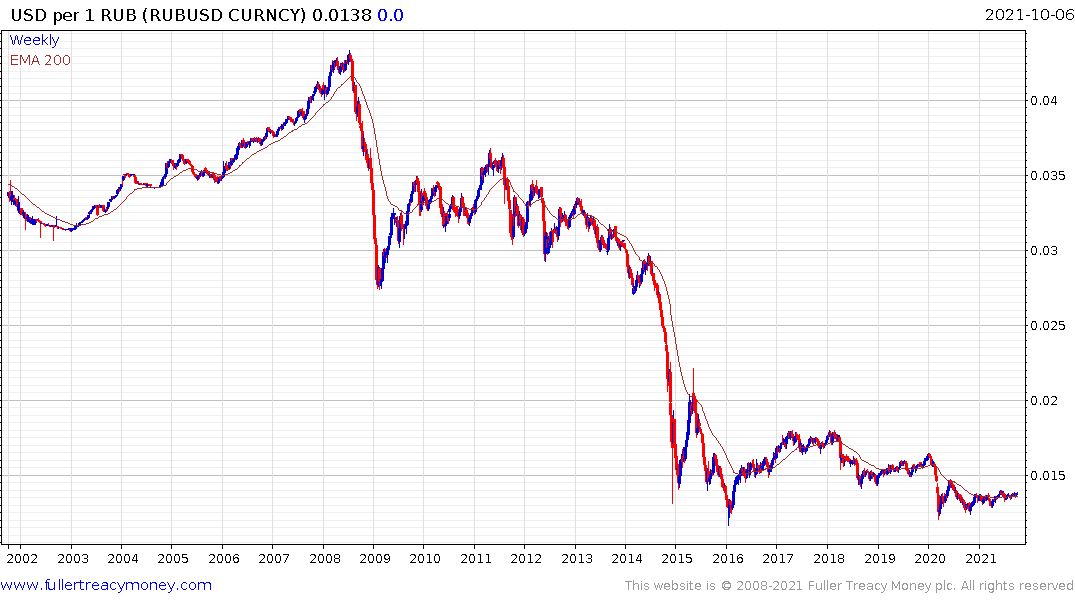 The Russian Ruble has base formation characteristics. It retested the 2016 low during the pandemic panic and has held a sequence of higher reaction lows since.
Both Russia and Canada will see the agricultural productive capacity increase as permafrost melts. That will initially come with variability in production as some areas deal with heat and drought while others have less than ideal transportation infrastructure. Nevertheless, the opening up of vast swathes of new territory to agriculture and longer growing seasons in aggregate is a positive for both countries.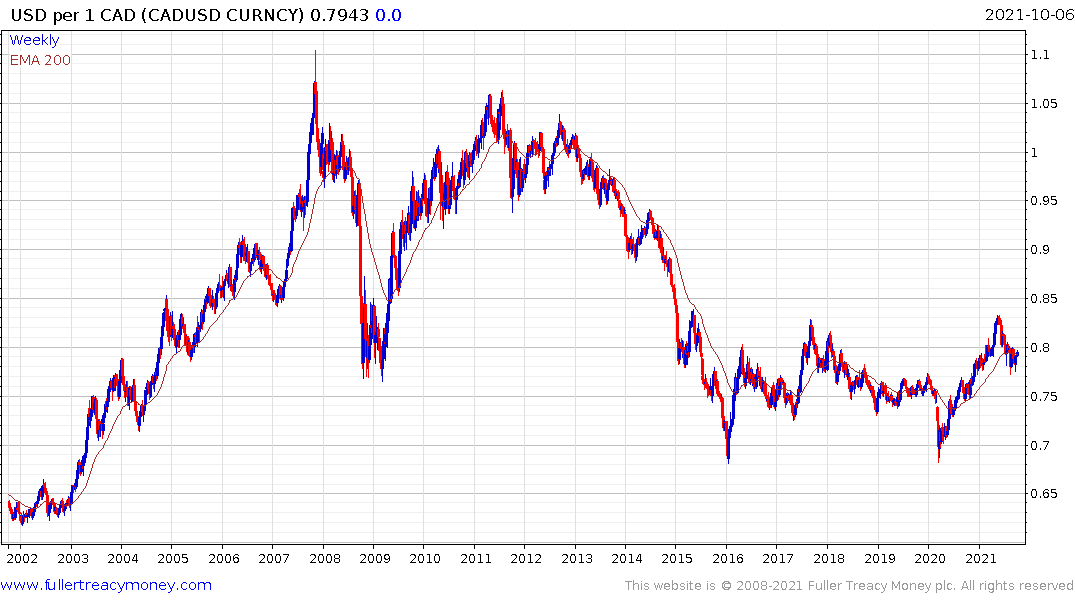 The Canadian Dollar also has base formation characteristics versus the US Dollar.
As agricultural regions open up in both Canada and Russia, they are likely to continue to be magnets for net migration. At the other end of the spectrum, the opening up of the Darien Gap between Panama and Colombia will greatly facilitate the mass migration of people from South America northwards towards the USA and Canada. This article from AP news may be of interest:
So far this year, Panama has recovered at least 50 sets of remains from migrants crossing the Darien Gap, a number officials believe is only a portion of those who died in the dense, lawless jungle. In recent years, 20 to 30 bodies on average have been recovered annually, but this year Panamanian authorities say more than 90,000 migrants — mostly Haitians — have crossed the Darien Gap from Colombia and the body count reflects that surging migration.
The Darien Gap is what ensured the millions of Venezuelans displaced by the country's economic implosion stayed in Colombia instead of migrating further. Since a route through the jungle has now been carved, that means North America will be subject to the same waves of migration as Europe has been. It also means US border enforcement will tighten up considerably, like we saw with the turning back of Haitian migrants last week, because a flood is coming.
Back to top