Public Policy Key Predictions: Election 2018
Thanks to a subscriber for this report from Credit Suisse which may be of interest. Here is a section:
Here is a link to the full report.
Here is a section from it:
The 2018 midterm elections are less than two months away (November 6), and while a "wave" election is by no means guaranteed, if the election were held in today's current political environment, we believe that Democrats have the advantage in the House, while the Senate appears more likely to remain Republican. This could potentially set up a divided government in 2019 and potentially cause gridlock going forward.
Senate: Despite polls indicating an improving national landscape for Democrats, we think it is unlikely that the party will gain control of the Senate. The more likely outcome is that Republicans keep their razor-thin majority.
House: If the election was held today, we believe the House would likely flip to the Democrats. Democrats need to win an additional 23 seats to take control of the House; generic national ballot and seat-by-seat polls, combined with other factors such as the president's popularity, would suggest a trend in their favor.
Predictability: The key races determining the final outcomes for the House and Senate remain volatile. There appears to be more than a typical amount of volatility among the electorate, and thus even the most well thought out forecasts cannot predict anything with great certainty. In addition, following the 2016 election, there have been questions about the accuracy of polling data and whether current polling methods effectively capture the preferences of voters.
What to Watch: Voter turnout in the midterm elections is typically lower than in general elections. In addition, traditional Democratic voters tend to have lower participation rates in midterm elections. However, as recent special elections this year have demonstrated, there appears to be enthusiasm among Democratic voters this cycle, so we may experience higher participation rates among traditionally Democratic voters. Higher participation, however, has not meant wins for Democrats in every case, so it remains unclear whether it will be enough to flip key races come November. Regardless, most candidates in tossup races will need to make sure they are winning over independent voters and college-educated women in order to emerge victorious.
A big question for investors is how much of President Trump's decision to levy additional tariffs on $200 billion of imports from China was aimed at appealing to his base ahead of the November Mid-Term election? If the aim of the more aggressive negotiation strategy is to ensure China will be more amenable to a negotiated settlement then there is scope for a positive outcome. If it is posturing ahead of the election then there is room for an easing of positions in November. The third potential outcome is this is just a further step in a deepening trade war.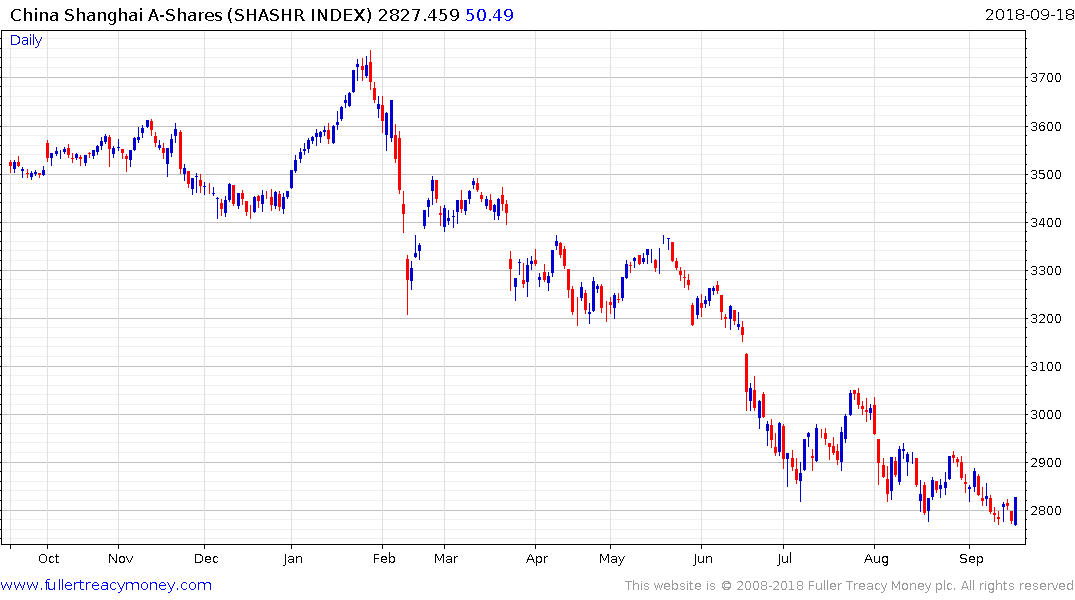 The stock market appears to have concluded that the balance of probabilities rests with options 1 & 2. The Shanghai A-Share Index posted an upside key reversal today. Upside follow through tomorrow would signal a low of at least near-term significance.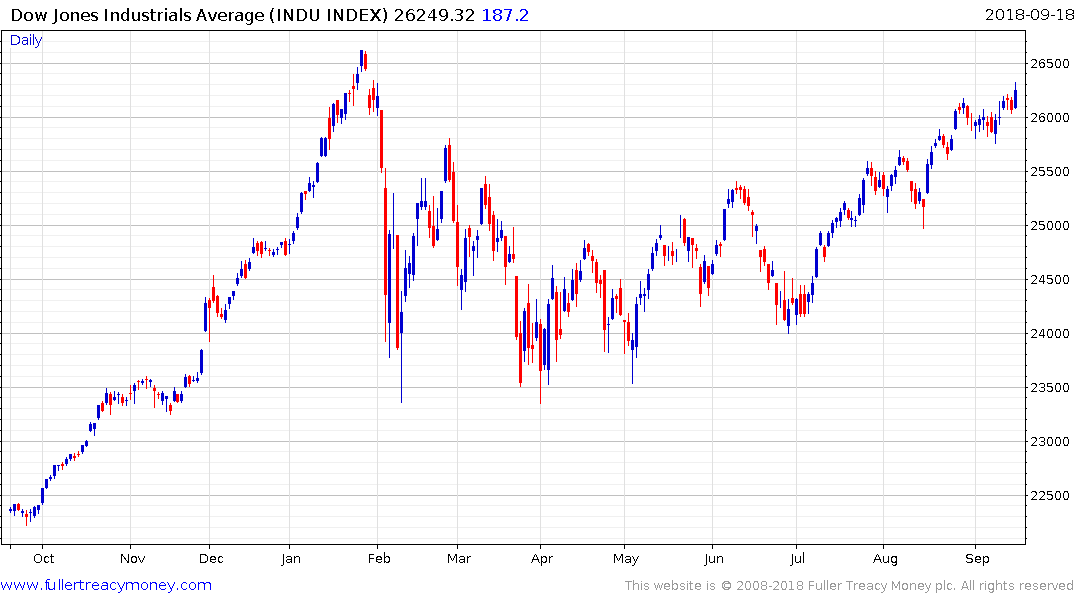 The Dow Jones Industrials which is heavily weighted by companies that either sell to China or source significant quantities of inventory from China bounced today from above the 26,000 level to hit a new recovery high.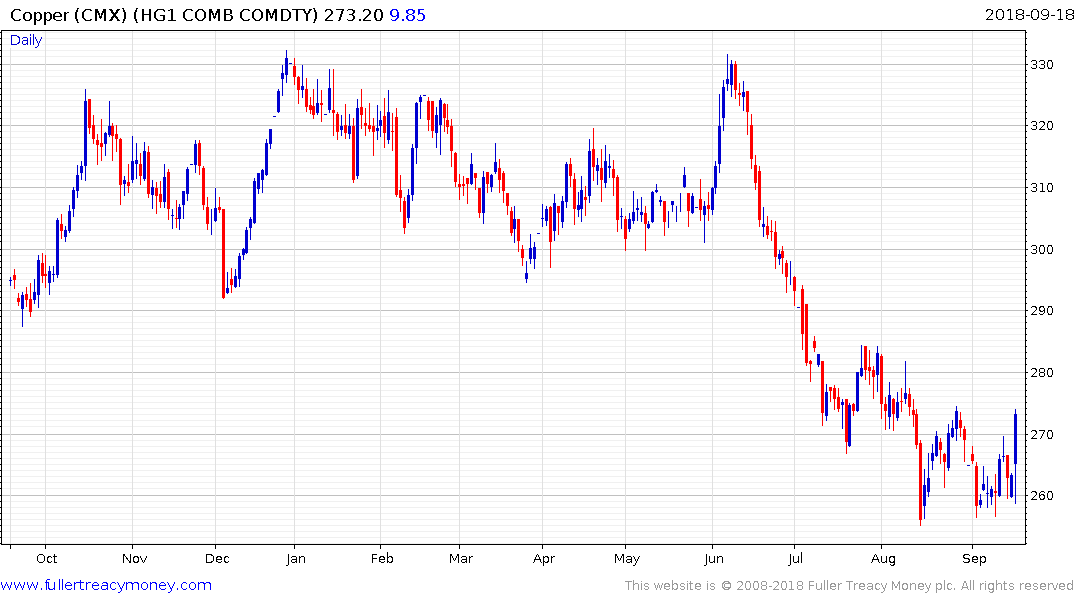 Copper had one of the most dramatic moves of any trade related market today; reversing an early decline to test the upper side of its most recent short-term range. If we give the benefit of the doubt to the most recent dynamic then the prospects of at least a reversion back towards the mean are much improved.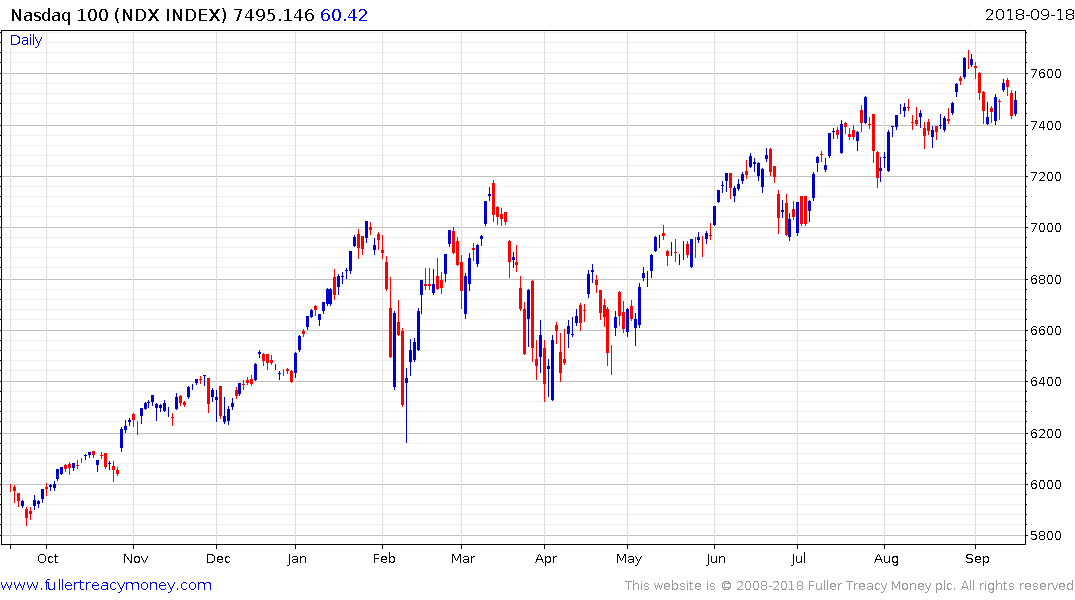 The Nasdaq-100 continue to hold a progression of higher reaction lows and bounced today from the most recent lows to suggest the buy-the-dip strategy which has prevailed since the April low is still in evidence. A break in that sequence would be required to signal a deeper pullback towards the mean is underway.
Back to top