Precious Metals 2020 Outlook
Thanks to a subscriber for this report Credit Suisse which may be of interest. Here is a section:
Here is a link to the full report and here is a section from it:

FCF and return of capital: We think the best performing gold stocks in 2020 will be for companies positioned to generate meaningful FCF at current gold prices and that can return capital to shareholders via increased dividends and/or buybacks. This past year, when gold prices increased ~18%, it became clear that investors (including generalist investors on the sidelines) wanted to see FCF generation, and we expect this sentiment to persist. Increasingly, investors appear wary of production growth via M&A, as reflected in the initial negative market reactions to NEM/GG, KL/DGC, and EDV/CEY. At current gold prices, the focus appears to be on controlling costs, growing margins, and harvesting cash flow for shareholders, to satisfy existing shareholders and attract generalists. Companies have taken note, with NEM, GOLD, AEM, AUY, and KL increasing dividends (NEM also introduced a US$1B buyback program).

Gold miners are more interested in M&A activity at present than borrowing a pile of money to plough into the uncertain prospect of exploration and development. Even if they were eager, banks are in no mood to lend them the requisite capital considering how fresh the memory of malinvestment is. That's good news from the perspective of investors because it allows miners to accrue profits so they can pay down debt, raise dividends and buy back shares.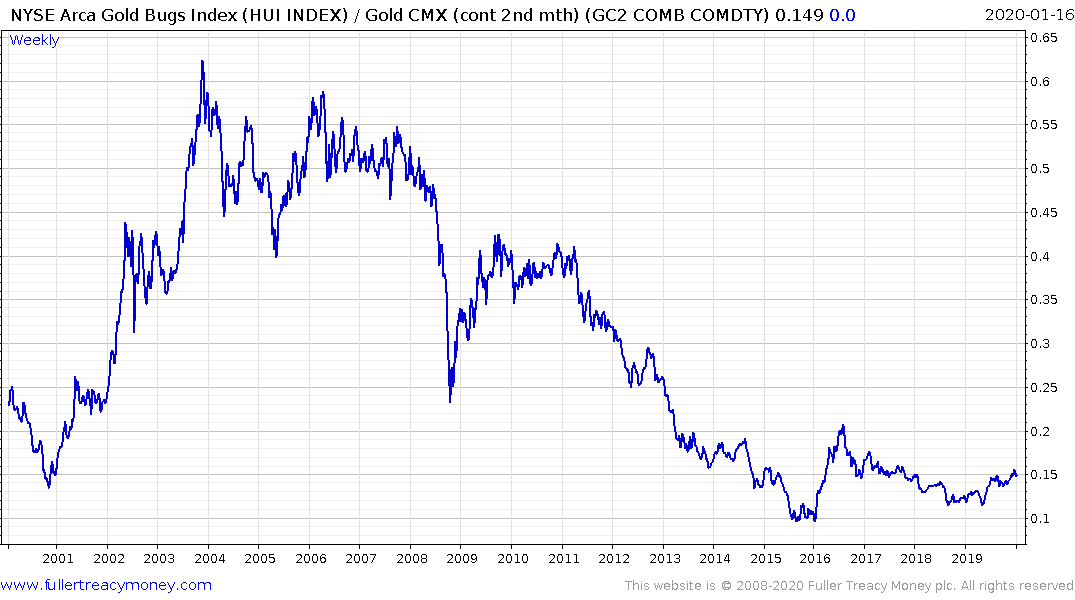 The NYSE Arca Gold BUGS Index/Gold ratio rallied last year to break the sequence of lower rally highs from the 2016 peak and continues to outperform the gold price in a modest fashion. That suggests investors are not yet fully convinced of the bullish argument and not least because the wider stock market continues to outperform.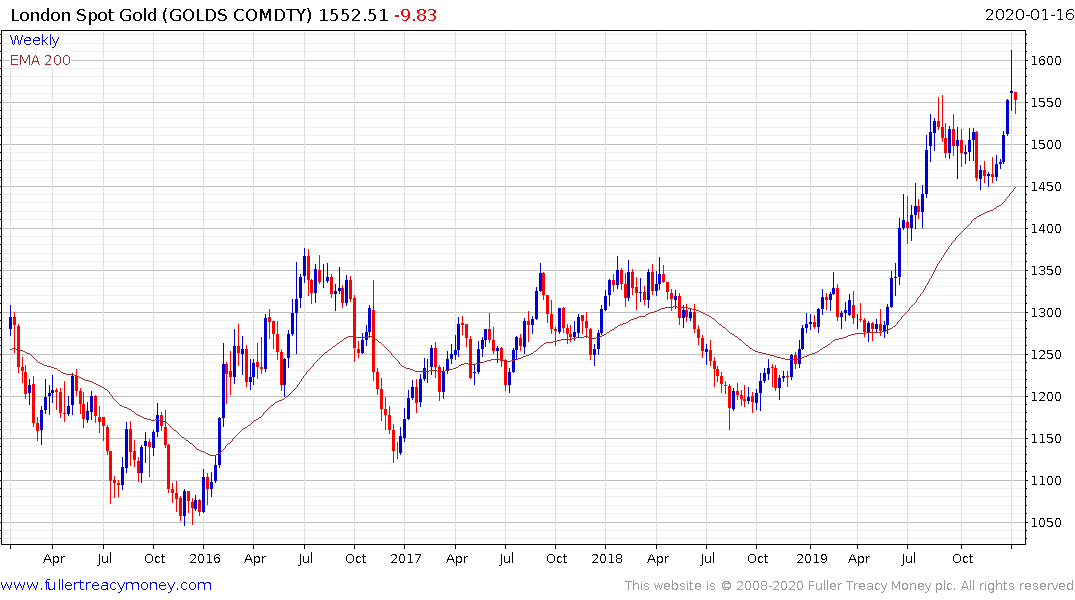 Gold bulls meanwhile are likely taking comfort from its ability to hold the $1550 area during the two-week consolidation following the pop on the upside that coincided with the assassination of General Suleimani.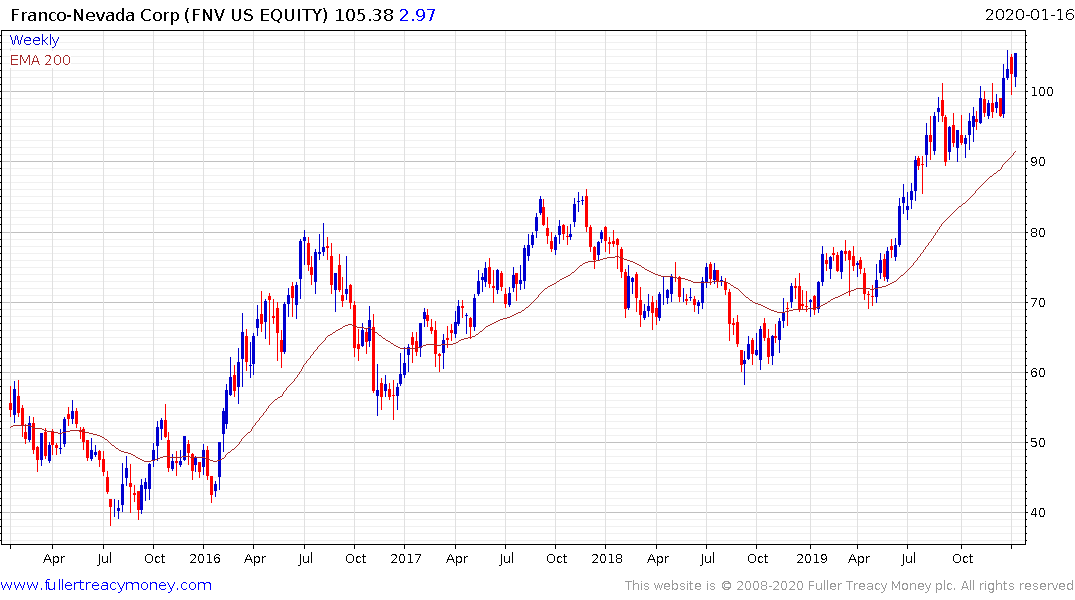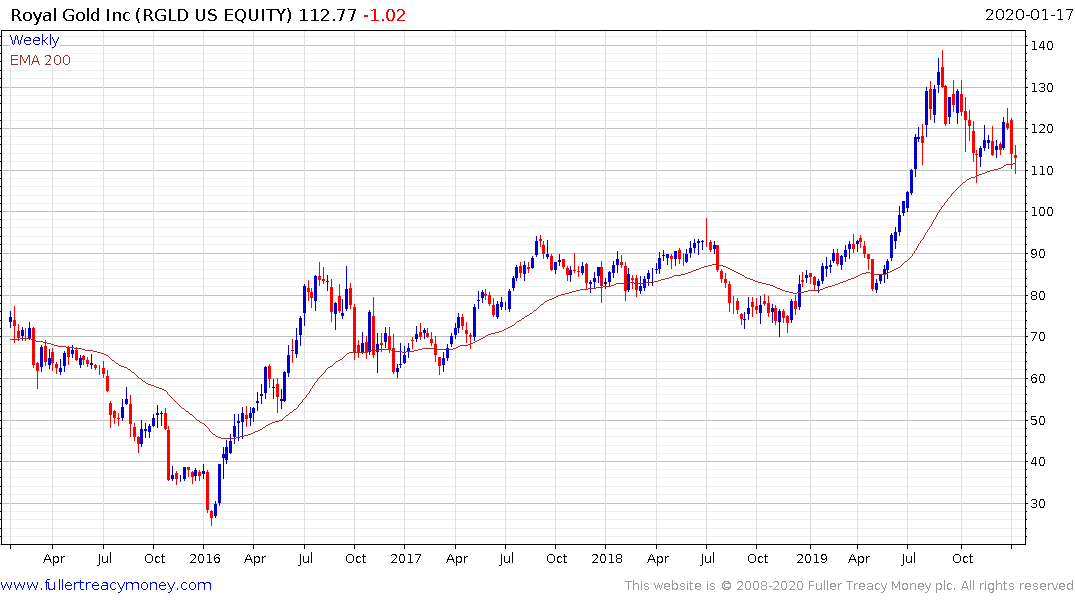 Among the Index's constituents Franco Nevada and Royal Gold, both of which concentrate on royalty streaming, have the clearest patterns of outperformance.
Back to top