Precious Appraisal
This note from Heraeus may be of interest to subscribers. Here is a section:
For ICE vehicles, Euro 7 could mean more PGM demand to meet tighter emissions limits, but the risk is that it could also become too expensive to make ICE cars that meet the new emissions standards. Most automakers' new model announcements make it clear that they intend to continue to develop ICE platforms compliant with Euro 7 rather than abandoning the ICE. Extensive hybridisation is likely to be used. Nissan has said Euro 7 will raise the costs of developing ICEs to unsustainable levels and has stopped gasoline engine development for the European market.

Potential PGM demand upside could be considerable. Assuming a similar jump in autocatalyst loadings as for earlier tightening of standards, European PGM demand could increase by several hundred thousand ounces. The BEV market share is growing rapidly, reaching 9.1% in 2021 (source: ACEA), and that additional demand takes account of BEVs potentially exceeding 20% of light-vehicle sales in 2025.

Palladium and rhodium would benefit the most, as the majority of cars will still be gasoline or gasoline hybrids. Diesel cars' share of the market may be only 12% in 2025. Platinum demand would also receive a boost from its use in gasoline autocatalysts and commercial vehicles, which will still be mostly diesel. This year, automotive palladium demand from Western Europe is forecast to be ~1.5 moz as vehicle production is predicted to recover from the semiconductor chip shortage. The global recovery could move the palladium and rhodium markets into deficit. With ICE vehicle production forecast to grow further by 2025, the introduction of Euro 7 could keep the palladium and rhodium markets tighter for longer, supporting prices
Here is a link to the full report.

Carbon emissions hit an all-time high last week near €97 and are now consolidating. The stated EU objective has been to get the price to €100. That price was deemed necessary to enable new carbon free solutions, like hydrogen, to be economic. We are now at that point so it is a good time to think about the future of both legacy and future energy solutions.
The cost of complying with these regulations and sustaining legacy production is going to get increasingly more expensive over time. It is a political non starter to fire several hundred thousand auto workers all at once in places like Germany and France.

Companies don't have much choice than to sustain production of internal combustion engines. That also helps to highlight why European automakers have been comfortable with raising prices and reducing supply during the pandemic. If they can make more from each car produced, they have a better chance of weathering this storm.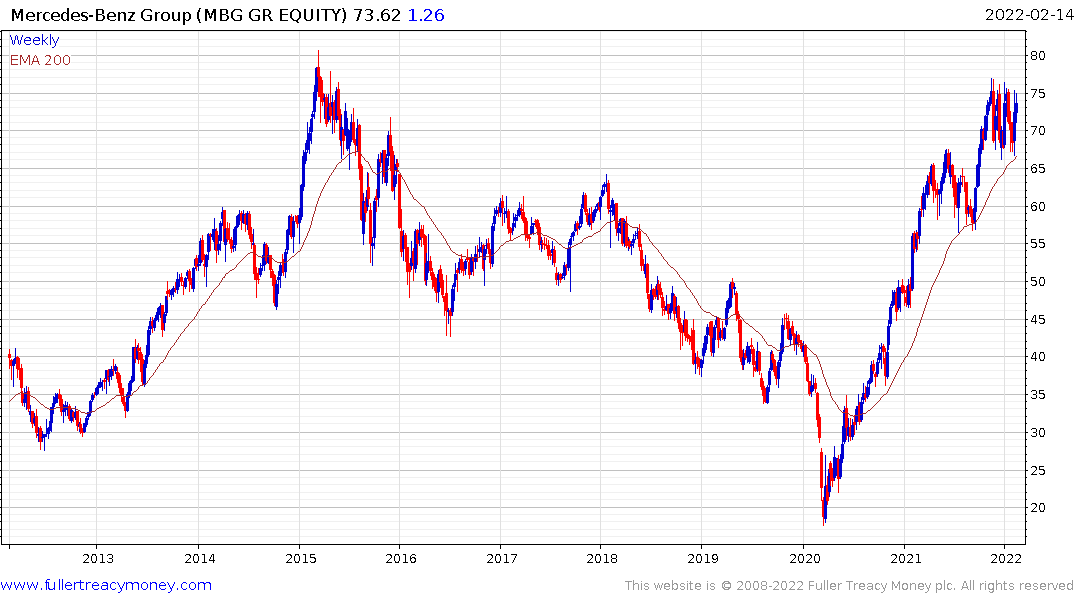 Mercedes Benz Group continues to consolidation in the region of the trend mean and the 2015 peaks. A sustained move below €66 would be required to question medium-term for continued upside.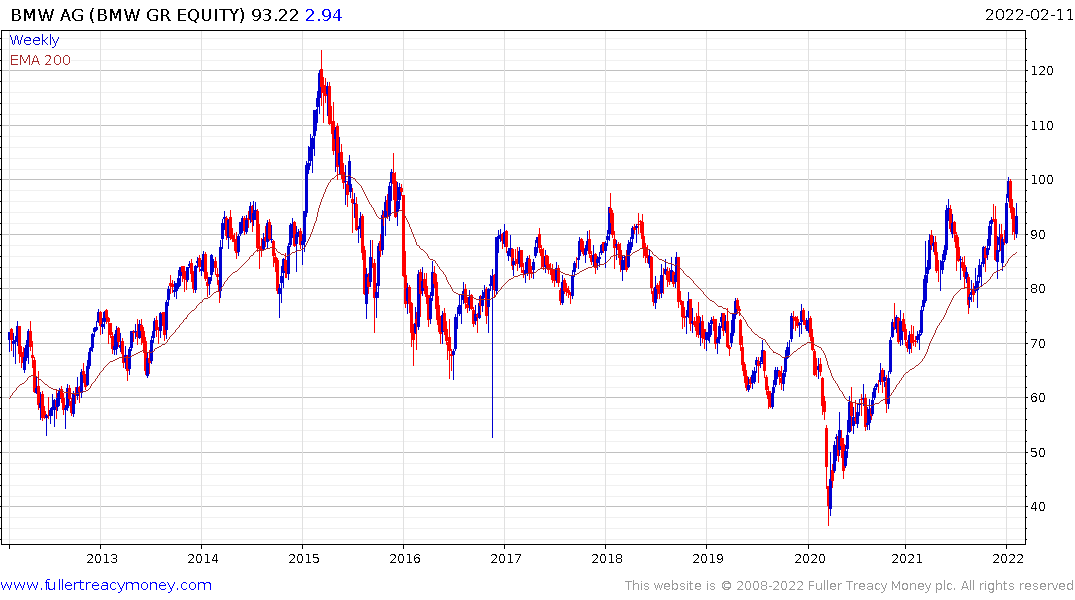 BMW has been ranging below €100 since 2015. A sustained move above that level would confirm a return to medium-term demand dominance.
As mentioned in the above piece companies are unlikely to have it all their own way indefinitely. A growing push back from consumers is building at companies reporting record profits following price increases. How well companies like Mercedes and BMW can hold onto their gains will be measure of how the market views this risk.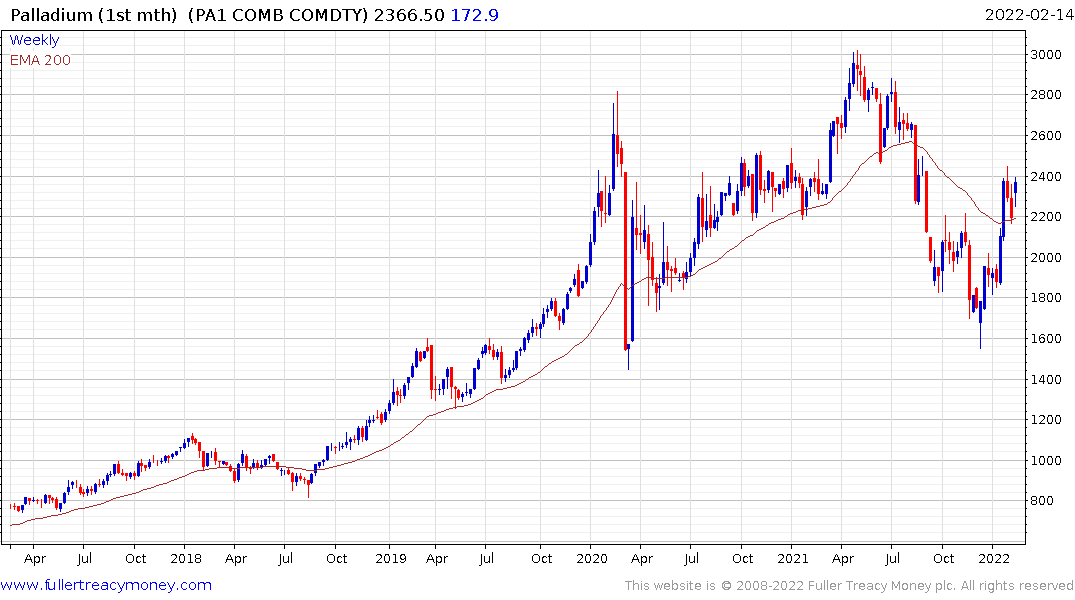 Palladium halved between May and December and has since staged an impressive rally to break the sequence of lower rally highs. It is now consolidating in the region of the trend mean and a sustained move below $2200 would be required to question the recovery. Rhodium has strong commonality with palladium.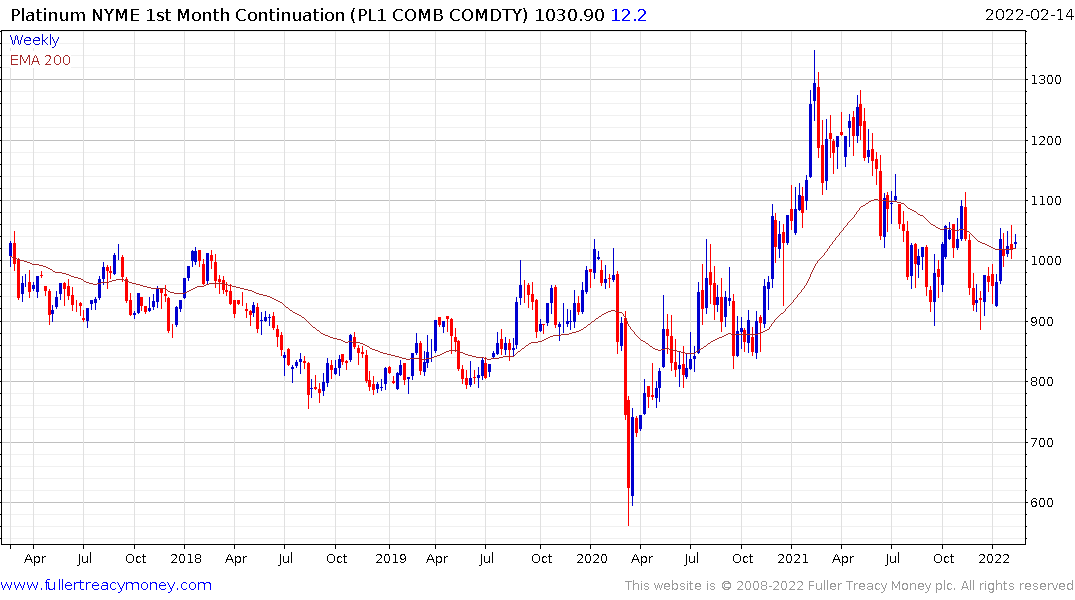 Platinum's big hope of a major demand driver continues to reside with hydrogen fuel cells. This article from Wired.com highlights the fact there is still an argument about how prevalent the technology will be in public transportation despite the fact many cities already have fuel cell buses. https://www.wired.com/story/future-buses-hydrogen-electric/
The price has been ranging in a volatile first step above the base for the last 18 months and is again firming from the psychological $1000. It will need to at least hold a move above $1100 to confirm a return to medium-term demand dominance.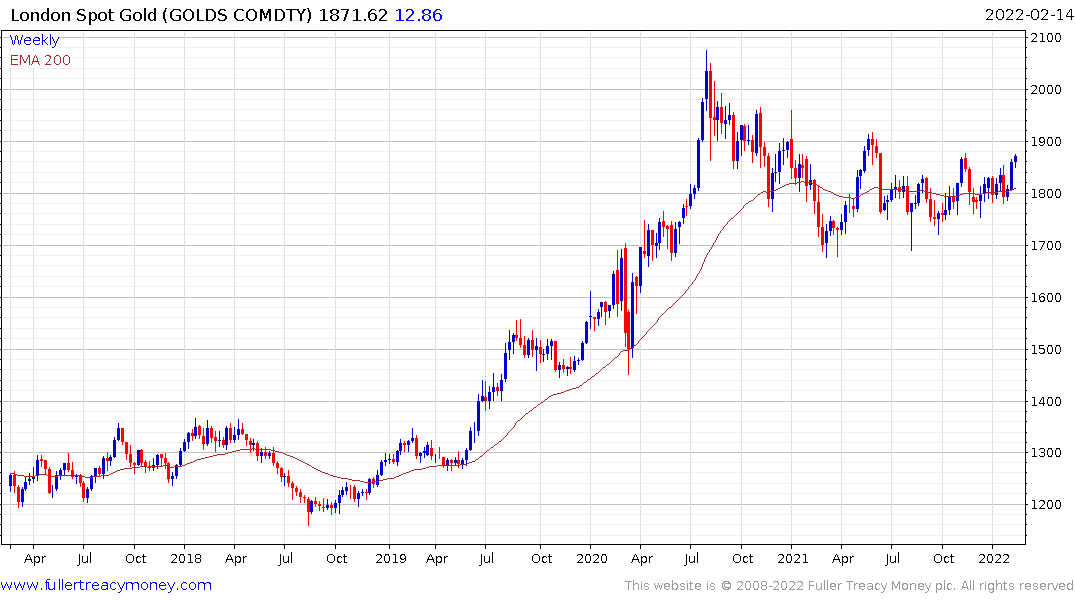 Gold continues to firm and has so far sustained the move above the psychological $1850 area. This is encouraging action but it needs to continue to improve on this performance to convert naysayers and confirm a return to medium-term demand dominance.
Back to top