Pound Sinks to Lowest Since 2017 on Threat of No-Deal Brexit
This article by Charlotte Ryan for Bloomberg may be of interest to subscribers. Here is a section:
The beleaguered U.K. currency is finding few backers, with both leveraged funds and asset managers increasing their pound short positions, according to the latest data from the Commodity Futures Trading Commission. Deutsche Bank AG's global head of currency research George Saravelos said the currency is not cheap enough, even after its recent slide, and that there is now close to a 50% chance of a hard Brexit.

The president-designate of the European Commission, Ursula von der Leyen, said she was ready for a further extension of the Brexit deadline "should more time be required for a good reason." However, a meeting of Brexit negotiators last week was one of the most difficult of the last three years, according to European officials, as they brace for talks to become more hostile under the next British government.

Johnson and Hunt, who have long said they want the Irish backstop renegotiated, appeared to limit their room for compromise in a debate late on Monday.

"This leaves only two options, no-deal Brexit, or no Brexit," said Thu Lan Nguyen, a currency strategist at Commerzbank AG. "As both Johnson and Hunt have made clear they want Brexit, chances of a no-deal Brexit are rising."
The members of the Conservative Party who vote on leadership contests demand a hard line on Brexit so that is what the candidates have offered. Showing a willingness to walk away is a basic component of any negotiation so a hard Brexit needs to be an option. The biggest question is what the new leader is going to deliver once the mantle of power comes to rest on his shoulders. The EU has stated they will not reopen negotiations so the question is what sweeteners they will offer and whether that will be enough to get a deal done.

The border between the EU and Switzerland is not policed by the EU but the Swiss make sure to pick up a highway toll for vehicles entering the country and occasionally perform customs checks. The UK has stated they will not police the border but Ireland has no intention of providing the resources necessary to police the border either. The EU is a porous entity with multiple entry points. It seems the backstop is more sophistry than a real obstacle. There is a clear risk Ireland has overplayed its hand in antagonising its biggest trading partner in the hope a hard Brexit will never happen.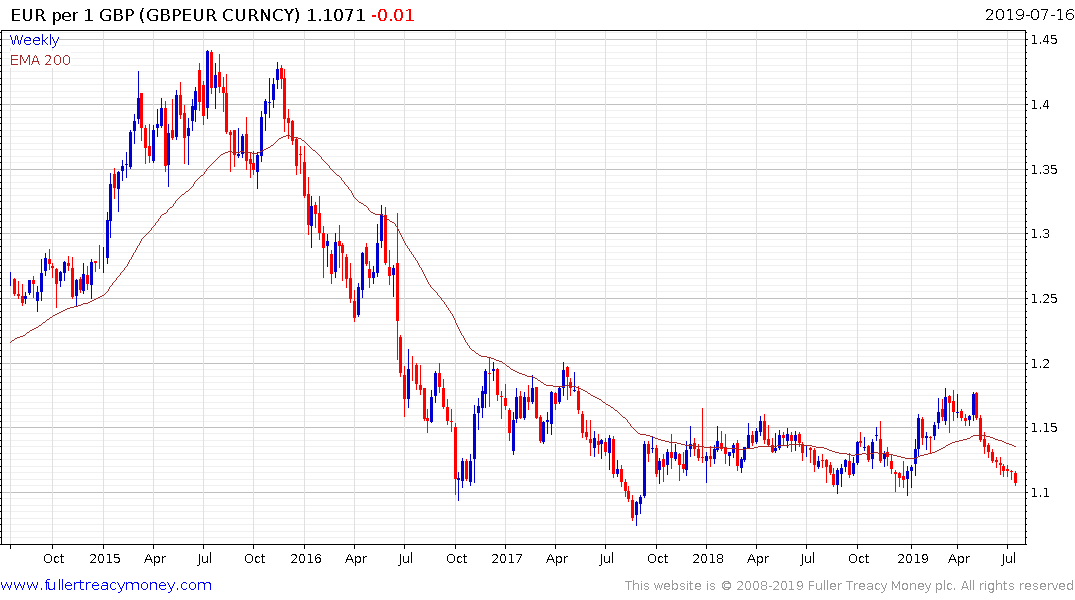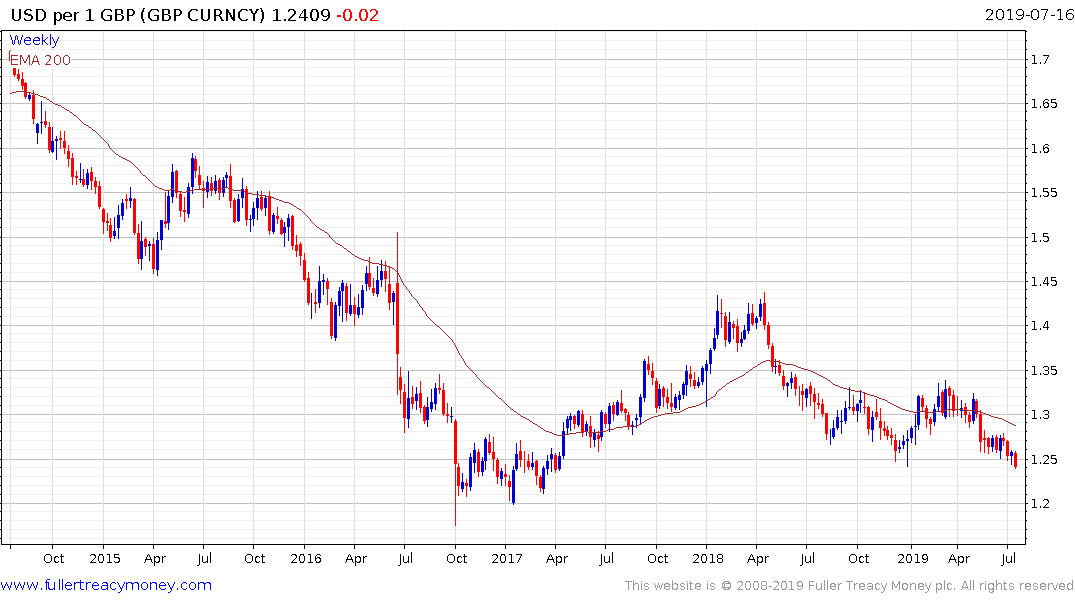 The Pound dropped to a new low against the US Dollar today and is very oversold against the Euro. It has now fallen for 11 consecutive weeks following, the failed break above €1.15. The €1.10 level has offered support in the past and if the Pound is going to steady this is a logical area for that to occur.
Back to top