Pound Hits Lowest Since Lockdown on Signs U.K. Recovery Slows
This article from Bloomberg may be of interest to subscribers. Here is a section:
The readings will feed into debate about how quickly policy makers should move to calm inflation, which at 7% is more than triple the target. Investors anticipate another increase in interest rates next month, bringing the key lending rate to 1% for the first time since the global financial crisis more than a decade ago.

BOE policy maker Catherine Mann on Thursday raised the prospect of a bigger jump in interest rates to control inflation. She also said she's focused on how well demand holds in determining how to vote in May.

She noted that data suggested "consumers were forward-looking, which would translate into a period of softer demand growth, perhaps even retrenchment."

"Mann put the cat amongst the pigeons yesterday by suggesting the BOE could accelerate its pace of tightening if the economy withstood the cost of living crisis," ING analysts wrote in a note. "Today's soft U.K. March retail sales release is a notch against such an outcome."
The big question is whether the growth slowdown in the UK is a prelude to what we can expect from the rest of the world? My hunch is yes. The UK aggressively boosted money supply and debt issuance during the pandemic, was among the first to remove mask mandates, experienced a jump in activity immediately afterwards, and is now beginning to experience a hangover as the rising cost of all consumables bites into spending power.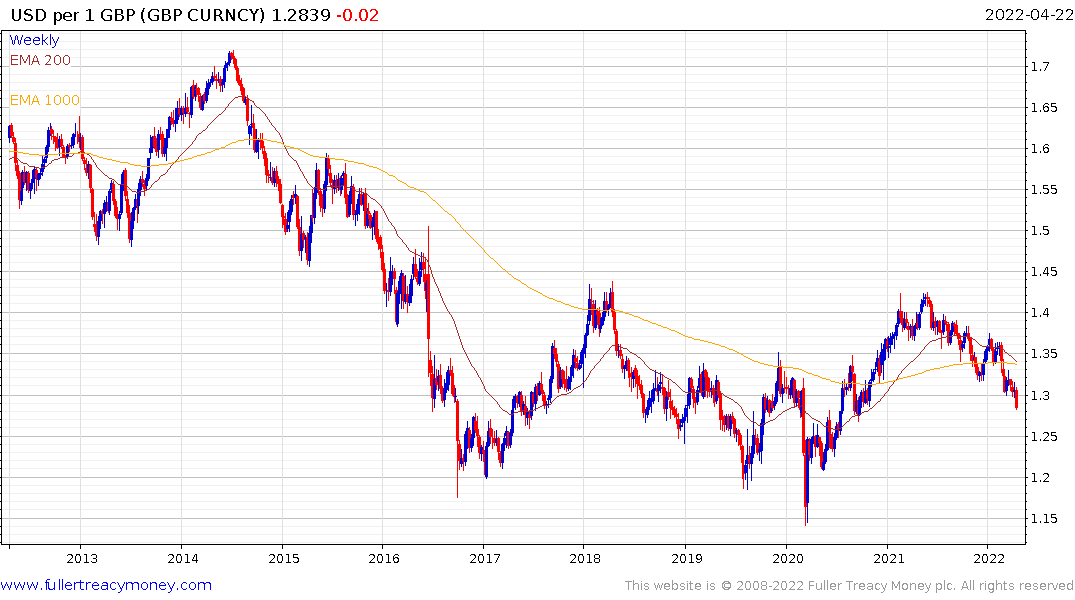 The Pound continues to trend lower against the US Dollar. The prospect of a widening interest rate differential, with the UK not expected to outpace the USA in hiking rates is the primary reason for the underperformance.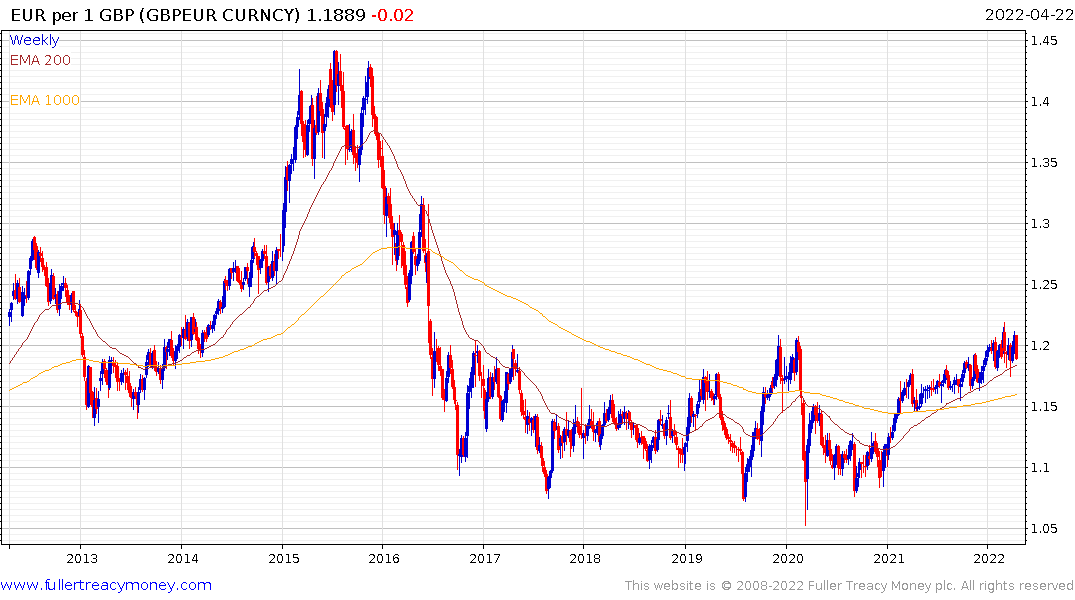 The Pound has also encountered resistance against the Euro at the upper side of the base formation so at least some consolidation is likely.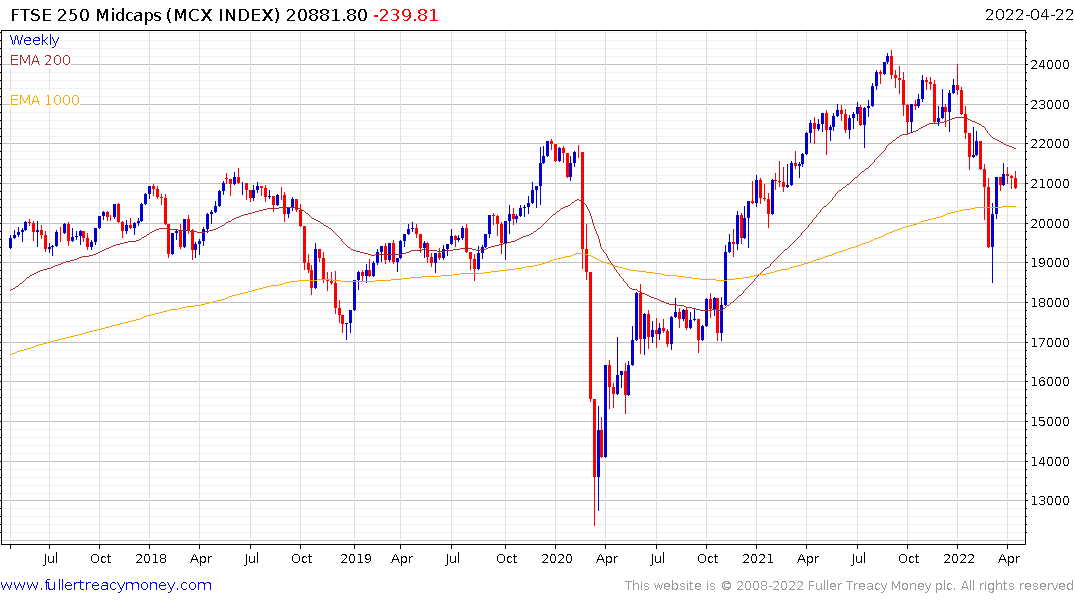 The FTSE-250 rebounded impressively from the early March low and has been ranging in an inert manner for the last month. The first big bounce from a deep pullback usually requires some consolidation before investors are willing to support significantly higher prices. That suggests the next stab to the downside will need to find support in the region, or above, the early March low to confirm support building is underway.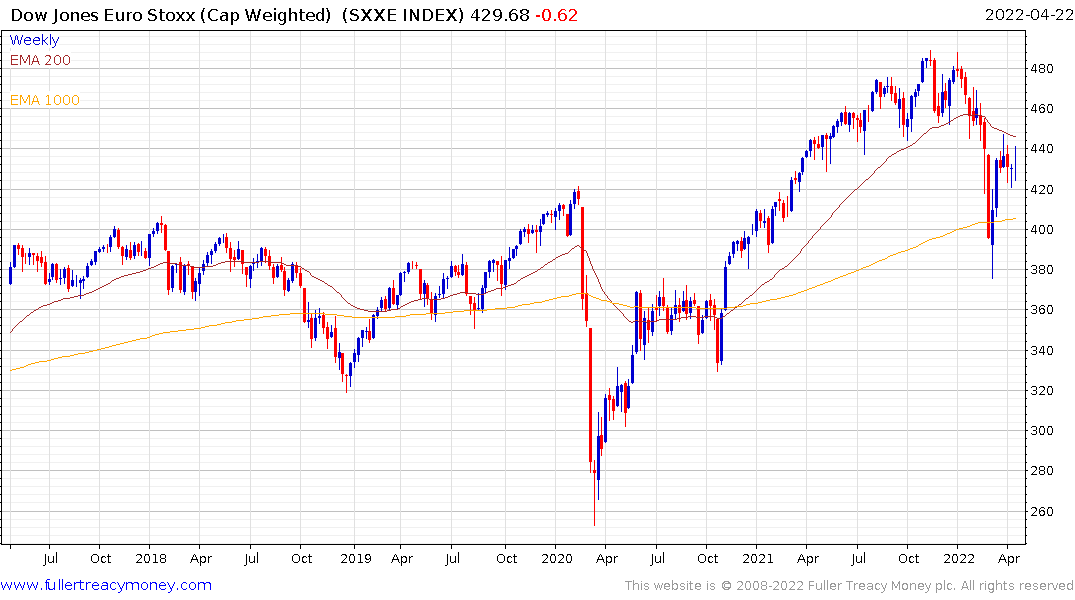 The Euro STOXX Index has a similar pattern.

The primary redeeming quality of European indices is they have a smaller weighting of interest rate sensitive sectors like unprofitable technology stocks. The challenge is many European companies rely on Chinese demand and that is under pressure at present.
Back to top