Hungary Can Amend Foreign-Currency Loan Terms, Court Rules
This article by Zoltan Simon and Andras Gergely for Bloomberg may be of interest to subscribers. Here is a section:
Hungarians held 1.75 trillion forint ($7.7 billion) of mortgages at the end of January and an additional 1.6 trillion forint in foreign-currency home-equity loans, which can be used for purchases other than housing, according to central bank data. In 2011, Orban forced banks to swallow $1.7 billion in losses on early repayment of some mortgages at below-market exchange rates.

OTP competes with mostly foreign-owned banks including Erste Group Bank AG, UniCredit SpA, KBC Groep NV, Intesa SanPaolo SpA and Raiffeisen Bank International AG.

Banks must bear the brunt of the costs in changes to foreign-currency loans, while the state and borrowers will also having to shoulder part of the burden, Gulyas said.

Lawmakers, if they choose to amend the terms of private contracts, must be able to prove the need for such a step and the Constitutional Court can rule on its validity, Paczolay said.
While Russia and its ambitions on Eastern Ukraine continue to dominate headlines it is by no means the only story worthy of mention in the region. The exposure of Hungarian corporations and consumers to Euro and Swiss Franc loans has been a significant headwind as the Forint has weakened. Today's news that these loans may be redenominated was greeted with a short-term drop which was quickly retraced as the impact of this decision should be generally positive for the economy.
The BUX Index bounced today from the region of the 2012 lows suggesting an unwinding of the short-term oversold condition is now underway.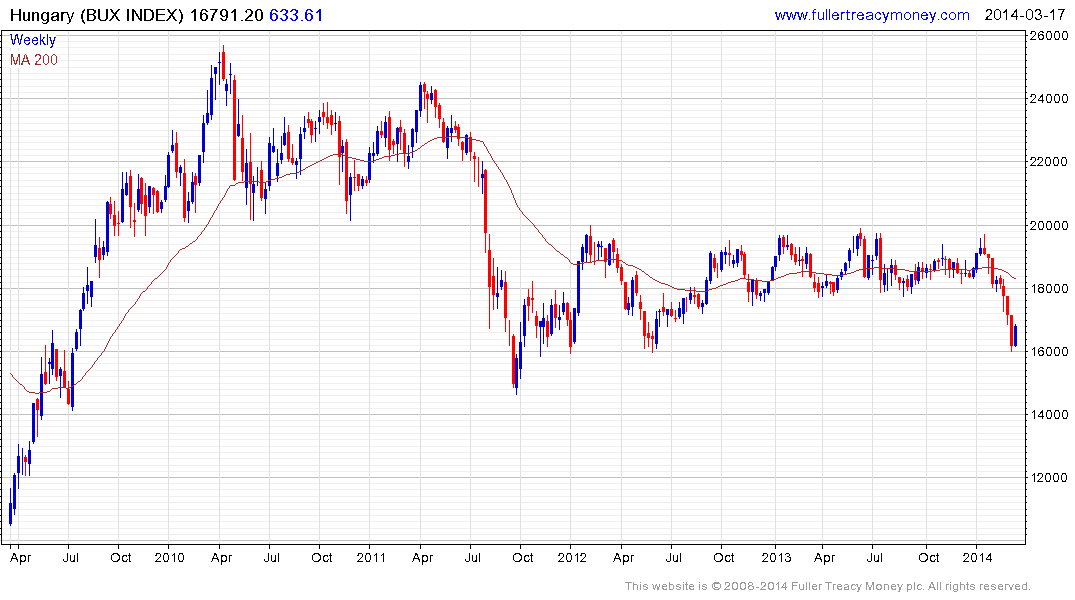 Back to top