An unloved Asian sector index
I clicked through Asian sector indices this morning in order to assess to what extent the region has been affected by the uncertainty regarding China's bad loan issues and to see how various sectors have performed since concerns about Asian currency weakness reached at least a short-term pinnacle last month.

The Bloomberg Asia Pacific Beverages Index stands out as an unloved sector. China's anti-corruption chief Wang Qishan imposed a ban on lavish gifts more than a year ago. At the same time the blogosphere suddenly started to highlight public officials wearing expensive watches and asked how these people could afford such luxury. The sales of expensive spirits took a hit since the consumption of these beverages was banned at Party functions. This had a particularly tough knock-on effect for premium label distillers.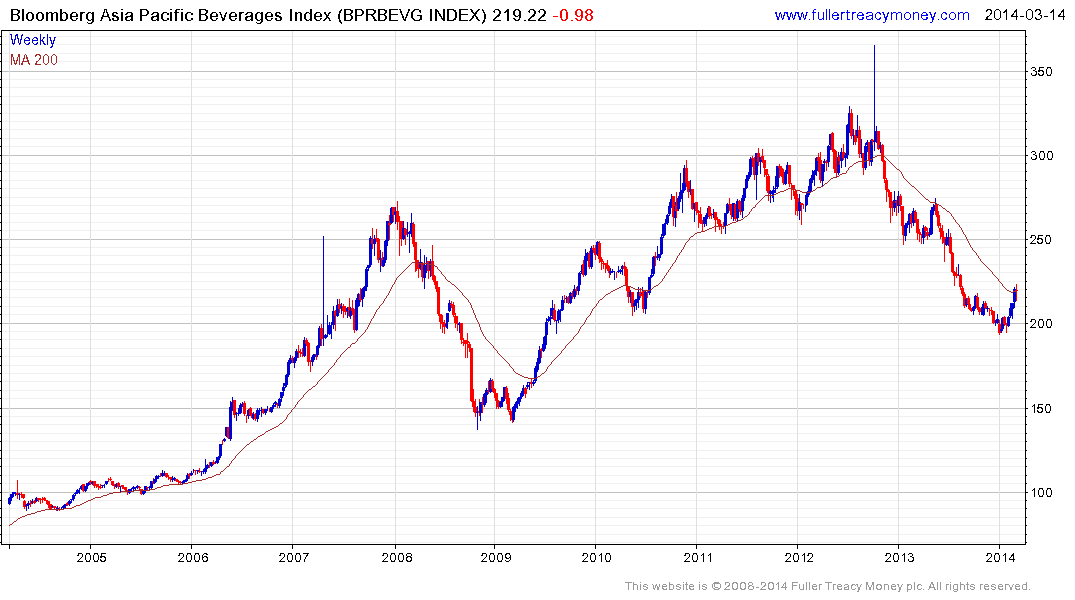 At Costco last week, I was intrigued to see a bottle of Hennessy selling for $49,999. I've seen similar bottles for sale in China over the years and for similar prices. This was the first time I've seen such an expensive bottle for sale at a US supermarket. One might conclude that while it is now politically incorrect to be seen consuming such beverages in China, that the wealthy elite still savour the taste and may be using foreign trips to procure them.

The Bloomberg Asia Pacific Beverages Index (P/E 13.82 DY 2.93%) is dominated by Chinese and Japanese brewers. It trended consistently lower between mid-2012 and found at least near-term support in January following a more than 40% decline. It has now closed its overextension relative to the 200-day MA and will need to find support above the January low on the next pullback to confirm a return to medium-term demand dominance.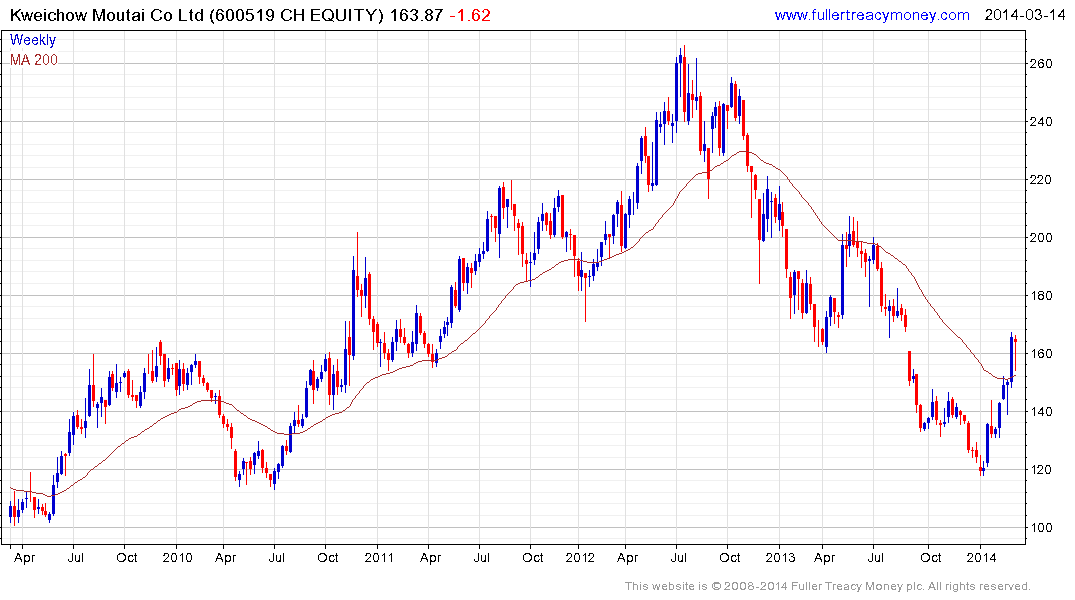 Kweichow Moutai rebounded today from the region of its 200-day MA following a bullish analyst report and a sustained move below the CNY150 area would be required to question medium-term recovery potential.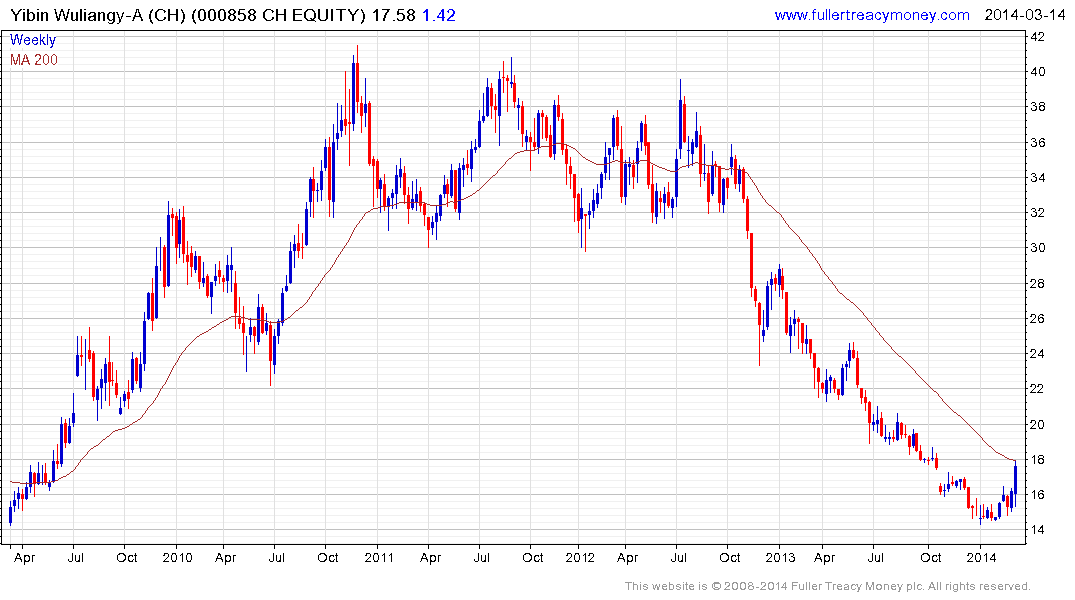 Yibin Wuliangy has now rallied to test the trend mean and a sustained move below CNY15 would be required to question recovery potential.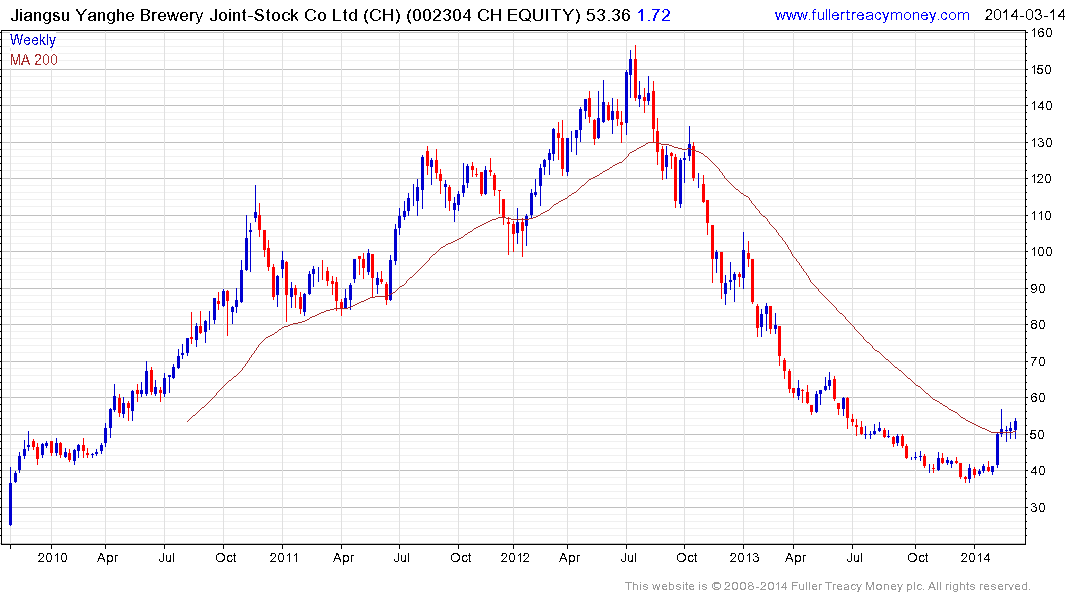 Jiangsu Yangbe Brewery has been ranging in the region of the 200-day MA for the last four weeks and a clear downward dynamic would be required to question current scope for a successful upward break.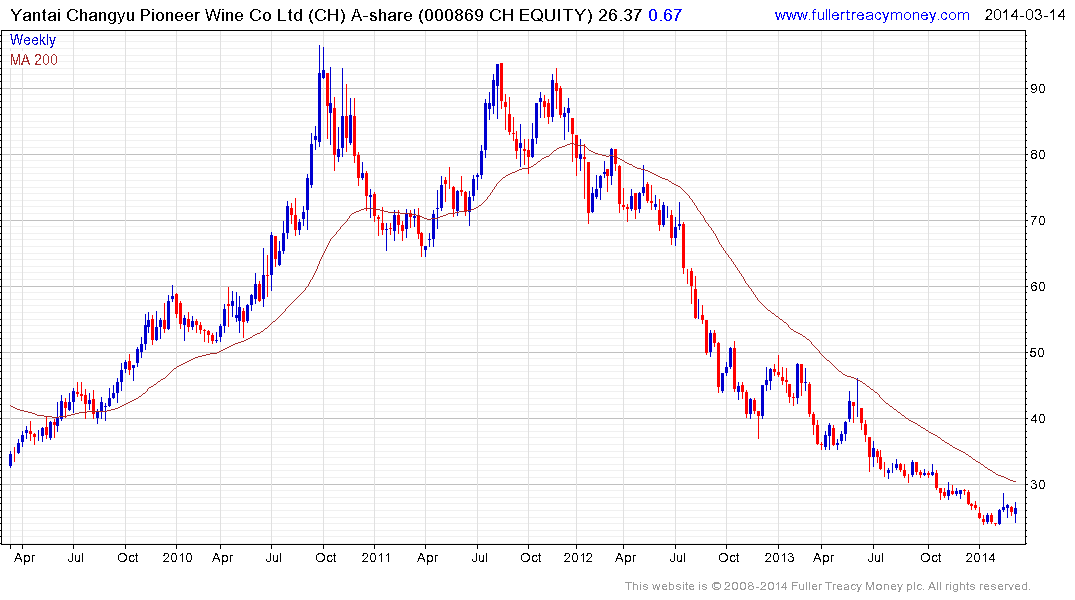 Yantai Changyu Pioneer Wine has stabilised near CNY26. Based on commonality with the above shares it looks more likely to rally than decline further.

Following an exhaustive search on Bloomberg I have been unable to find an ETF that offers access to these companies but if subscribers can suggest one I would be happy to highlight it.

What the performance of the brewing sector suggests is that the Chinese stock market remains one where a range of competing themes are vying for attention and that the issues with bad loans might be getting a great deal of attention but it is not the only story worth monitoring.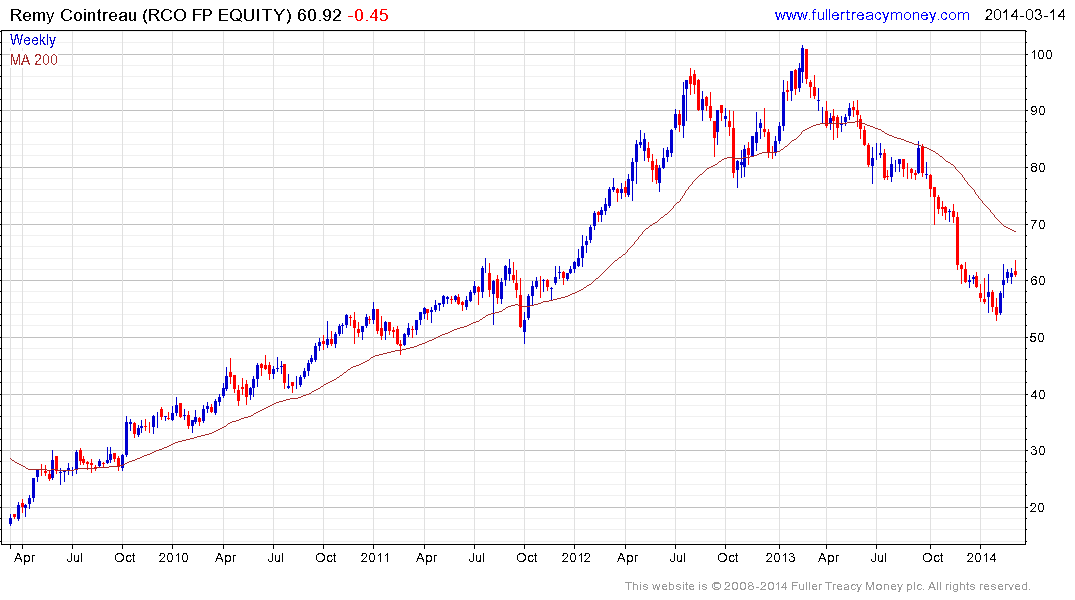 ​French listed Remy Cointreau has suffered from a number of the same issues that have affected the Chinese distillers and brewers. The share has at least paused in its decline and will need to find support above €53.50 on the next pullback to confirm a return to demand dominance beyond the recent short-term bounce.
Back to top