Draghi Takes Aim at Euro Seen Too Strong for Comfort
This article by Lukanyo Mnyanda may be of interest to subscribers. Here is a section:
"The ECB is reacting in part to the trend in the euro," Sebastien Galy, a senior currency strategist at Societe Generale SA in New York, said yesterday. While "$1.40 means little to an economist, it does to a lot of corporates complaining to their central banks."

Morgan Stanley and UBS AG say the euro's gains aren't compatible with the ECB's goal of repairing an economy that shrank 0.5 percent last year and boosting inflation. Consumer prices rose 0.8 percent in February from a year earlier, half the ECB's 2 percent target, while core inflation, which is stripped of volatile components such as energy and food, was 1 percent.

More than six years ago, Draghi's predecessor as ECB president, Jean-Claude Trichet, described the euro's advance as brutal in November 2007, a day after it climbed to a record $1.4731.
Mario Draghi's successful efforts to restore confidence in the cohesion of the Euro have seen the currency appreciate by more than 16% against the US Dollar since mid-2012. However, wishing to dispel fears of its imminent demise and a willingness to tolerate the currency being among the strongest in the world are not the same thing.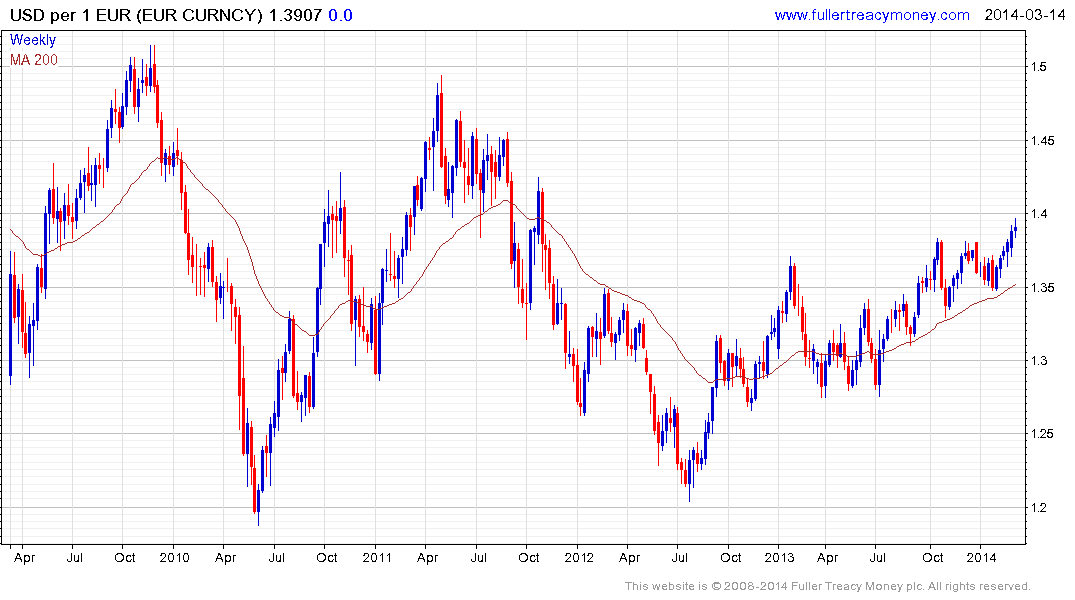 The Euro has rallied for six consecutive weeks and has developed a short-term overbought condition as its tests the $1.40 level. This area has represented an area of resistance in the past so some consolidation of recent gains is likely. However, the $1.50 area has been a more important psychological level over the last five years and probably represents an area where we could see more substantive measures from the ECB than attempts to talk the currency down.
The weakness of the US Dollar over the last six weeks has been a tailwind for commodities not least in the agriculture sector where weather issues have acted as a bullish catalyst. Some steadying of the Dollar could see some consolidation of gains among the more overbought commodity contracts.
Back to top