Potash demand looking up as suppliers short on MOP supply
This article by Dorothy Kosich for Mineweb may be of interest to subscribers. Here is a section:
"The potash market has a much more positive tone now than the prior 12 months, Sid Himmel, the CEO of IC Potash, told analysts Wednesday.

"Most suppliers are short on granular MOP [Muriate of Potash] supply," he observed. "Demand is coming back from China. Prices are starting to turn up."

"This is likely a confirmation that current prices are considered low by agricultural buyers, and there is clarity that a lot of the extra supply that was thought to be coming on stream will not be built due to high capital costs," Himmel advised

Bloomberg no longer updates the Vancouver price for potash we previously had in the Chart Library so we have replaced it with a US price that updates weekly and one that updated monthly but has more back history.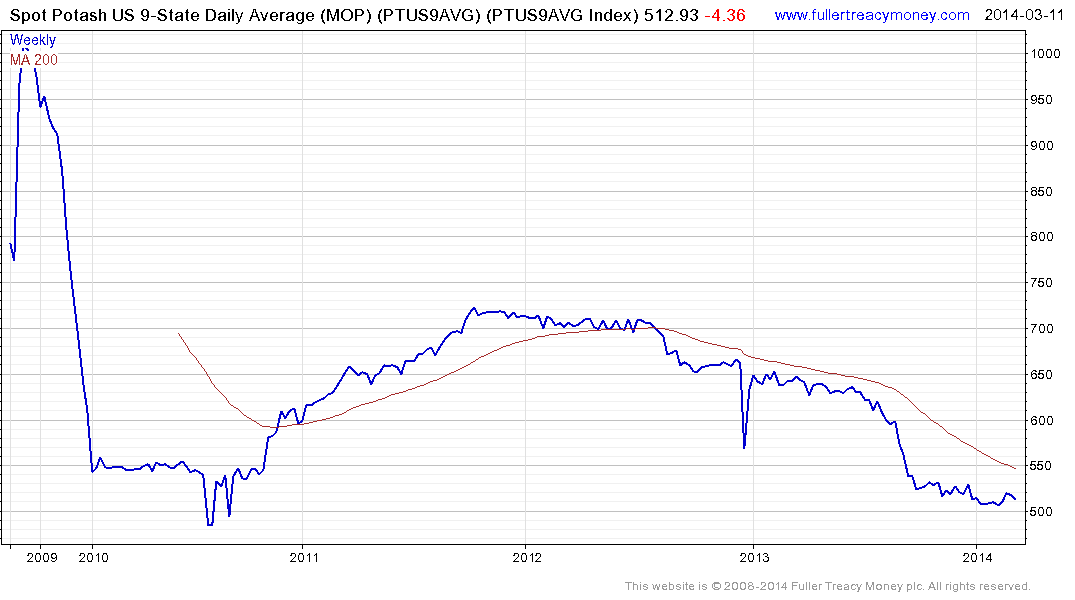 What these charts tell us is that potash prices are back to levels last seen in 2010. The depressed state of prices represents an incentive for potash miners to come to agreement on pricing in order to ensure the survival of higher cost operations.
On the demand side, we can probably conclude that crop disruptions due to weather and politics will likely see the market for fertilisers improve over the next few months. (Also see Comment of the Day on March 5th.)
Back to top