Facebook WhatApp Deal Preceded by Rakuten Viber Buy
This article by Patrick Frater for Variety may be of interest to subscribers. Here is a section
Investors were more cautious. They marked Rakuten's shares down by 14% to JPY 1,499 on Monday, the first trading session after the announcement, and the shares continued to sink to JPY1,462 in Thursday trading after the Facebook announcement. At that price Rakuten has a market capitalization of some $18.9 billion (JPY1.93 trillion), compared with Facebook's $173 billion.

Rakuten will pay cash for the deal, largely financed by its own reserves and bank borrowings. The deal is expected to close in March. The company also announced 2013 profits of $208 million (JPY21.1 billion).

Rakuten aims to integrate Viber with the other online services in its 'Rakuten ecosystem' which currently includes 200 million users, especially to expand the linkage between messaging and transactions. A Rakuten motto is "shopping is fun."

?In doing so it will step up the rivalry with other messaging services such as Naver, WeChat and WhatsApp, and give it a social media edge currently to compete with other e-commerce giants such as Amazon, China's Alibaba and Korea's CJ. (eBay previously owned VoiP service Skype, but sold it to Microsoft in 2011.) Other firms are trying to turn social media and messaging into gaming, and gaming platforms into transactional marketplaces.
Facebook's purchase of WhatsApp caught my attention because while I know of the app I don't use it. I much prefer Viber for communicating with family not least when overseas. The relatively unremarked sale of Viber last week to Rakuten is noteworthy not least because the price was $900 million compared to the $19 billion paid for WhatsApp.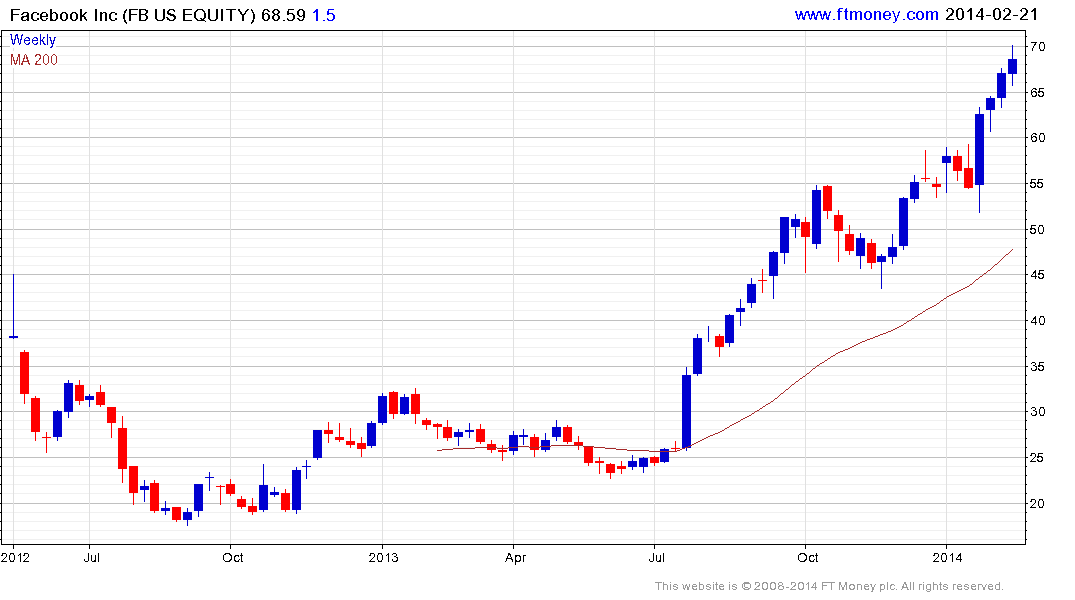 This was not the first time Facebook has paid eye watering amounts to acquire a potential competitor or to strengthen its position in mobile advertising. Mr Zuckerburg understands that in the highly competitive world of technology if you are not constantly innovating and striving for market share you are going backwards. Provided Facebook continues to retain the image of sector leader investors are likely to give it the benefit of the doubt. While the share price is somewhat overbought in the short-term, a sustained move below the moving average would be required to question medium-term potential for additional upside.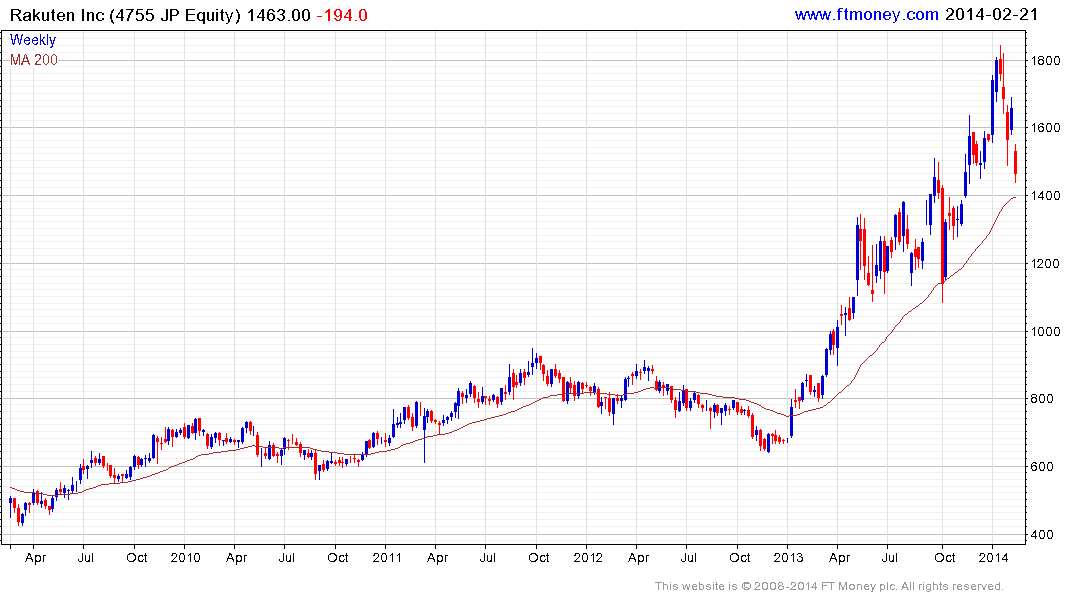 Rakuten has yet to demonstrate that it can transition from home shopping to mobile shopping but it has just paid a reasonably attractive price for a choice asset to help it in that endeavour. The share has returned to test the region of the 200-day MA and a sustained move below ¥1400 would be required to question medium upside potential.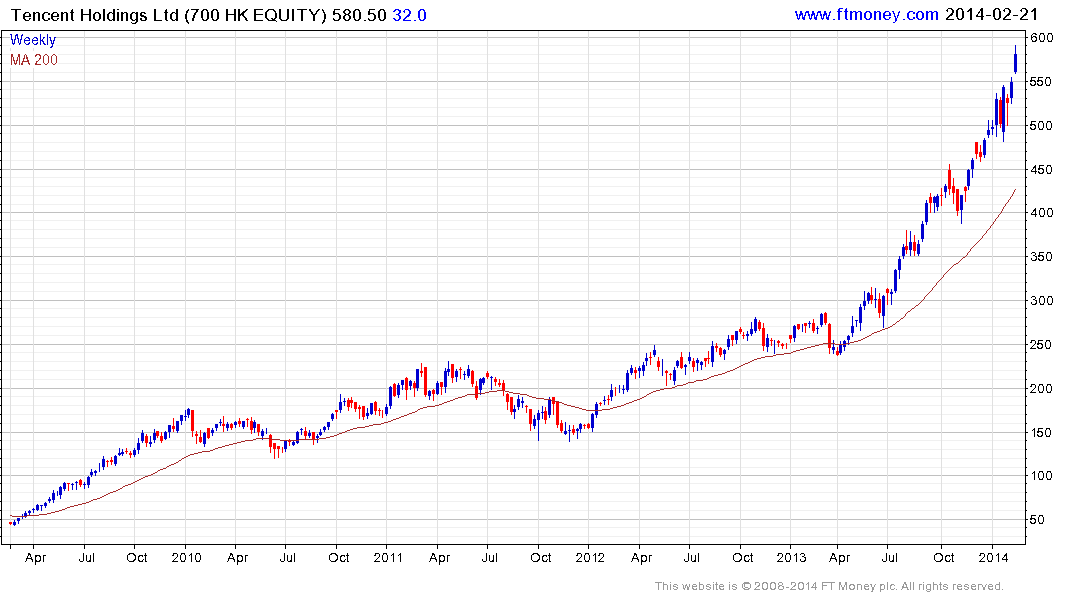 Hong Kong listed Tencent Holdings' WeChat app is ubiquitous in China and acts as a gateway to the firm's gaming platform. While the share remains in a steep uptrend a reaction of greater than HK$50 would be required to check momentum beyond a brief pause.
Back to top