Deepak Lalwani: India Report: Economic and Political News
My thanks to the author for his informative report, published by LALCAP.
Here is opening section:

Major Central Bank reforms proposed. A central bank panel set up by the Reserve Bank of India (RBI) Governor Raghuram Rajan has published a report proposing the biggest changes in monetary policy in 15 years. Its recommendations include: 1) giving precedence to inflation management as the main objective of monetary policy over the bank's two other current main objectives of economic growth and financial stability; 2) using the Consumer Price Index (CPI) as the main inflation measure (the wholesale index has been used historically); 3) adopting an eventual CPI inflation target of 4% p.a. (and +/-2% band of tolerance) after an initial reduction from the current 9.87% to 8% over the next 12 months and 6% in the following 24 months; 4) that monetary policy be set by a committee instead of the current practise whereby the RBI Governor, although advised, is the sole decision maker. The proposals are aimed at making policy-setting more effective and transparent in a country that has long struggled with high inflation. They would put the RBI in sync with most central banks, and are widely expected to be accepted. Although most can be implemented directly by the RBI Governor, others require legislative changes. They represent the most dramatic reform yet by Mr. Rajan. He who took office on 4 September 2013 with an ambitious agenda and amid high expectations. Whatever the outcome of the general elections, Business regards Mr Rajan highly and views him as being the right man to steer India's economy through troubled times.
Here is the India Report
When one sees that the most newsworthy portion of India's inflation problem is due to the cost of onions, it puts this problem in perspective. India's myriad difficulties are mainly due to problems of governance. Fortunately, this is not due to dictatorial rule by a ruthless kleptocrat. Far from it – in fact, Prime Minister Manmohan Singh is a distinguished economist who has served India well throughout his long career. If he has a fault, it is an honourable one in that he is too much of a gentleman to deal with the rough and tumble environment of coalition politics. Born in 1932, Manmohan Singh will understandably retire after the 2014 general election.
Unfortunately, there is plenty of corruption throughout the middle to lower ranking levels of governance in India. This can be and must be addressed on a top-down basis, especially when it has the support of an aggrieved electorate, as is now the case. Fortunately, every indication is that the forceful and economically savvy Narendra Modi, Chief Minister of the relatively prosperous state of Gujarat since 2001 and now also leader of the BJP, will be elected as India's next Prime Minister in May.
Although Narendra Modi will almost certainly not have an overall majority, his election at this time could be transformative for India. He will also be assisted by the impressive new RBI Governor Raghuram Rajan, and both will have the support of India's capable business community.
From the perspective of many international investors, India is likely to be viewed as having the potential to revert from a dysfunctional morass to a highly enterprising growth economy. Those who agree may consider buying the dips along this journey.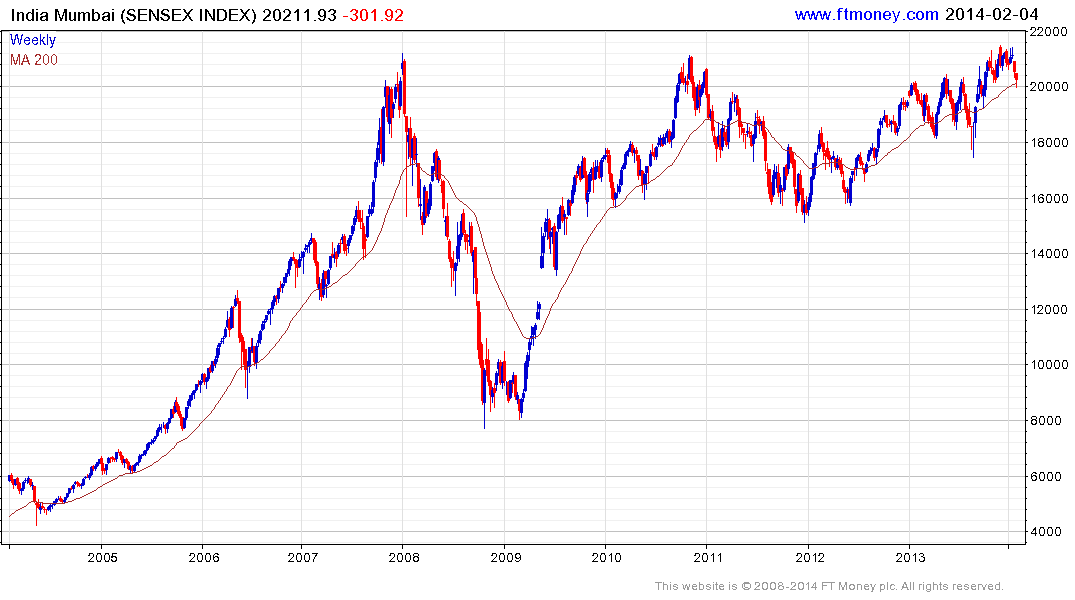 Back to top