India Stocks Climb to Record on Global Growth Outlook
Jan. 22 (Bloomberg) -- Indian stocks climbed to a record, led by metal producers and software exporters, as an improving global economy boosted the outlook for their earnings.

Tata Steel Ltd., the country's top producer of the alloy, had its biggest two-day advance since November. Aluminum maker Hindalco Industries Ltd. gained for a third day. Wipro Ltd., India's third-largest software maker, added 1.6 percent. Sun Pharmaceutical Industries Ltd., India's most valuable drugmaker which gets 60 percent of its sales from abroad, was the biggest gainer on the benchmark S&P BSE Sensex.

The Sensex gained 0.4 percent to 21,337.67 at the close in Mumbai. The global economy will expand 3.7 percent this year, compared with an October estimate of 3.6 percent, the International Monetary Fund said in revisions to its World Economic Outlook released in Washington yesterday. Investors are the most upbeat about the global economy in almost five years, encouraged by the U.S.-led revival of industrialized economies, according to a Bloomberg Global Poll.

"We are more positive on companies tied to the global economy as outlook is improving," Alex Mathews, head of research at Geojit BNP Paribas Financial Services Ltd., said from Kollam in south India today. "The tapering by the U.S. Fed will be gradual and is unlikely to have big impact on fund flows."

Tata Steel advanced 2.5 percent, adding to yesterday's 2.4 percent increase. Hindalco rallied 2 percent, its highest close in two weeks.
India had a new closing high on Tuesday and remains steady near the 2008 and 2010 highs, only this time the chart shows more support underneath. I would continue to give the upside the benefit while the Mumbai Sensex Index remains above 20,000.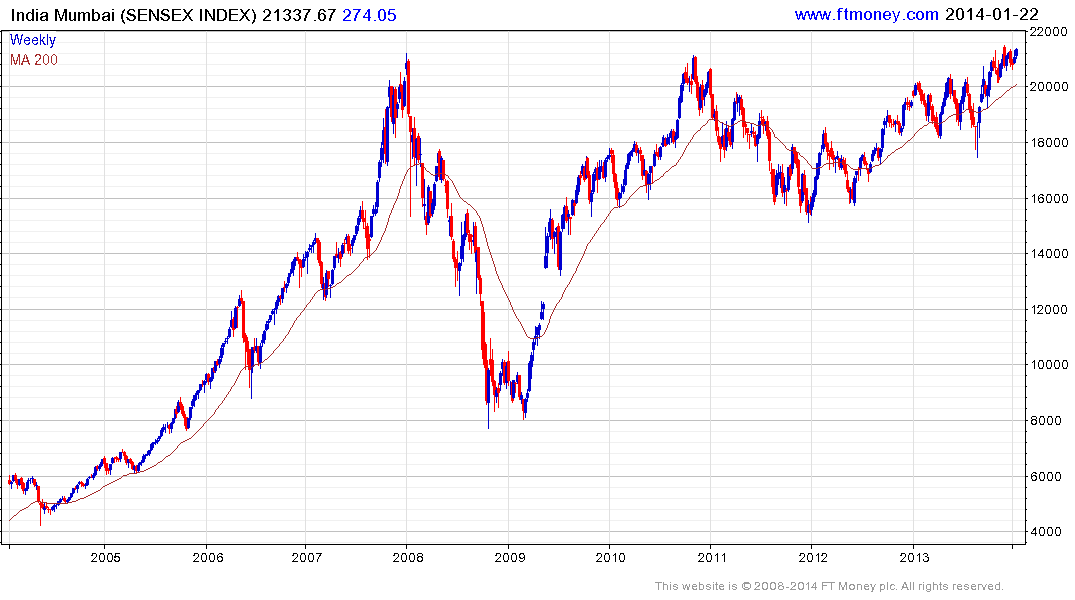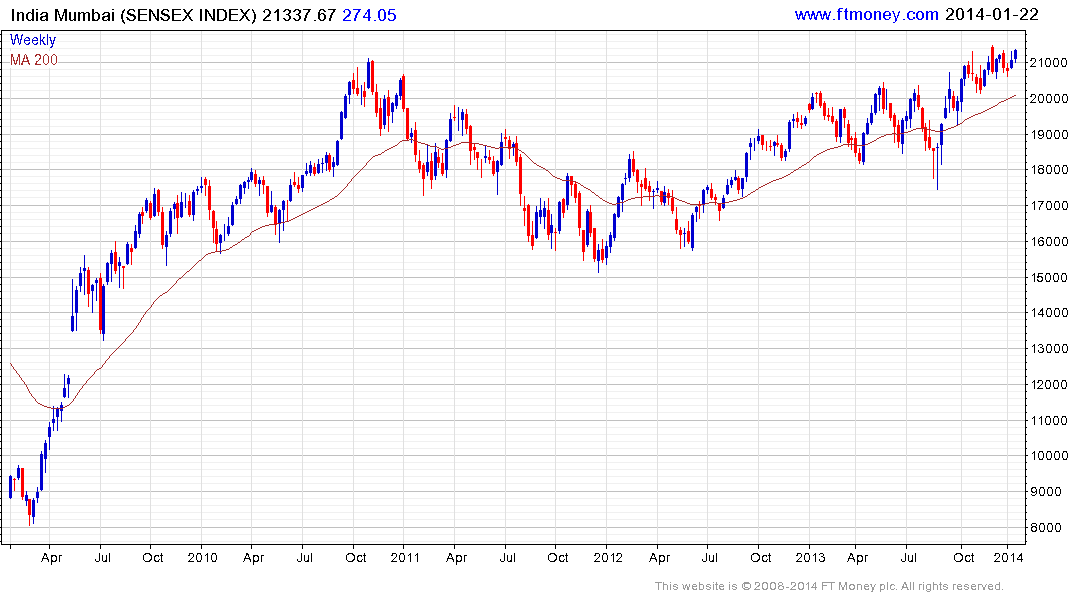 The facts cited in the article above are relevant but in the global beauty contest to attract investors, markets need something which generates additional positive interest. India first gained this when the highly respected Raghuram Rajan was appointed Governor of the Reserve Bank of India last September. His credibility will remain high if he can help to lower inflation and keep the Indian Rupee in the 62 to 60 range versus the US Dollar.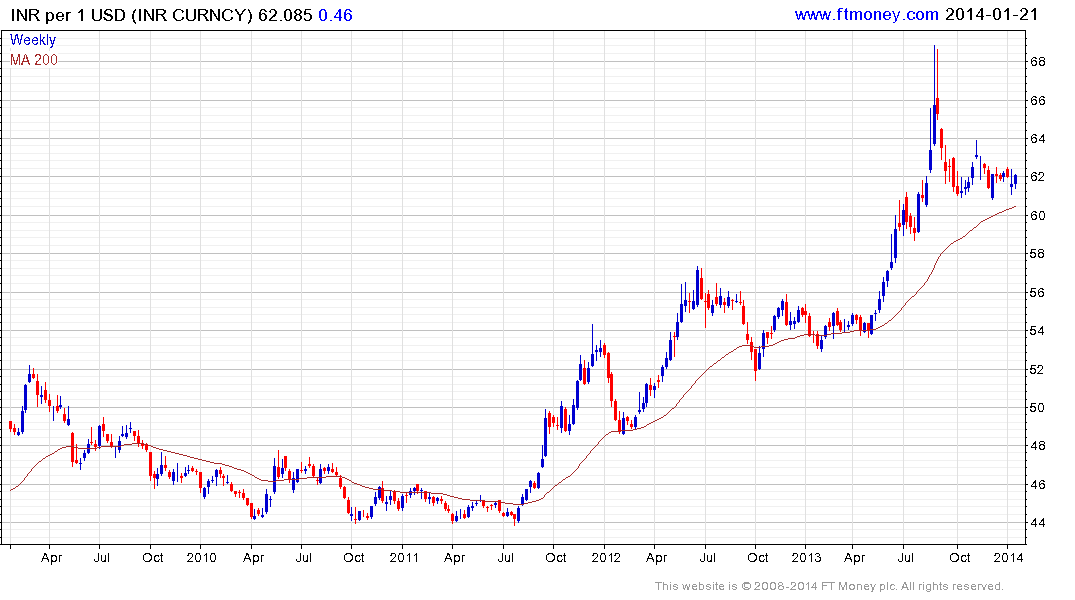 The even bigger attraction for international investors is the likelihood of Narendra Modi leading India's Bharatiya Janata Party (BJP) to victory in the General Election which must be held before the end of May. This article from The Times of India: Narendra Modi-led BJP government can lift mood: Moody's summarises some of the reasons which are generating investor interest.
For more on India and its General Election, see these recent reports by Deepak Lalwani – 28 December 2013 and 15 January 2014.
Back to top