Venezuela Devalues Bolivar for Tourist Dollars by 44 Percent
This article by Anatoly Kurmanaev and Corina Pons for Bloomberg may be of interest to subscribers. Here is a section:
"This is the first step toward an officially weaker exchange rate across the board,?¡À Daniel Snowden, emerging markets economist at Informa Global Markets in London, said by telephone today. "We are looking at a significant devaluation early next year."

Venezuela, which already devalued the bolivar 32 percent in February to 6.3, has been unable to arrest the decline of its currency on the black market, where companies and individuals pay as much as 64 bolivars per dollar. President Nicolas Maduro re-started the parallel foreign currency auctions, known as Sicad, two months ago to reduce product shortages of imported goods before Christmas.

The yield on the Venezuelan government's benchmark dollar bonds due in 2027 was largely unchanged at 12.61 percent at 11:03 a.m. in New York today, according to data compiled by Bloomberg.
While it is tempting to look at a chart of the Venezuelan stock market's performance and conclude that it represents an attractive investment destination, the reality is that one would need to time one's participation perfectly to take advantage of currency devaluations. This brings home the point that when governance is so questionable, one may eventually have to consider the return of one's investment rather than the return on the investment.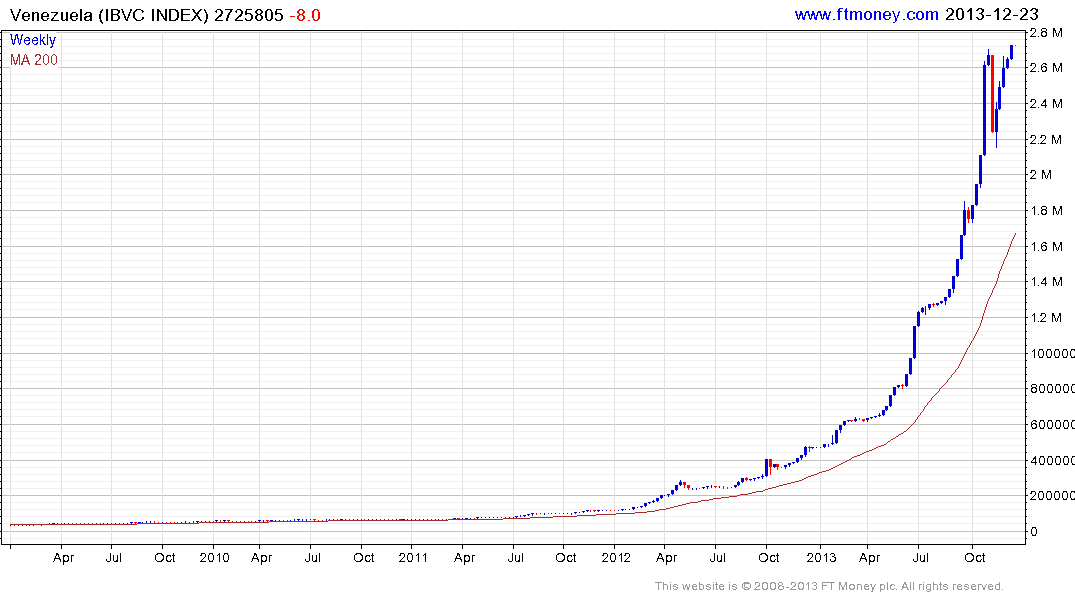 Back to top