BJP India Opposition Set to Win State Elections Before 2014 Vote -
Here is the opening for this interesting report from Bloomberg
India's main opposition party is set to win four of five state elections held over the past month, wresting power from the ruling Congress party in one area and giving it momentum ahead of national voting next year.

The Bharatiya Janata Party, which picked Narendra Modi as its choice for prime minister, is set to retain two states, take power from Congress in another and win the most seats in the capital New Delhi, according to an exit poll yesterday conducted by C-Voter and broadcast on the Times Now television channel. Official vote counting in the states, home to about a sixth of India's 1.2 billion people, will take place on Dec. 8.

"The exit poll results indicate there is strong anger against Congress for its failure to check price rises and corruption," said Satish Misra, a political analyst at the Observer Research Foundation, a policy group based in New Delhi. "It seems this trend will be reflected in the general elections, and the BJP will have some edge over Congress."

The state elections are the final test for India's two major parties before a national vote that must be held by May 2014. Prime Minister Manmohan Singh's Congress-led coalition has seen corruption scandals, elevated consumer inflation and the weakest economic growth in a decade erode its popularity.

BJP victories in Rajasthan, Madhya Pradesh, Chhattisgarh and New Delhi may boost Indian stocks, according to Deven Choksey, managing director of Mumbai-based K.R. Choksey Shares & Securities Pvt. The benchmark S&P BSE Sensex, which has climbed 6.6 percent this year, fell 0.7 percent in Mumbai yesterday.
I have been writing about Narendra Modi and India's important General Election for several months but these state elections are the clearest confirmation of his growing support. The BJP will be re-energised by this result which is certainly a wake-up call for Congress.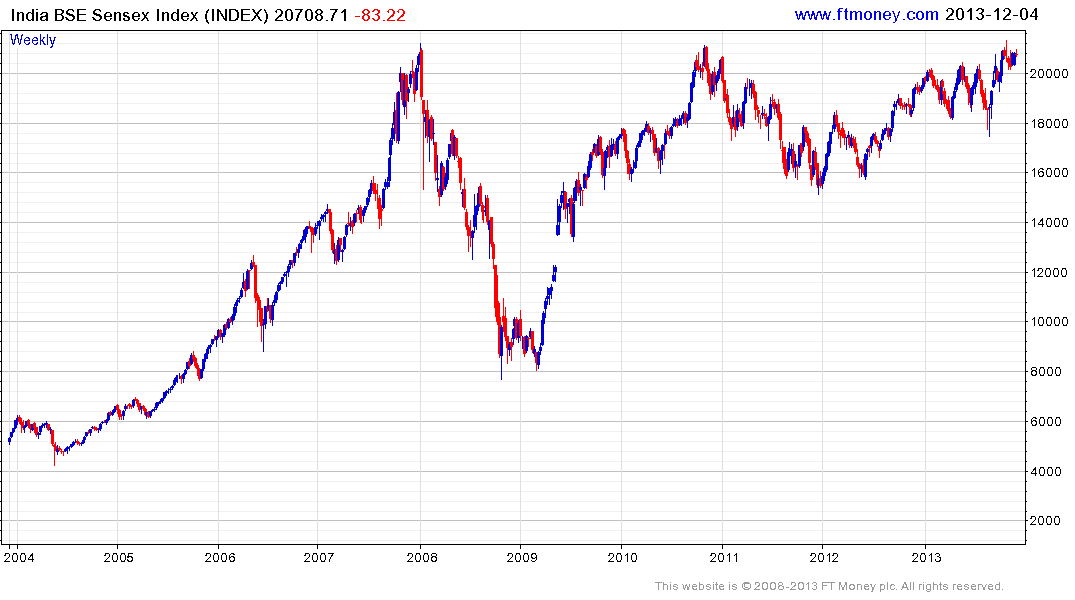 What might a General Election victory by Narendra Modi mean for India and its stock market (weekly 10-Yr & weekly 5-Yr)? I think it could be very significant, especially if the BJP can achieve a workable majority. Narendra Modi is a strong leader with a proven record of economic success in Gujarat. He would also have the benefit of India's Impressive new Governor of the Reserve Bank of India, Raghuram Rajan. His appointment and initial policies have drawn some investors back to India's stock market. With Modi leading the country, we could expect a wave of new interest, from Indian and also international investors. Meanwhile, India's Sensex Index shown above continues to range near its 2008 and 2010 highs, only there is more underlying support this time.
To declare my personal interest, one of my bigger investment positions is in the JPMorgan Indian Investment Trust (JII LN) which I mostly acquired in early 2003 because it was leading the recovery and have added to on occasion, particularly after setbacks. Not long ago I mentioned that I would hold on in belief that Narendra Modi would win the General Election. JII is certainly not for nervous investors and has been a poor performer since 2011, partly because of the rupee's weakness, shown inversely in GBP/INR. However, it also reflects a current discount to net asset value of over 15%. This last traded briefly at par in 2009 and was mostly at a premium to NAV from late 2004 to early 2006. JII's NAV is currently just below 385p.
Back to top