Yum Sees Tripling India Store Count to About 2,000 by 2020
This note by Caterine Larkin for Bloomberg may be of interest to subscribers. Here it is in full:
Yum says at investor meeting that KFC stores in India avg $1m annual sales.
Pizza Hut testing cafe store concept in India
Pizza Hut delivery in China ¡°in early days of growth¡±
Says Chinese govt investing in infrastructure
YUM sees ¡°huge opportunity¡± for KFC in France and Germany
Few companies have been as successful at adapting to foreign markets as Yum Brands. As a result the company generates more revenue from China that the USA and the difference in product offerings between the two jurisdictions is a significant influence on that figure.

KFC and Pizza Hut probably represent less of a offense to India's large Hindu population than eating beef at McDonalds and the company has a proven track record of creating new menus to suit local tastes.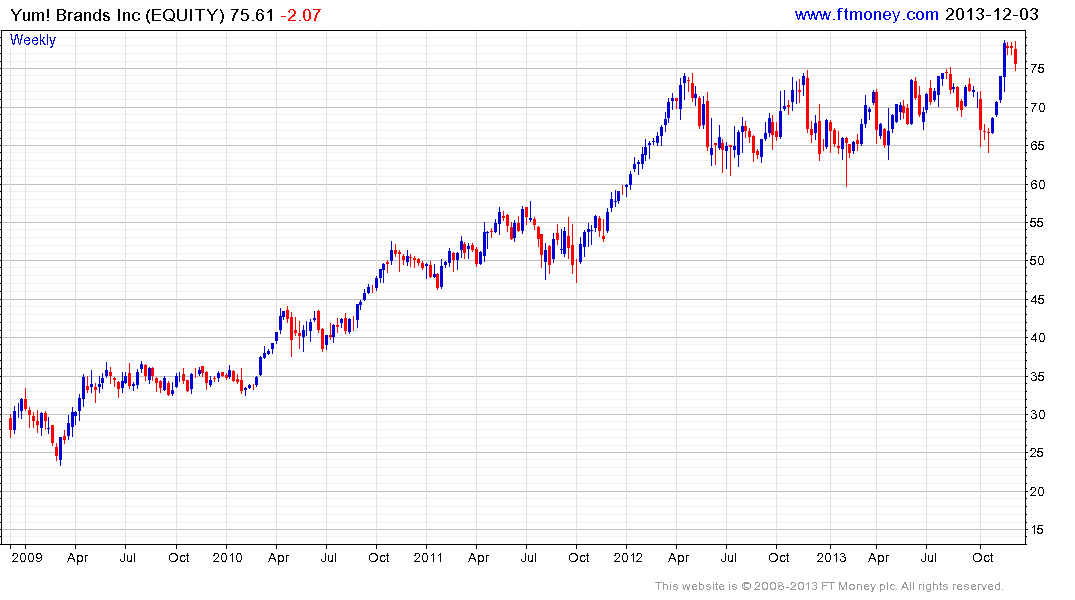 The share pulled back sharply yesterday to retest the upper side of its almost two -year range and a benefit of the doubt can continue to be given to medium-term upside provided it continues to hold above the $64 area.
Back to top