Crypto Exchange Backed by Citadel Securities, Fidelity Goes Live
This article from Bloomberg may be of interest. Here is a section:
An expectation among regulators that crypto exchanges should be separated from broker-dealer functions, similar to the structure of traditional financial markets, will create opportunities for EDX, Nazarali said.

"We believe crypto is here to stay, but for it to evolve as an asset class it needs to adopt the rules and investor protections that exist in traditional finance," Nazarali said in an interview. "The message we've got from our investors is that this creates an even bigger space for us."

Already backed by companies including Paradigm, Sequoia Capital and Virtu Financial Inc., EDX raised new funding through additional investors including Miami International Holdings, GTS, GSR Markets, and HRT Technology. It plans to launch EDX Clearing to settle trades later this year.

The US Securities and Exchange Commission recently widened its crackdown on the crypto industry through lawsuits against two of the biggest firms, Binance and Coinbase, alleging that they acted as unregistered securities exchanges, broker-dealers and clearinghouses. The firms have denied the allegations.
This smells of cronyism. Two weeks ago the SEC sued both Binance and Coinbase for running unregistered securities exchanges. That is despite repeated efforts by both companies to engage with regulators. Binance alleges the SEC chair of offering his services as a consultant to the firm immediately before the case was announced.

Now a big-money sponsored enterprise, EDX Clearing, is launching into the same space with the aim of performing many of the same services. I have opined in the audio and video that this is the perfect time to start an exchange, but I am surprised by how institutional investors are going about it.
Blackrock is also in the process of sponsoring a bitcoin ETF. That's something no other fund provider has been permitted to do, so it will be instructive whether the SEC has suddenly changed its mind for one of the heavyweights in the fund management industry.
The conclusion is institutional investors are now much more interested in staking out their claim to the cryptocurrency markets and that is positive for prices.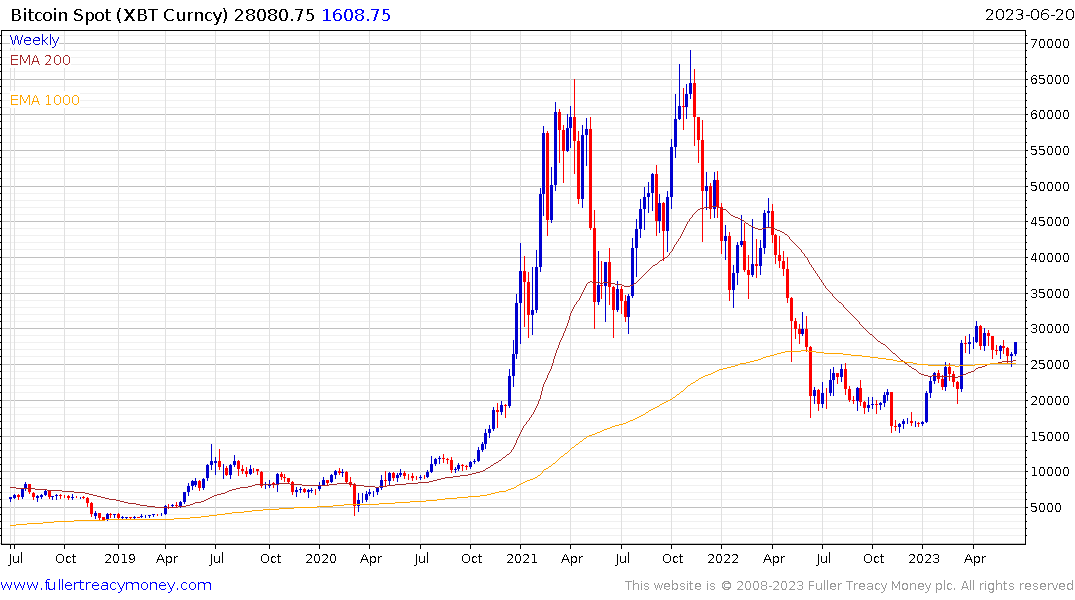 Bitcoin is rebounding from the $25000 area. That confirms near-term support in the region of the trend mean and the upper side of the nine-month base formation. Since we are now 10 months out from the next halvening, this is cyclically around the time to expect a partial recovery. The big surges have typically occurred following the halvening and coincided with massive monetary/fiscal accommodation.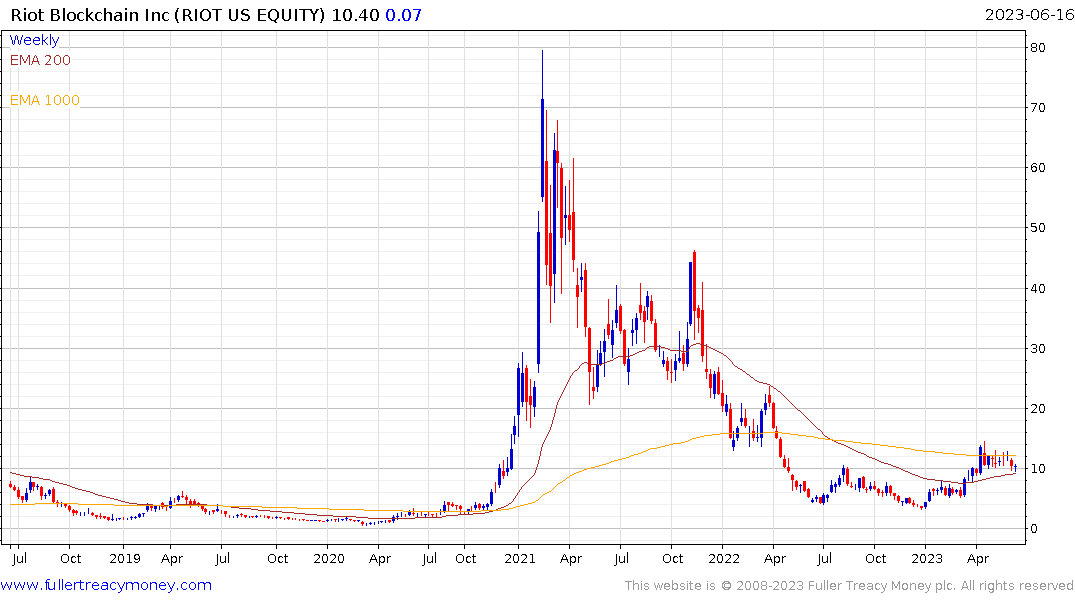 Riot Platforms also has first step above the base characteristics.
Back to top