Japan Intervenes to Support Yen for the First Time Since 1998
This article from Bloomberg may be of interest to subscribers. Here is a section:
"The government is concerned about excessive moves in the foreign exchange markets, and we took decisive action just now," Kanda said late afternoon. "We're seeing speculative moves behind the current sudden and one-sided moves in the foreign exchange market."

The intervention, ordered up by the Ministry of Finance, comes with risks if it fails to scare off speculators. Hedge funds have been adding to bearish bets on the currency, with Goldman Sachs Group Inc. warning it may decline all the way to 155.

"At best, their action can help to slow the pace of yen depreciation," said Christopher Wong, a currency strategist at Oversea-Chinese Banking Corp. "The move alone is not likely to alter the underlying trend unless the dollar, US Treasury yields turn lower or the BOJ tweaks its monetary policy."

BOJ Governor Haruhiko Kuroda insisted at a briefing in the Tokyo afternoon there were no rate hikes in the works and guidance on future policy would not be change for the time being, even for as long as two or three years in principle. Still, his influence over policy will fade next April when he steps down.

"Today's outcome strengthens my view that the chance of policy change is almost zero under Kuroda's governorship," said Masamichi Adachi, chief Japan economist at UBS Securities.

Kuroda's stance sets him apart from other central banks that had also previously had negative rates, with the European Central Bank and the Swiss National Bank all hiking to deal with surging inflation.
The Yen has been selling off aggressively over the last year and inflationary pressures are rising in the economy as a result. However, inflation in Japan is nowhere near the rates being posted in North America and Europe.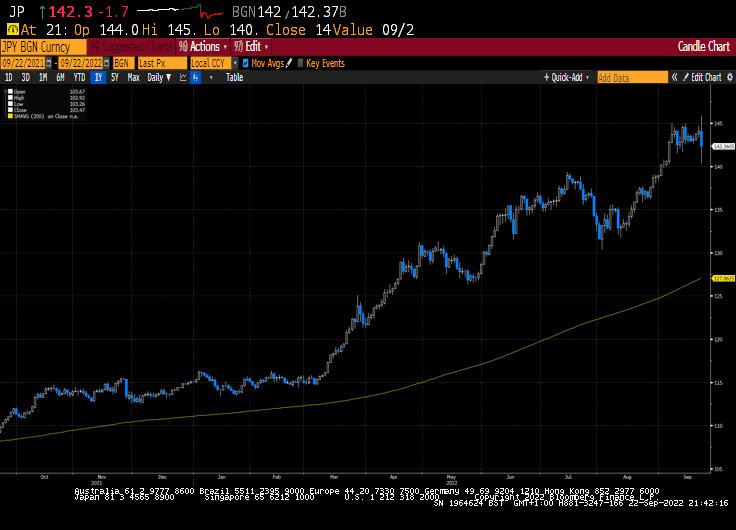 Today's action to support the currency was unusual because it came from the government instead of the central bank. That suggests limited firepower. A low of at least near-term significance has been reached but upside following through a break of the sequence of lower rally highs will be required to confirm the signal.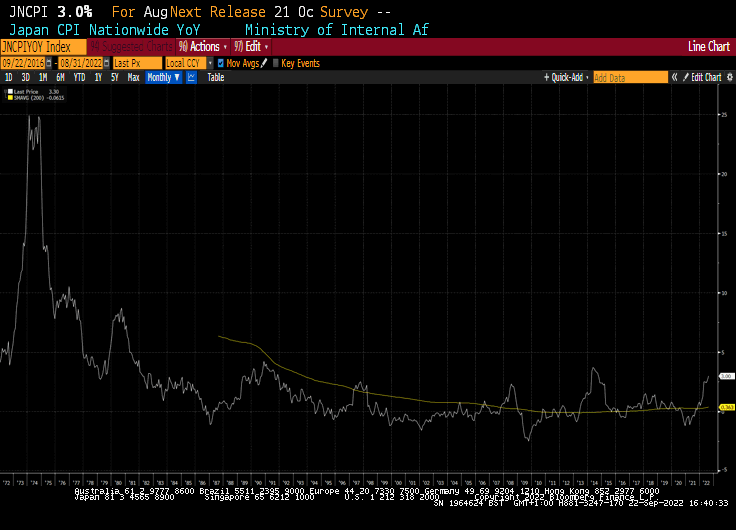 Japan's CPI is up to 3% but that is not high enough to break out of the long-term base formation. That's likely to be a central condition for the Bank of Japan to intervene on a sustained basis to support the currency.
Japan has been courting inflation for decades. Now that they have it, the central bank is eager to ensure deflation does not prevail once more. The only way to do that is to change the psychology of the population to stop delaying purchases in the hopes of lower prices later. That suggests higher inflation for longer might be tolerated.
Back to top