EU Nears Combustion Car Era's End as Italy May Drop Opposition
This article from Bloomberg may be of interest to subscribers. Here is a section:
In an attempt to enable a compromise, Germany proposed adding in a non-binding part of the car emissions law a call on the commission to propose registering after 2035 vehicles running exclusively on carbon-neutral fuels. The addition is important to Germany and can be a bridge for the overall discussion, said Environment Minister Steffi Lemke.

"We need a strong and fast CO2 reduction, but we need to keep openness on technologies," she told the ministers. "We hope that this addition, which is important to the German government, hopefully this is agreeable and which can enable us to reach a joint acceptable solution."
As a major energy importer the EU has a clear incentive to reduce dependence on imported fuels. That's well understood. The other side of that argument is Russia is clearly of the opinion that if the EU does not wish to buy its exports, it will find customers that do.
The realities of war and sanctions represent clear threats to the economy. The challenge for Europe is high minded 13-year ambitions will not fill gas reserves by winter. Additionally, there does not seem to be any discussion of where the electricity to recharge all of those battery/fuel cell-drive vehicles will come from. Committing to stop manufacturing internal combustion engines is just talk without committing to massive investment in electricity generating capacity too.

Carbon credits are a tax on consumption but also represent a key source of revenue to fund political objectives. The price continues to firm from the region of the trend mean.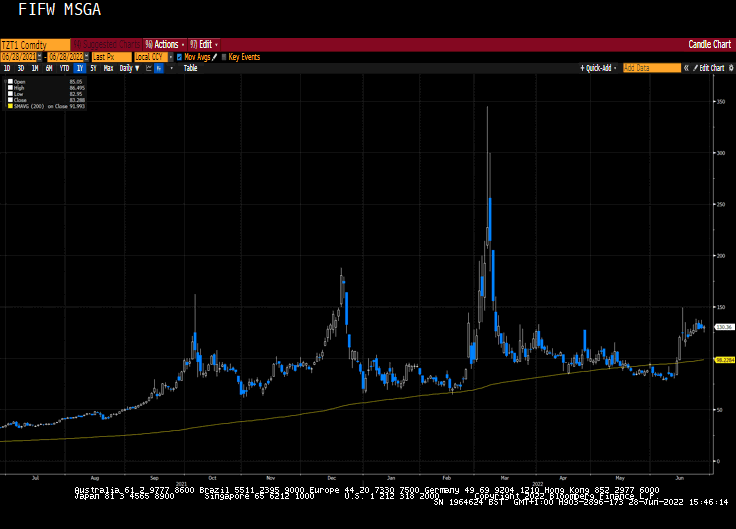 Dutch Base Load natural gas prices continue to hold the break above €125 and look primed for a breakout.
Back to top