China's Challenges
This article from Project Syndicate by George Soros may be of interest to subscribers. Here is a section:
The Winter Games are of course Xi's prestige project, so the administration is going to incredible lengths to make the event a success. While the competitors will be isolated from the local population, continuing the effort after the Games are over makes little sense. City-wide lockdowns are unlikely to work against a variant as infectious as Omicron. This is evident in Hong Kong, where the outbreak looks increasingly serious. Yet the cost of zero-COVID is rising every day as the city is cut off from the rest of the world, and even from China.

Hong Kong highlights the wider challenge Omicron represents for Xi. He tried to impose total control but failed. As Omicron spreads, opposition within the CPC will grow stronger. Xi's carefully choreographed elevation to the level of Mao and Deng may never occur.

It is to be hoped that Xi may be replaced by someone less repressive at home and more peaceful abroad. This would remove the greatest threat that open societies face today. Their task is to do everything within their power to encourage China to move in the desired direction.
When state media is under total government control, nothing we hear about happens by mistake. It is worth remembering that when we assess what signals are being sent by China's media.
The emerging story of a woman found chained up in a rural village, who had given birth to eight children, and bears scares from significant abuse, is being excised from the public register. The details are very troubling, but the timing of its release is perhaps more telling of what is going on in the halls of power.
Xi Jinping's wife is a UN goodwill ambassador who has been the public face of women's rights. This story broke in the middle of the Winter Olympics. It was placed for maximum embarrassment. At the very minimum it suggests there is a clear effort underway to undermine Xi as he attempts to become leader for life.
The bigger issue from a public relations perspective is people are asking how does China have so many missing persons and how does people trafficing continue to flourish? There are cameras everywhere. They can find potential dissenters within hours by tracking their movements using facial recognition. So, why aren't the same resources deployed in finding missing people? This highlights the broader issue that control aims at furthering state power rather than ensuring public safety.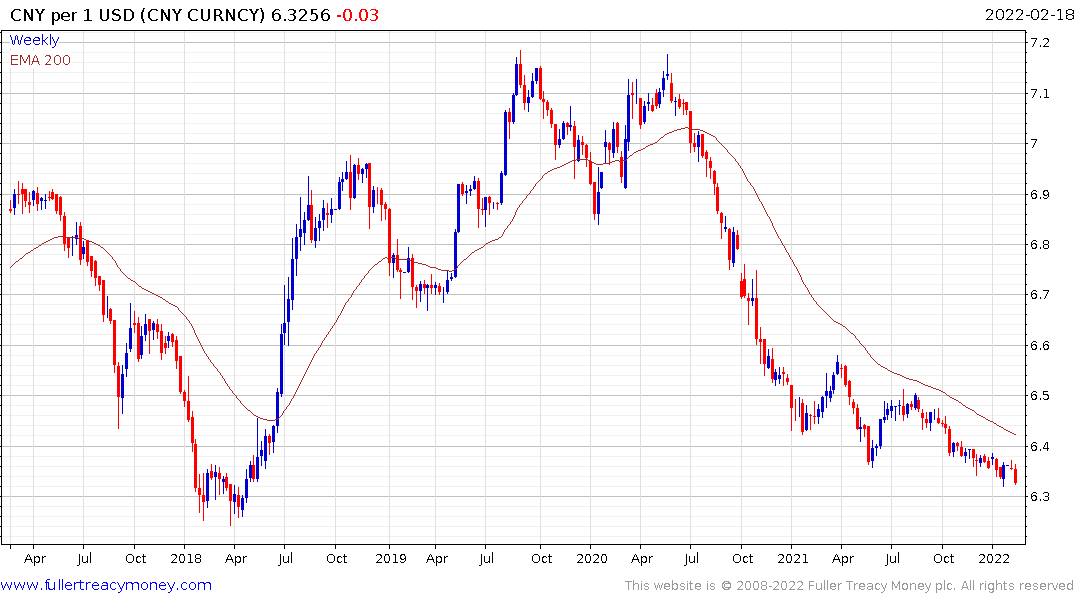 The Renminbi has been strengthening over the last week amid rising angst about the ability of the Dollar to remain strong against a background of slowing growth.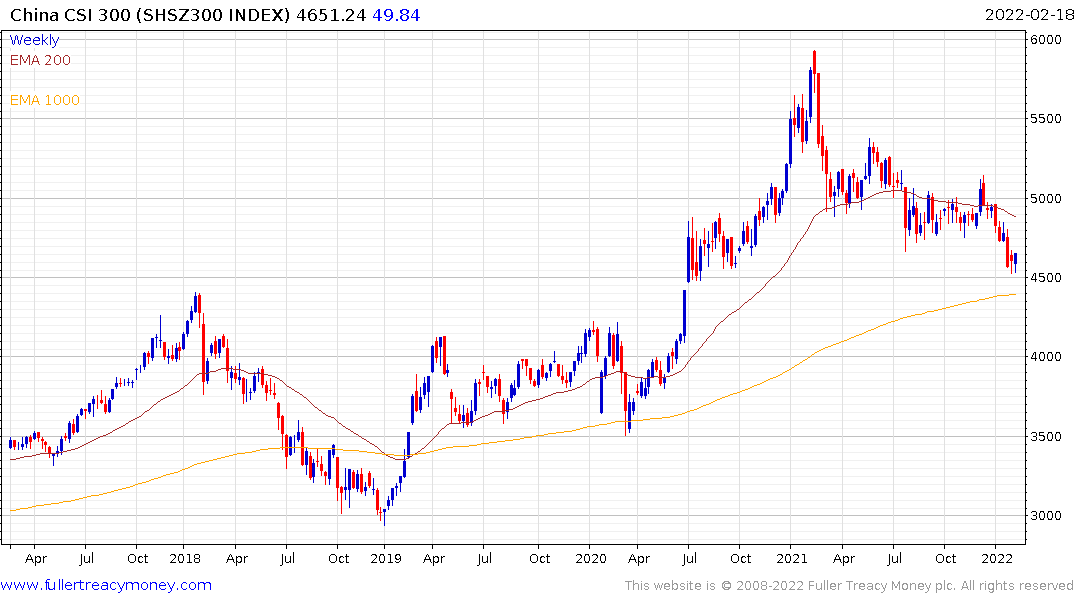 The stock market is bouncing from the region of the 1000-day MA. Ensuring continuity of power will be easier with looser monetary and fiscal conditions.
Back to top