Powell Says Fed on Track to Taper, Inflation Will Come Down
This article from Bloomberg may be of interest to subscribers. Here is a section:
"We are on track to begin a taper of our asset purchases that, if the economy evolves broadly as expected, will be completed by the middle of next year," Powell said Friday during a panel discussion at a virtual event hosted by the South African Reserve Bank. "I do think it is time to taper and I don't think it is time to raise rates."


The sudden success of former President Trump's SPAC, up 1225% in 48 hours, is enough to convince anyone there is froth in the market and we are past time to begin tapering. That's seems to be the conclusion of Chairman Powell since until today he has been circumspect about the Fed's intentions. Nevertheless, he remains cautious about raising rates and not least because the 5-year continues to trend higher which takes a toll on government debt servicing costs.
The immediate reaction from gold was to pull back sharply. We are in an odd set of circumstances where gold seems to be responding negatively to news that inflation is still rising but is also supported by the inflationary argument.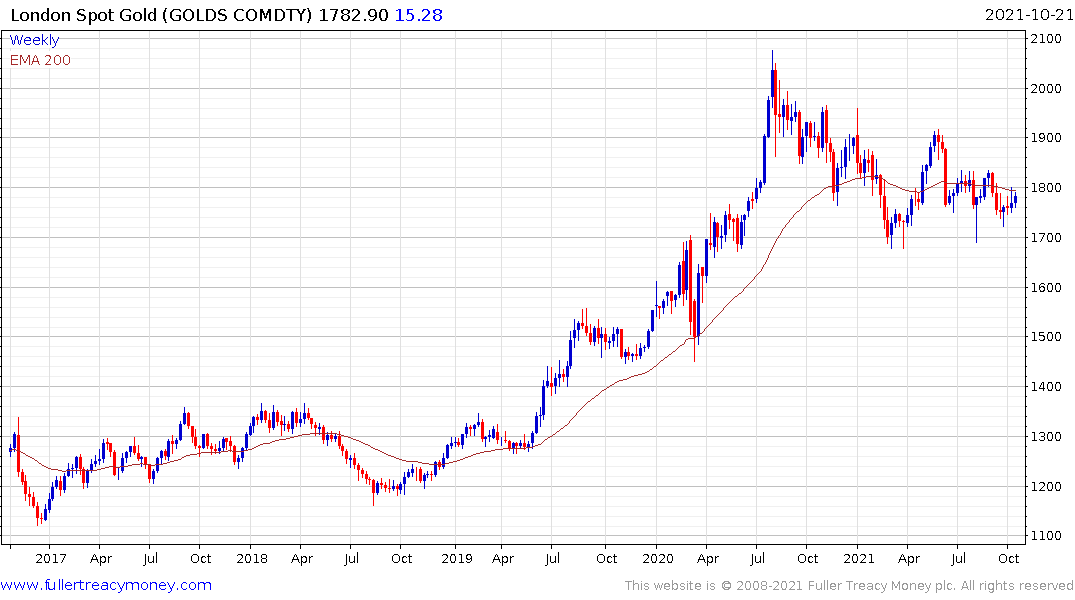 As I have been pointing out in the video commentaries a triangular pattern is forming where both high lows and lower highs are evident. This compression of trading and falling volatility overall generally precedes a breakout. That suggests to me that intraday swings aside, we are drawing closer to the next the period of stronger trading which should ultimately set new highs. A sustained move below $1700 would be required to question that view.
Back to top