Email of the day on China Evergrande's impending bankruptcy.
Hello Eoin, I really like your audios and try to listen to them almost every day and I find today's audio especially interesting because of your focus on Evergrande...and this is something I don't understand: how is it possible that a company of this size, being on the brink of bankruptcy, with a huge amount of USD debt (of which one can be sure it's on the books of big international players), keeps out of sight of the financial press...I can find almost nothing on this topic..and secondly: what do you think of the idea that the sudden drop of crypto was generated by the fact that Tether has usd evergrande bonds on its books...this seems to me a logical catalyst for this flash crash...

thank and keep up the good work...
Thank you for your kind words and this email which I believe will be of interest to the Collective. The reality is most journalists pay scant regard to the credit markets. On top of that writing negative, or cautionary, copy about China is dangerous for one's career and particularly so if you happen to live in Hong Kong.
The Financial Times reported in June that Tether had placed approximately half its reserves in US Dollar denominated commercial paper. Since Evergrande has at least $32 billion in outstanding commercial paper it is certainly possible that Tether is holding some.
China's property developers now have to disclose their commercial paper exposure but it's a very murky sector with cross ownership, off balance sheet transaction and shell companies ensuring a full picture of total exposure is difficult to tabulate.
There are various Reddit posts discussing how an implosion of Tether could provide a wonderful entry point for bitcoin. That conclusion ignores the fact that a market cap approaching $1 trillion relies on liquidity and leverage to sustain momentum. Removing a sizeable source of leverage is detrimental to the trend.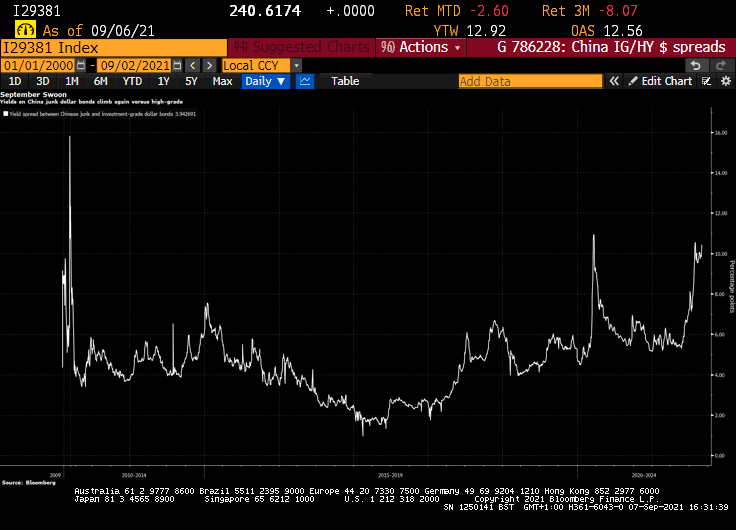 China's high yield debt spreads continue to trend higher. The point I have repeatedly made is defaults are a new concept in China. No one knows what the natural default rate is because the system has been built on the premise that the government will always bailout failed companies. Evergrande is potentially the thin end of the wedge because of the cross holdings right across the entire financial sector. The potential issue is so large that some form of government intervention is to be expected. It's only a question of whether that occurs before or after a bankruptcy.
The only significant index China Evergrande is a constituent of is the Hang Seng China Enterprises Index (H-Shares). It might be the largest issuer of bonds in the emerging markets universe but its weighting is much reduced in bond indices. The potential for trouble is present in the potential fallout from a bankruptcy. China Evergrande bonds only represent 2.35% of the Bloomberg Asia ex-Japan US Dollar China Credit High Yield Index. However, real estate and property development companies represent 67.5% of the Index in aggregate. Therefore, the biggest risk is in contagion and not least as an increasing number of property companies seek to sell assets at the same time.
Back to top