Advance your thinking on 10 critical themes
Thanks to a subscriber for this report from UBS which may be of interest. Here is a section on new materials:
Here is a link to the full report and here is a section from it.
New policy initiative in China will be a test for demand impact
China announced at the end of January 2020 restrictions on plastic use specifically targeting a reduction in low value, high volume plastics in a phased approach 2020-25. Non-degradable shopping bags and plastic utensils are prohibited from a number of retail channels, municipalities and provincial capitals in 2020 and it will extend to additional cities and coastal areas by 2022. We estimate that the plastics packaging market accounts for 42% of global plastic production, and China accounts for c35% of global demand. European stocks in Chemicals will see limited effect but there are exposures in our global coverage to consider: polyolefin (PE, PP), PVC, PET and PS will be the most impacted by these regulatory challenges (see How do we unwrap the plastic problem?

The Corbion/Total JV – a test case for demand Companies such as Corbion and Total (a JV for the production of polylactic acid, a natural alternative to polystyrene) will this year continue to educate the market on the scale of demand growth achievable for alternatives to petrochemicals. Others will also be worth tracking such as BASF's recycling project with Quantafuels, Bio Amber, Genomatica and Myriant. Our US Chemicals team has also hosted recently Origin Materials and Danimer Scientific.
Biodegradable plastic is a major growth theme if costs can be brought in line with existing manufacturing techniques. The modern world is built on hydrocarbons because the chemical sector has been so versatile in developing products from them. The challenge is these types of products last for seemingly interminable lengths of time and find their way into every facet of the global ecosystem. As awareness of the dangers of microplastics increases, demand for degradable alternatives will increase.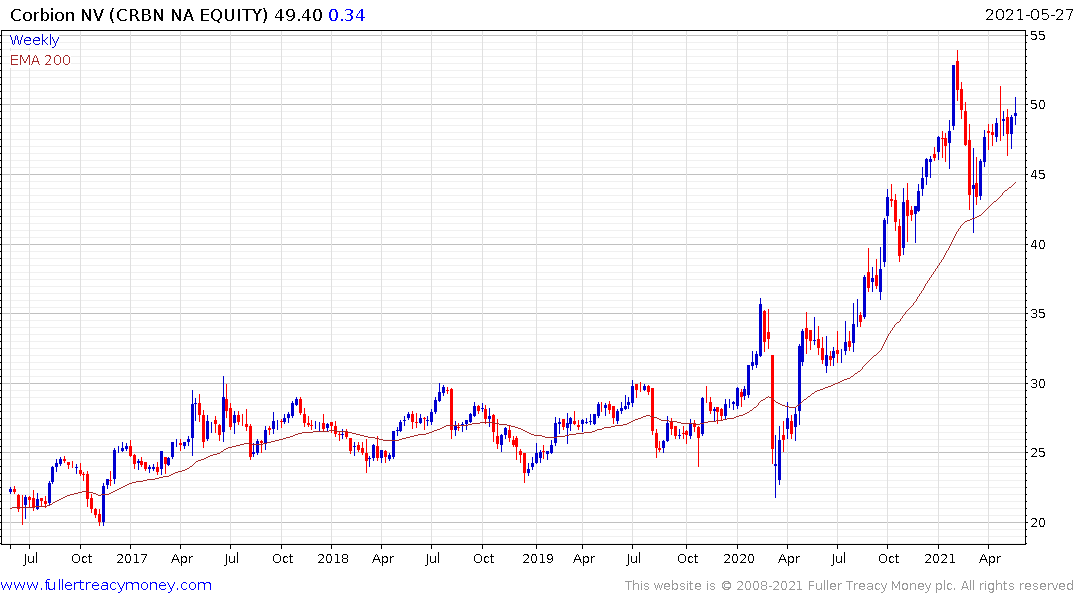 Dutch listed Corbion remains in a steep but consistent medium-term uptrend.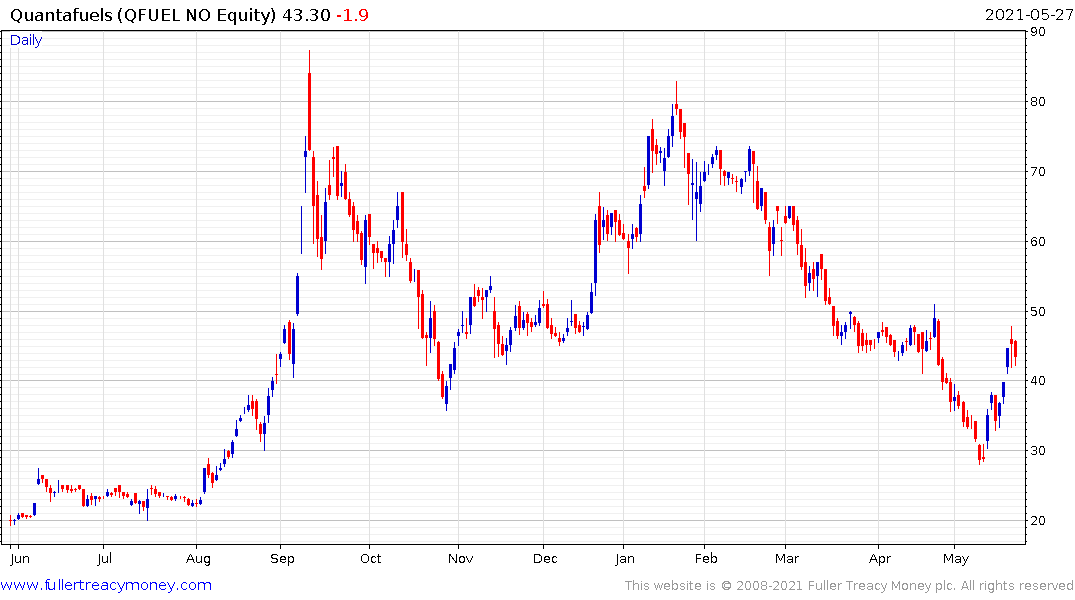 Norwegian listed Quantfuels IPOed a year ago and is currently steadying in the region of the lower side of a medium-term range.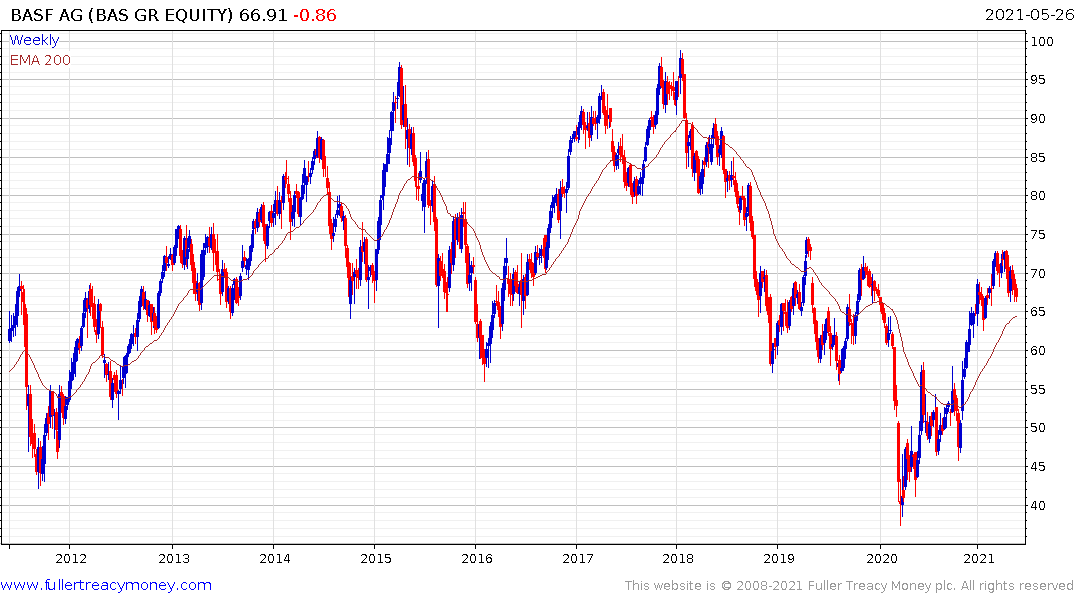 German listed BASF has been a substandard performer for the last decade but is currently firming from the region of the trend mean.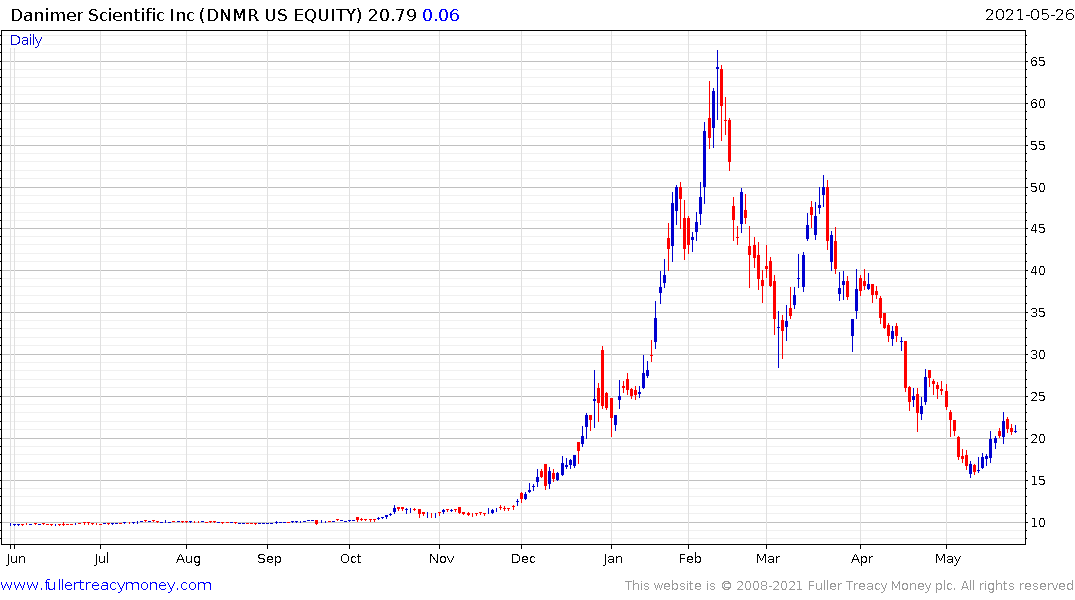 US listed Danimer Scientific also IPOed about a year ago. The share surged at the beginning of this year, gave up most of the advance and is now steadying around the $20 area. It will need to break the sequence of lower rally highs to confirm a return to demand dominance.
Back to top