Experimental cancer vaccine passes animal tests, moves to human trials
This article by Rich Haridy for Newatlas.com may be of interest to subscribers. Here is a section:
"We are excited to begin testing of this vaccine in the United States to offer new hope to patients with lung and other cancers," adds Kaumaya. "Reaching this point where we can transition our findings from the lab to the clinic speaks to the perseverance and dedication of Imugene's clinical and research team – including our research lab staff at Ohio State – to build on the clinical and commercial potential."

The new research was published in the journal Oncoimmunology and the video below offers a more detailed explanation of how the novel cancer vaccine works.
Cancer vaccines are already very successful in preventing cervical cancers. A shot to prevent some forms of lung cancer would be a gamechanger for many individuals. The question is not if buy when these new technologies reach commercial utility because the profit prize from success is so large.

The oncology drug market along is $143 billion per annum but the annual spend on patient care stretches towards $1 trillion.

The drag this spending represents on the global economy and particularly developed countries is similar to the cost of energy for the global economy. Anything that reduces this cost is a productivity enhancer that is capable of fuelling a secular bull market.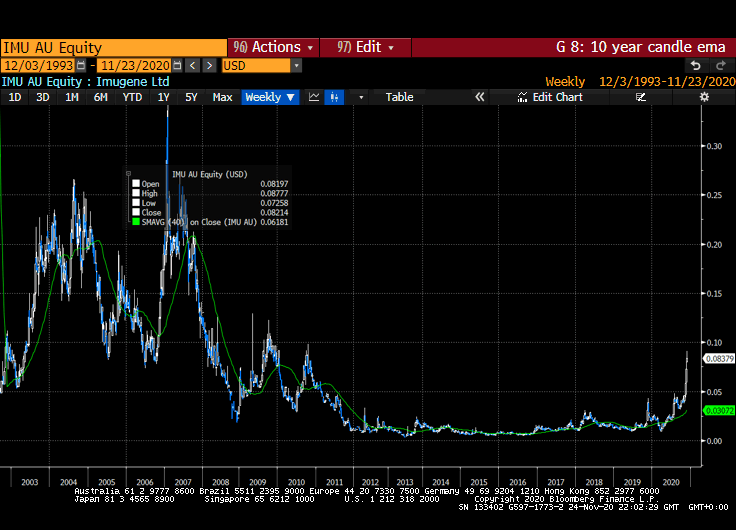 Imugene's Australian listing surged on news of human trials. It has now completed its first step above the base.
Back to top