Gold ETFs Top German Holdings to Become World's No. 2 Stash
This article by Ranjeetha Pakiam for Bloomberg may be of interest to subscribers. Here is a section:
Investors are so concerned about the global outlook that worldwide holdings in gold-backed exchange-traded funds now stand behind only the official U.S. reserves of bullion after they surpassed Germany's holdings.

Gold has rallied to a record this year as the coronavirus pandemic savaged growth, with gains supported by massive inflows into bullion-backed ETFs. Bulls are fearful that the waves of stimulus to fight the slowdown may debase paper currencies and ignite inflation. They also point to simmering geopolitical tensions, rising government debt burdens, and lofty equity valuations.

Worldwide holdings in gold-backed ETFs rose to 3,365.6 tons on Monday, up 30.5% this year, according to preliminary data compiled by Bloomberg. That's a couple of tons ahead of Germany's stash. U.S. reserves exceed 8,000 tons.

Even after futures topped $2,000 an ounce, there are plenty of forecasts for further, substantial gains. Among them, Goldman Sachs Group Inc. says gold may climb to $2,300 as investors are "in search of a new reserve currency," while RBC Capital Markets puts the odds of a rally to $3,000 at 40%.
China and India have historically been the biggest consumers of gold. However, prices are set by the marginal buyer. Right now, that is investment demand from ETFs which has jumped by more than 50% in the last 12 months. This is a totally fresh phenomenon. ETFs did not exist in prior cycles so it was impossible to estimate how much gold was owned by investors. It is reasonable to conclude that before this bull market has climaxed ETF holding will be the largest gold stockpile in the world.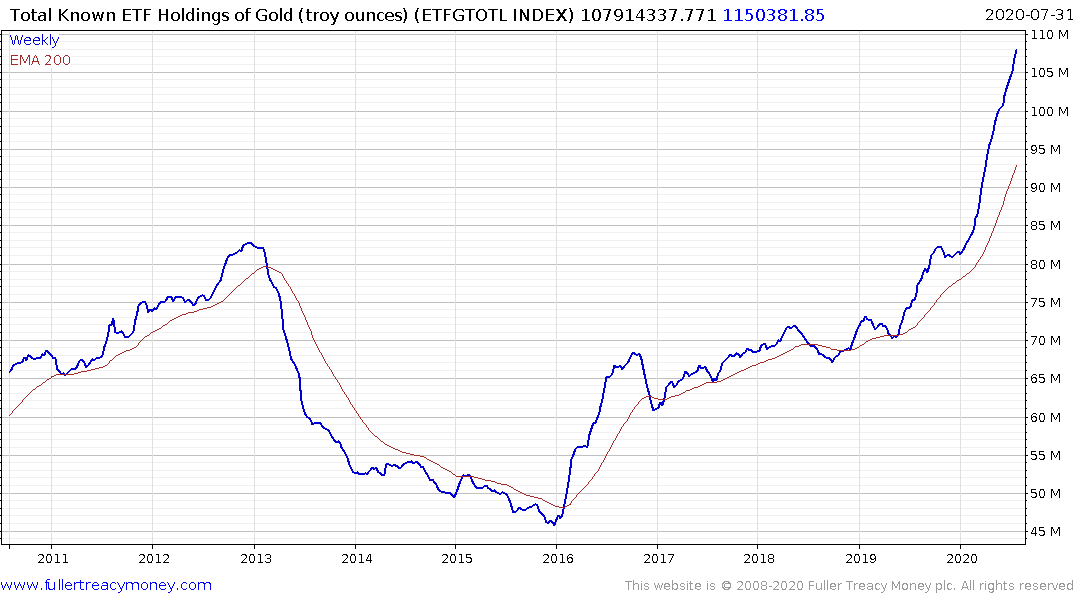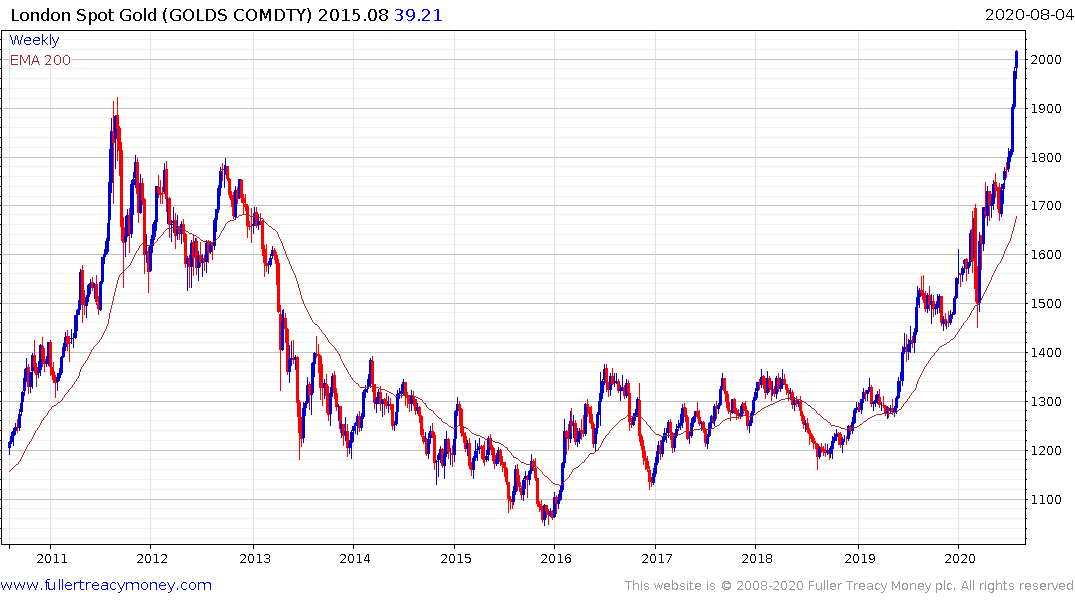 Gold broke successfully above the psychological $2000 level today for the first time. The consolidation below that level has been extremely mild and this breakout further extends the overextension relative to the trend mean.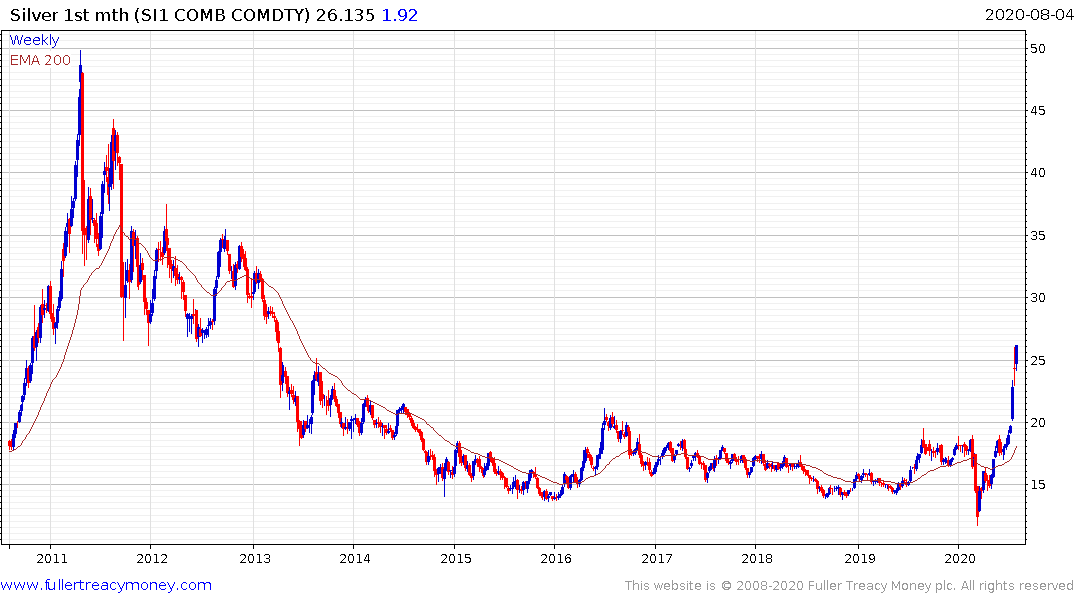 Silver also rallied impressively to test last week's peak near $26 as it continues to extend the breakout from its multi-year base formation.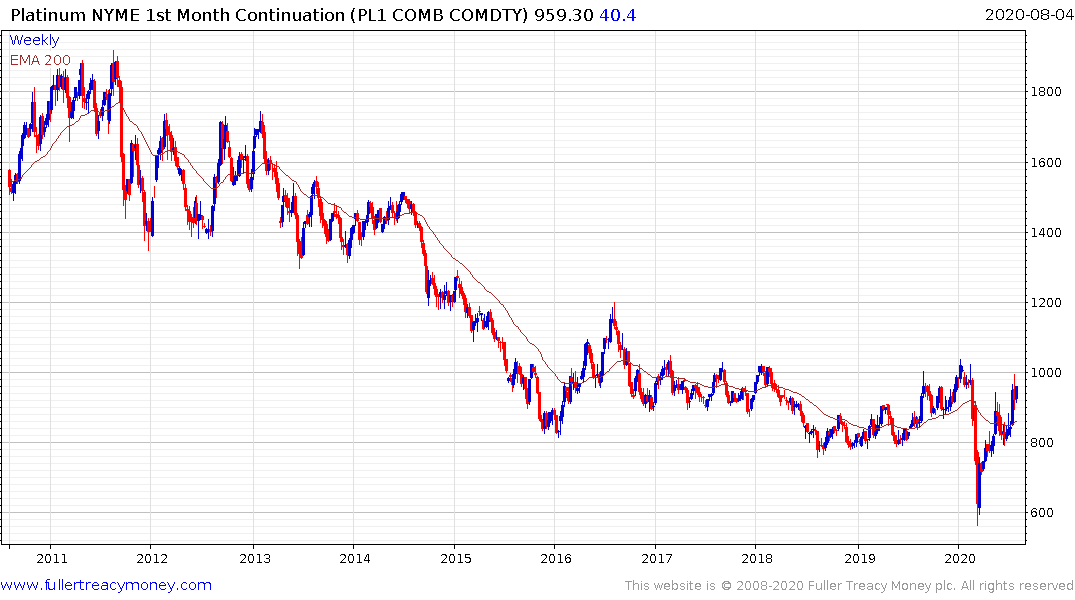 Platinum has been a clear laggard but it also firmed today. $1000 has been a big psychological barrier for the price series over recent years and a sustained move above it will be required to confirm a return to demand dominance.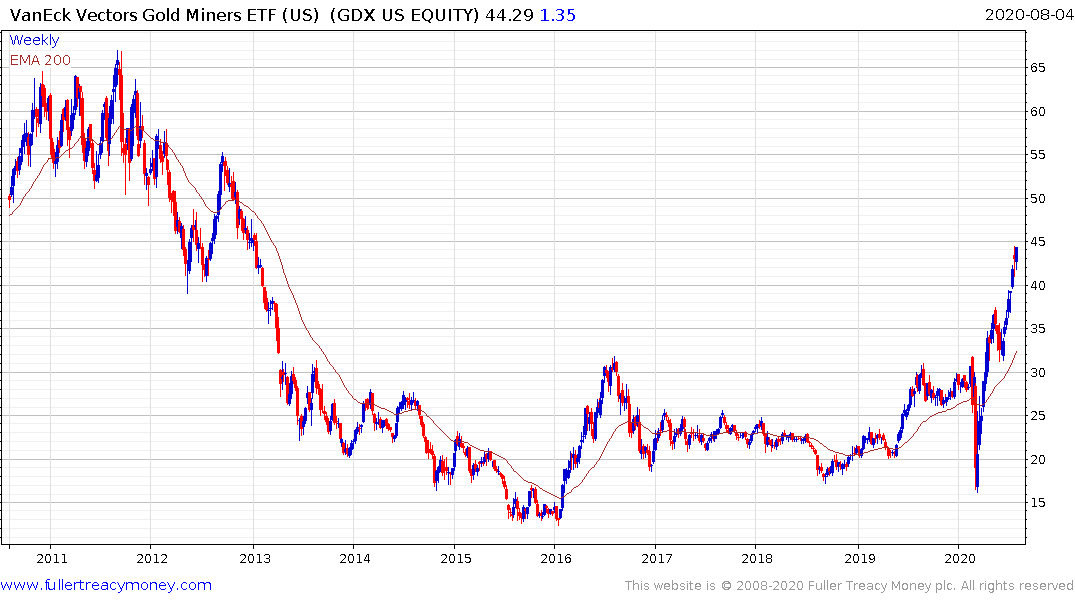 Precious metals miners continue to offer leverage to the gold price.
Back to top