Davos 2020: Sanjiv Bajaj Sees 'Some Uptick' In Consumer Lending Business
This article from Bloomberg quoting the CEO of Bajaj Finserv may be of interest to subscribers. Here is a section:
For the non-bank financial sector as a whole to turn around, the government needs to put aside fiscal discipline for around two years and jump-start the economy, said Bajaj.

"We need the tailwind from the government to rebuild the sector." Sanjiv Bajaj, MD, Bajaj Finserv
India's non-bank lenders have been reeling since the latter half of 2018, when IL&FS Ltd. group companies defaulted on debt and triggered an industry-wide credit squeeze, raising borrowing costs for small lenders. The government and the RBI stepped in to support by assuring increased liquidity and a provision for a partial guarantee to help these firms sell loans.

Bajaj said midsize players which aren't perceived as being "pristine" have had trouble raising funds, especially from banks. "The only answer is either economy to pick up or more equity to come in or the liquidity problem will become a solvency problem in their case."

"If the government help doesn't come, we'll see some deterioration or stagnation," said Bajaj.
The big question for India watchers in the aftermath of the IMF downgrading growth yesterday is how long it will take for measures taken in the third and fourth quarters of last year to transmit into economic growth.
The consolidation of the state-owned banking sector, the first measures to lend assistance to non-bank lenders, reform of corporate taxes, labour law reform, relaxation of foreign investor rules and increased privatization are all supportive of medium-term growth.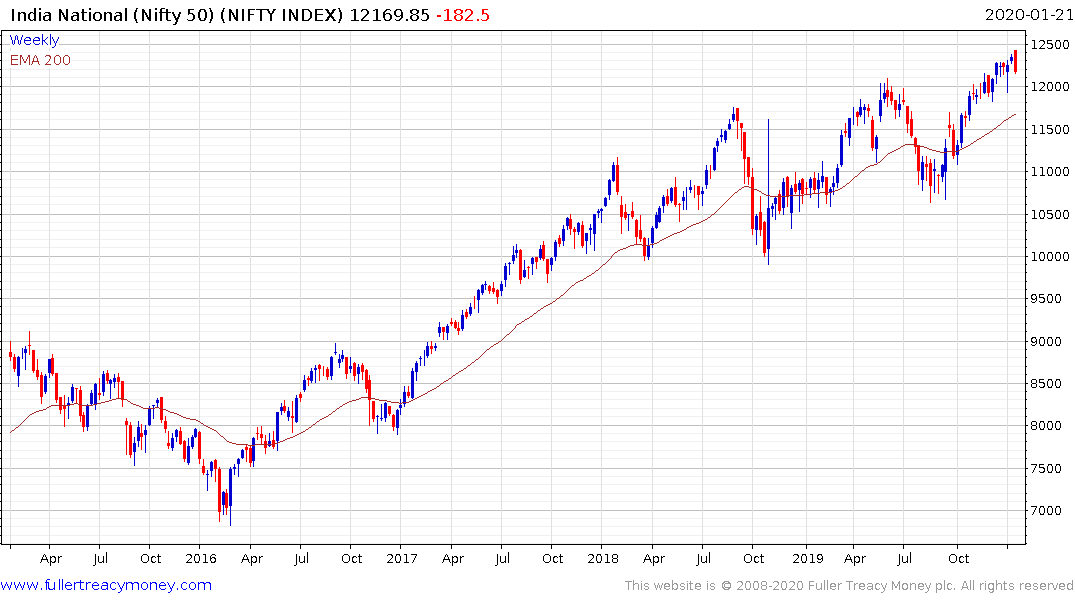 The Nifty Index posted a downside key reversal yesterday and followed, modestly, on the downside today. The big question is how well the Index will hold the 12000 area because that represents the most recent higher reaction lows and the peak reached back in June. Over the last couple of years, the Nifty has been unable to hold breakouts and it will need to break that pattern to clearly confirm a return to medium-term demand dominance.
Back to top