Electric cars are changing the cost of driving
This article by Michael J. Coren for Quartz may be of interest to subscribers. Here is a section:
It's difficult to know how representative this data is of Teslas overall, given that Tesloop's fleet is small, but it likely includes a large share of the highest-mileage Teslas on the road—several are nearing 500,000 miles. Finding conventional vehicles to compare is virtually impossible since most fleet cars are typically sold off after 100,000 miles.

But the implications could be huge. Every year, corporations and rental car companies add more than 12 million vehicles in Europe and North America to their fleets (pdf). Adding EVs to the mix could see those cars lasting five times longer—costing a fraction of conventional cars over the same period—while feeding a massive new stream of used electric cars into the marketplace. Whether the future of fleets is really electric, however, depends on the data. And that's still in short supply.

The promise of EVs
Most commercial vehicle fleets still run on gasoline and diesel, David Hayward, a fleet expert with Deloitte consulting, said. But EVs are top of mind. "Everyone is excited about it and everyone wants it," he told Quartz. "But there's trepidation." The potential savings are huge. Fleet owners' biggest expenses after depreciation (44%) are fuel (22%) and maintenance and repairs (11%), according to Deloitte. EVs could slash those by more than half.
The original electric vehicles that entered service about ten years ago have some of the lowest resale values and steepest depreciations of any car. Meanwhile the Tesla Model 3 was the car with the least depreciation of any vehicle this year. That is a function of both supply and built up demand but the success in limiting the erosion of the battery's charge potential has reversed the economics of the electric vehicle market. If a car can comfortably drive 500,000 miles with little to no maintenance, other than tyres, the only limitation is range. Right now, a Model 3 has about a 300 miles range which more than enough for most people. My SUV will do around 480 miles on the highway to a tank but probably closer to 200 in the stop/go of the city so the range issue is less of an issue today.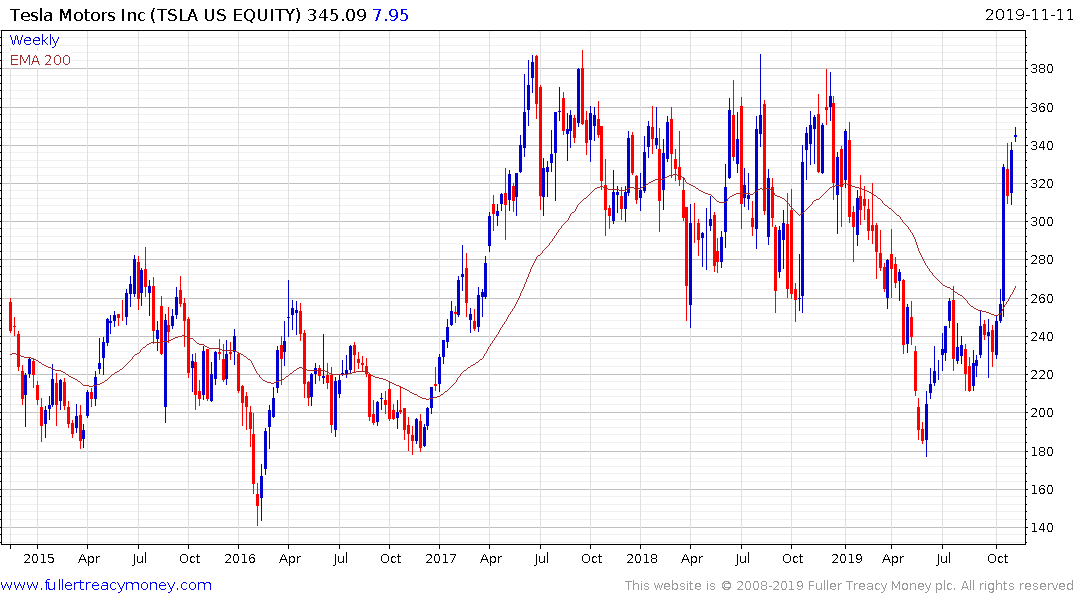 Tesla continues to rebound and is swiftly approaching the 2017/18 highs below $400. While short-term overbought, a sustained move below $300 would be required to question momentum beyond a pause.
This article from the Wall Street Journal, focusing on vehicle financing caught my attention this morning. Here is a section:
Some 33% of people who traded in cars to buy new ones in the first nine months of 2019 had negative equity, compared with 28% five years ago and 19% a decade ago, according to car-shopping site Edmunds. Those borrowers owed about $5,000 on average after they traded in their cars, before taking on new loans. Five years ago the average was about $4,000.
Rising car prices have exacerbated an affordability gap that is increasingly getting filled with auto debt. Easy lending standards are perpetuating the cycle, with lenders routinely making car loans with low or no down payments that can last seven years or longer.
Newer cars have a lot more toys and that has allowed car companies to boost the number of added extras on their vehicles but that is irrelevant if people are just not buying cars. The revolution of cars lasting longer, the simplicity of electric car engineering and pressure from the environmental lobby represent existential threats to conventional car companies. That is particularly pressing as demand in China tapers off.
Cars are a wonderful utility but represent a depreciating asset. Diesel vehicles represent a significant value proposition over gasoline powered vehicles, because of their resilience and fuel economy which was a significant motivator for many consumers ahead of the "clean diesel scandal". Electric vehicles might not have the range of diesel but the fuel is way cheaper and they are now going further. The only logical conclusion is the days of the internal combustion engine are numbered and that represents a clear risk of further consolidation in the automotive industry.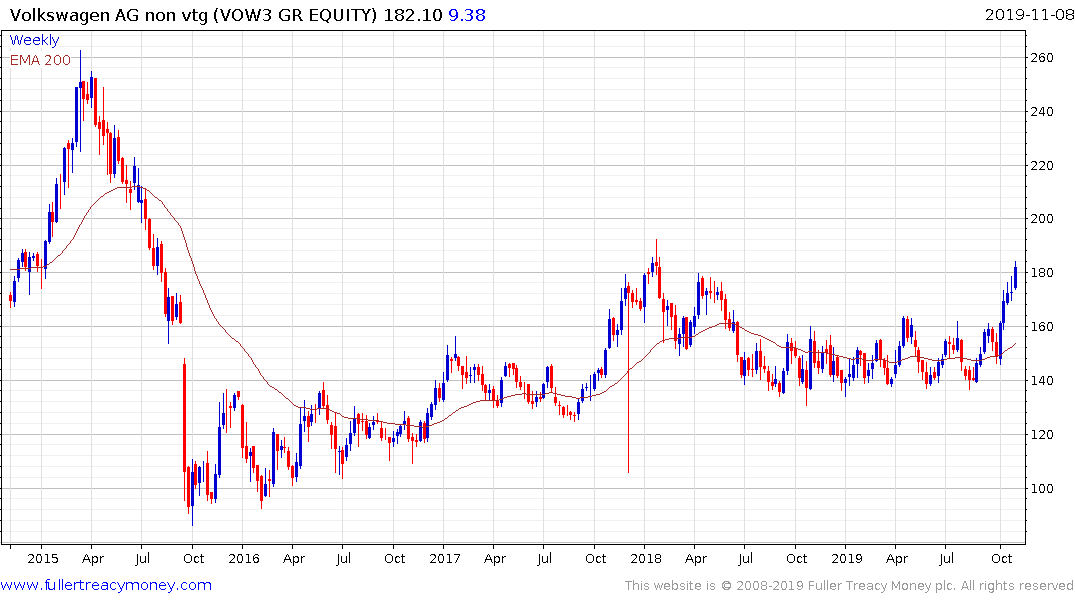 Volkswagen appears to acting to forestall this dire future and the share has broken out.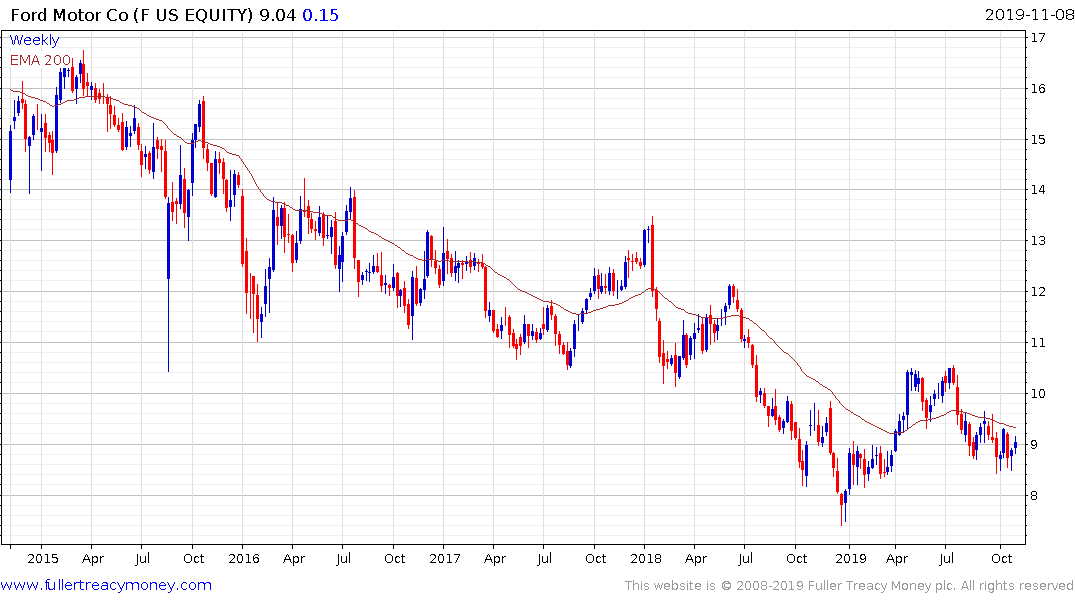 Ford just announced an electric SUV and appears to be putting in a higher reaction low.
Meanwhile Peugeot merging with Fiat Chrysler is further evidence of the number of marques compressing.
Back to top