German economic growth cools in 2018 to lowest rate in five years
This article by Claire Jones may be of interest to subscribers. Here is a section:
The 1.5 per cent figure suggests growth was positive in the fourth quarter after the economy contracted in the third quarter. "If there are no revisions to past data, then the 1.5 per cent suggests at least 0.3 per cent quarter on quarter," said Jörg Krämer, chief economist at Commerzbank.

Fears of a technical recession, or two-straight quarters of economic contraction, had emerged last week after industrial production plunged between October and November, highlighting the problems facing the country's manufacturers.

Gross domestic product had fallen 0.2 per cent in the third quarter from the second, according to official data. Fourth quarter figures are due next month.

Makers have been hit by poorer sales following signs of a world economic slowdown and political uncertainty surrounding Brexit and the trade war between the US and China. The UK, US and China are all among German makers' biggest markets.

Export sales sank in the second half of the year on the back of weak external demand — leaving import growth outpacing them and placing the trade balance into negative territory for the year. Germany is the most reliant of all of the major global economies on trade and signs that the world economic cycle is past its peak has led to an outbreak of pessimism among the country's manufacturers.
German growth disappointed but remained positive, subject to revisions of course. That's positive but does little to hide the fact that Eurozone growth is waning at exactly the same time the ECB has ended its QE program.
With the potential for Eurozone wage growth to pick up, not least because of the number of populist protests which have been making headlines, the central bank may be less willing than might otherwise be the case to provide assistance.
Mario Draghi speaking today had this to say "The question we should ask is: Is this a sag or heading toward a recession? The answer we give is: No, it's a slowdown, which is not headed toward a recession. But it could be longer than expected."
That suggests the ECB is in no hurry to supply additional support and therefore the onus will fall on individual governments to provide fiscal support. The outlook for Chinese demand for European exports will likely have a considerable influence on the outlook for growth.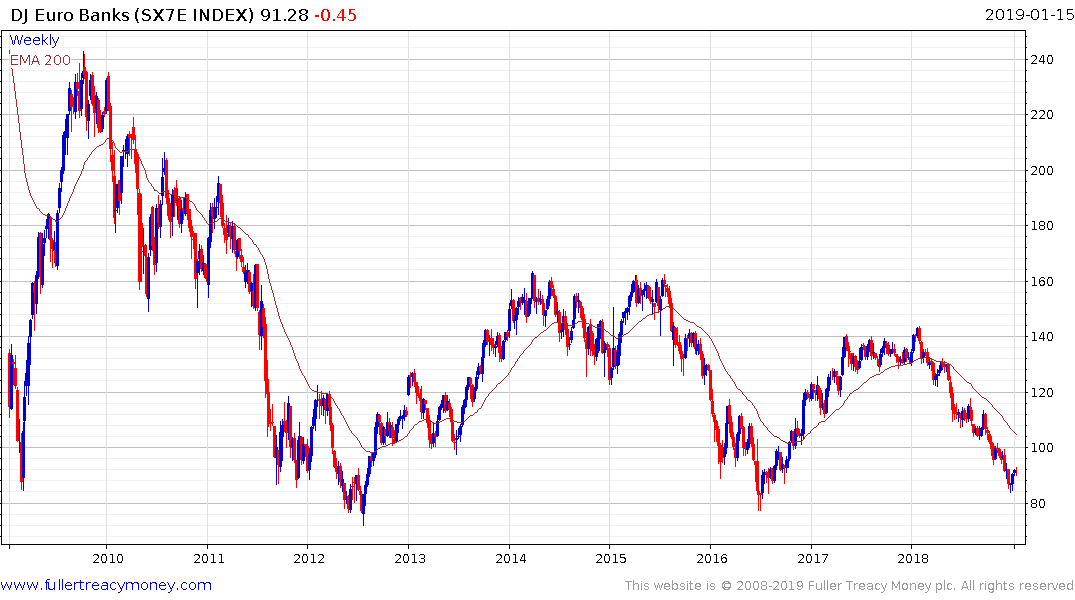 Meanwhile the banking sector remains under pressure and is still trending downwards. A break in the sequence of lower rally highs is the minimum required to signal a return to demand dominance beyond short-term steadying.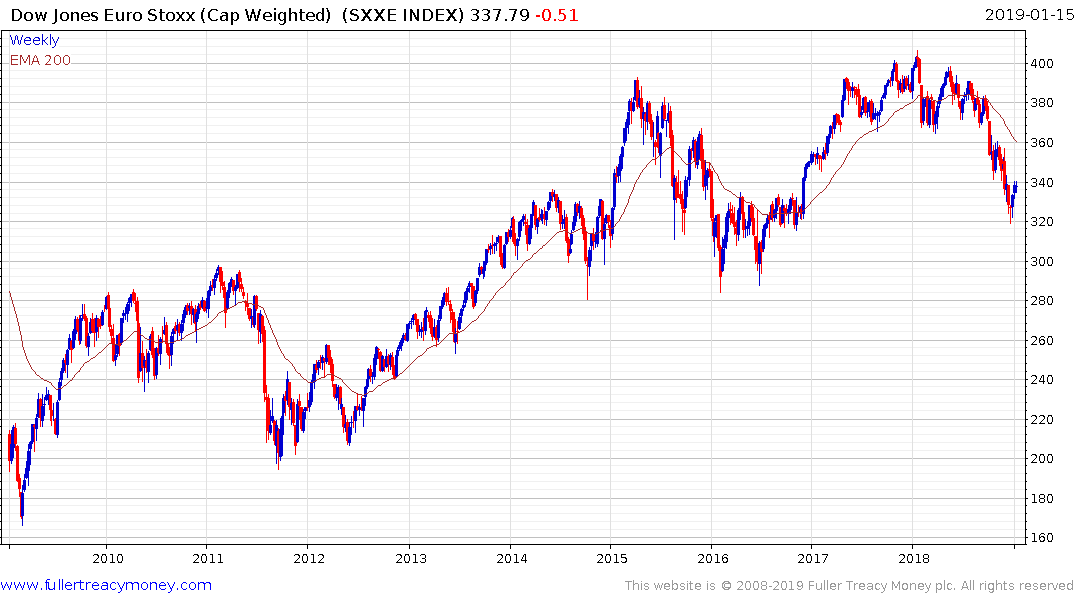 The broad Euro STOXX Index has paused over the last five sessions in the region of the lower side of the overhead trading range and will at least need to sustain a move back above 350 to question the downtrend.
Back to top