The Opportunity in Criss-Border E-Commerce
Thanks to a subscriber for this topical report from DHL which may be of interest. Here is a section:
Cross-border e-commerce1 has developed into a large, quickly growing ecosystem – and has become a great success story for many e-tailers, meaning retailers and manufacturers selling their products over the Internet directly to end consumers.

This success can be shown in real numbers: in 2015, the cross-border e-commerce market accounted for USD 300 billion GMV2, about 15% of e-commerce overall. This rapid growth, however, has just begun and will continue: the cross-border market is expected to grow by about 25% annually until 2020 – nearly twice the rate of domestic e-commerce and a growth rate that most traditional retail markets would dream of achieving. In 2020, it is expected to account for about USD 900 billion GMV, translating into a roughly 22% share of the global e-commerce market. This growth momentum yields unrivaled opportunity for retailers and manufacturers. As this report will show, crossborder e-commerce is not an e-commerce giant story – all types of manufacturers and retailers will be able to successfully go global.

Even beyond 2020, all evidence shows that demand for products from abroad is not going to recede. That said, considering the patterns according to which e-commerce companies expand their regional footprint today, one could assume that every e-commerce purchase will eventually become a local purchase. This is mainly due to the higher cost efficiencies that localized fulfilment and the quicker shipments that shorter distances naturally promise at first glance. However, even e-commerce giants such as Amazon, Alibaba, and Zalando, which already operate local distribution centers in several countries, ship a significant part of their sales cross-border. This is driven by, for instance, the enormous number of stock-keeping units (SKUs) offered by some of these players. But having slow-turning SKUs sitting in inventory everywhere – a prerequisite for pure local fulfilment – is much more costly than shipping a certain share of orders cross-border. And in order to fulfill consumers' wishes for faster delivery, many e-tailers offer premium international shipping options to their customers, e.g., for a surcharge. This is testimony that cross-border is not a passing phase or trend, but rather a significant staple in the e-commerce market that requires premium shipping.
Here is a link to the full report.

The global postage and shipping industry represents a number of competing trends right now. On the one hand you have companies like Amazon which is prevailing on its largest sellers to expand internationally by making their products available in countries like Canada, Mexico, UK, Germany, France and Spain. That requires bulk shipping of inventory to its international fulfilment centres and often requires an increased compliance cost to manage multiple sales tax regimes.
At the other end of the scale are individual sellers that engage with selling platforms like eBay and Etsy which do not have fulfilment centres. The withdrawal of the USA from the international postage treaty represents a significant change for these businesses since they have a considerable number of clients which rely on low shipping costs for a competitive advantage.
The third strand are companies running their own e-commerce operations and primarily selling a niche product. My youngest daughter's most recent passion has been squishies and she buys them from sites based in Hong Kong, New Zealand and Thailand because the prices and the breadth of options is better and prices cheaper even when paying for international shipping.
The net result is demand for packaging and shipping are boosted by the inexorable rise of e-commerce.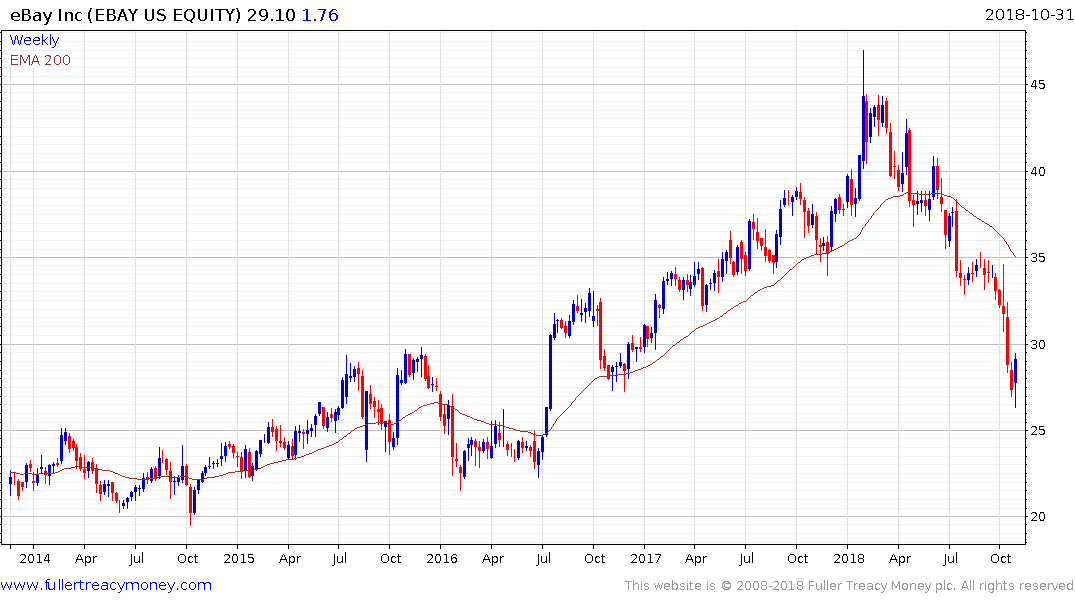 eBay has been particularly negatively affected by the change to international postage rates but a lot of bad news has already been priced in. The share is currently working on an upside weekly key reversal which holds out the prospect of at least a reversionary rally back up towards the mean.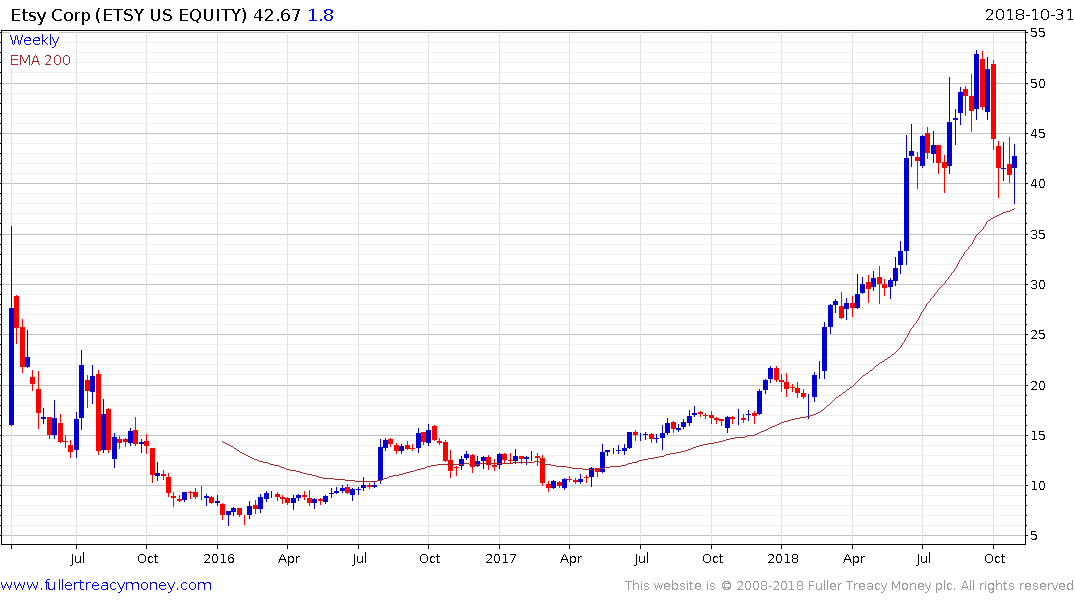 Etsy is bouncing this week from the region of the trend mean.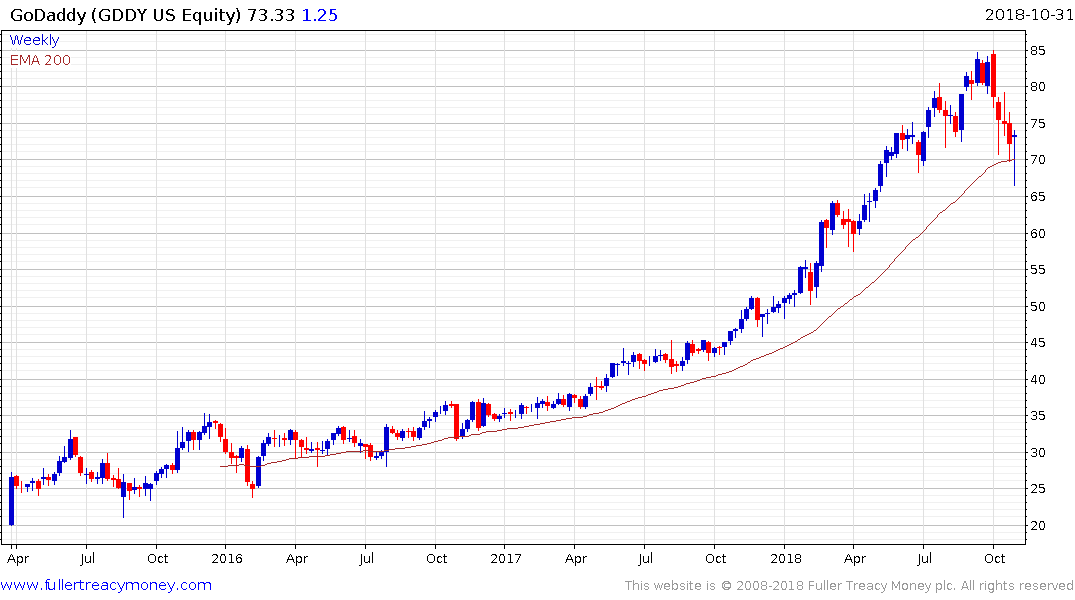 GoDaddy bounced this week from the region of the trend mean.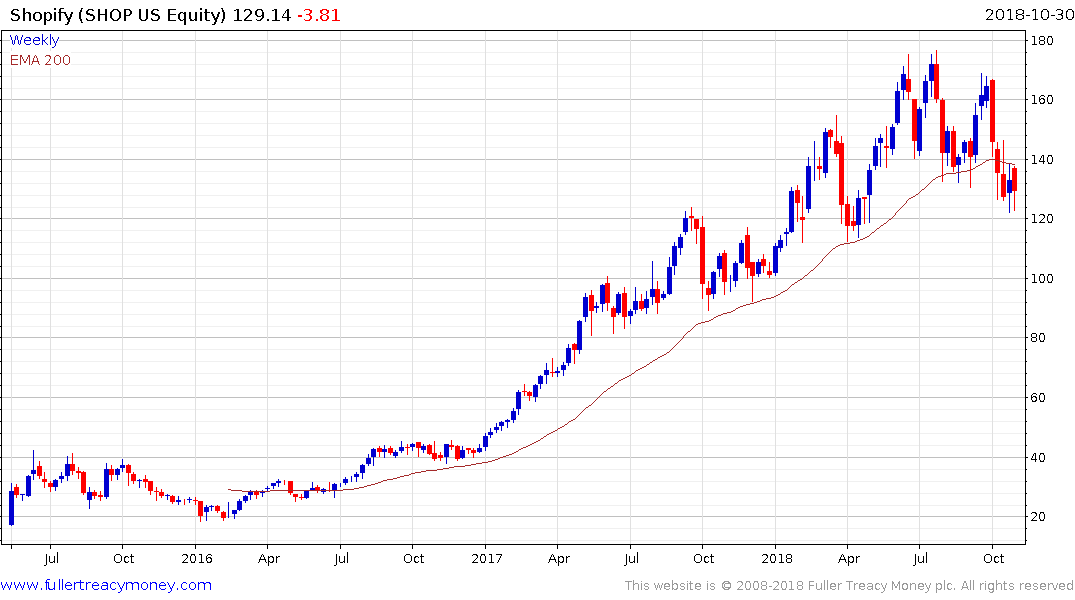 Shopify has steadied over the last couple of weeks but needs to push back above the trend mean to confirm more than short-term support.
Back to top