India Seizes Control of Indebted Lender in Surprise Move
This article by Saloni Shukla for Bloomberg may be of interest to subscribers. Here is a section:
India's government will immediately seize control of a shadow lender whose defaults have caused widespread upheaval at mutual funds, a rebuke that's only happened to one
other firm.

Government officials were granted approval to oust Infrastructure Leasing & Financial Services Ltd.'s board and a new six-member board will meet before Oct. 8, the National Company Law Tribunal said on Monday. India's richest banker Uday Kotak and ICICI Bank Chairman G.C. Chaturvedi will be part of the proposed board, which will elect a chairperson themselves.

The nation's corporate affairs ministry has sought to take control of a company on just two prior occasions, and only followed through once, with Satyam Computer Services Ltd. in
2009.

​The dramatic move, which unfolded within the span of a hectic day in Mumbai, underscores the government's concern about IL&FS's defaults spreading to other lenders in the world's fastest-growing major economy. Considered systemically important, the group has total debt of $12.6 billion, 61 percent in the form of loans from financial institutions. The ripple effects of its defaults have already seen mutual funds post mark-to-market losses, a slump in corporate bond issuance and a brief but sharp sell-off in equities.
Containing the rot from IL&SF's default is national priority for India considering the extent to which banks, particularly Yes Bank, have pulled back. India has the world's fastest growing economy right now but valuations are rather elevated, the currency remains weak and the continued uptrend in oil prices is a headwind. Against that background the question of nonperforming loans and how the banking sector can be cleaned up is the primary topic of conversation among international investors.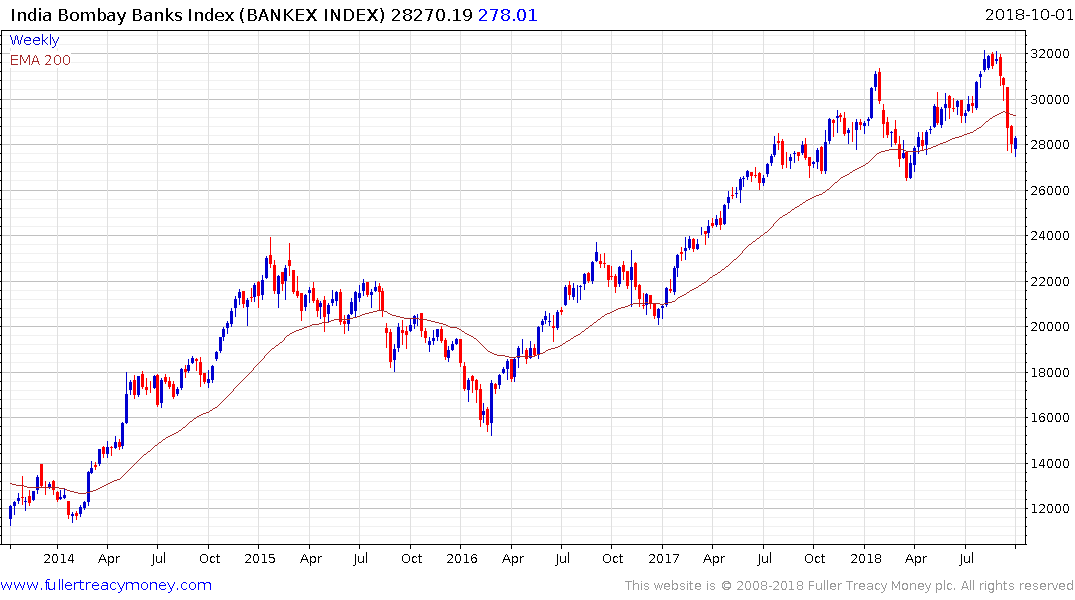 The Bombay Banks Index has paused over the last six sessions but it needs to post a few consecutive days on the upside to confirm more than a very short-term low. The big test will be in how well it can sustain a move back above the trend mean. Right now, the Index is still trading above the March low. A sustained move below that level would signal a wider, deeper and potentially lengthier reaction is underway.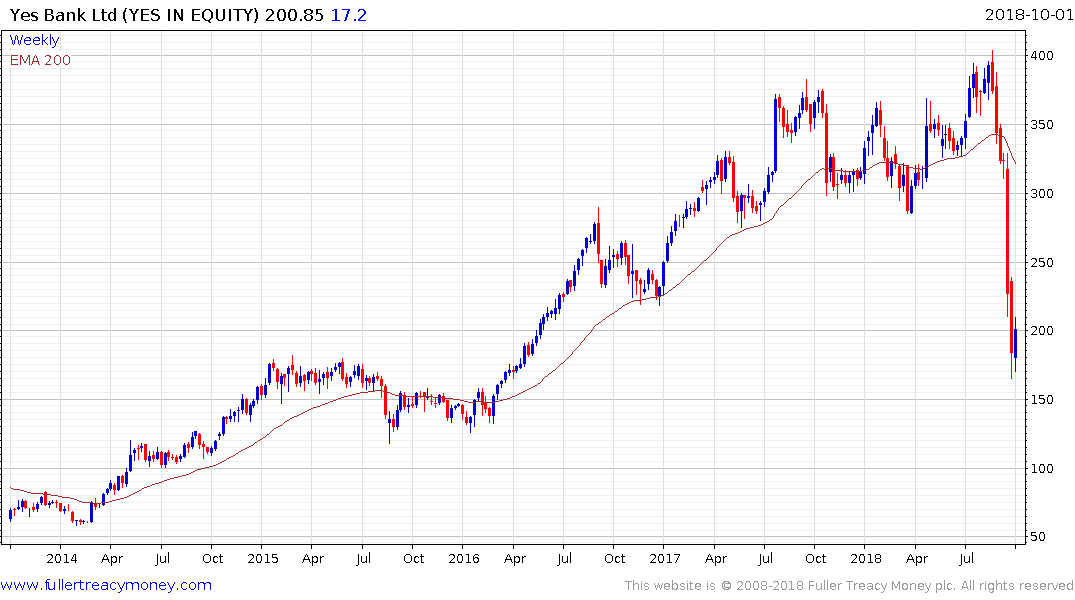 Yes Bank trades on a price/sales ratio of 1.9 and estimated P/E of 9 .09 so a lot of bad news has been priced in. However, we do not yet have insight into how troubled the balance sheet is following the refusal of the regulator to appoint the CEO.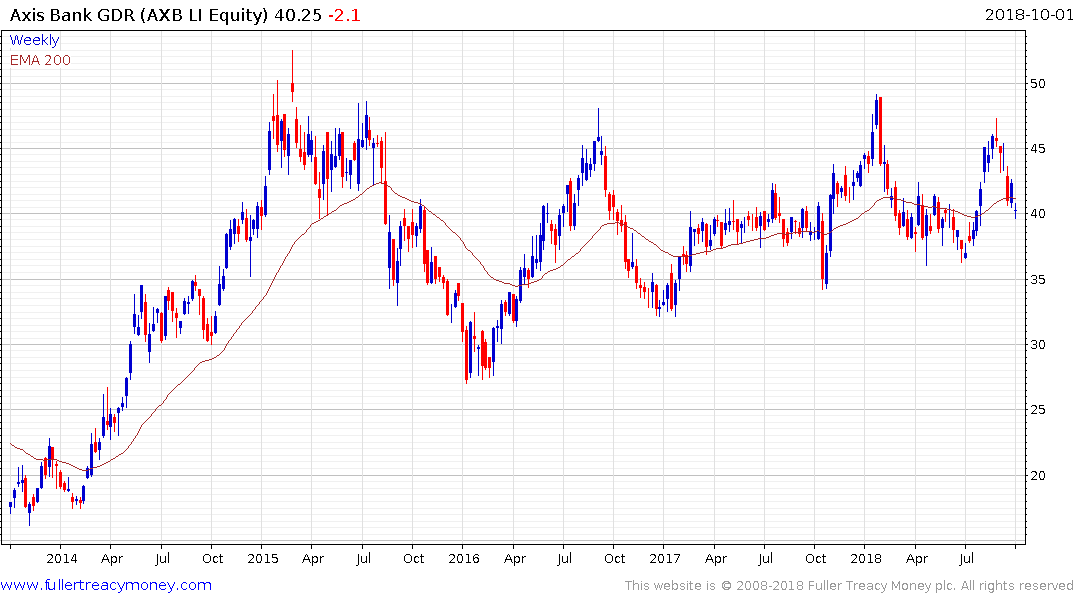 Meanwhile Axis Bank, which also had its CEO's tenure shortened, pulled back rather sharply today to move to a new low.
Elsewhere Bandhan Bank has been informed it needs to apply for permission from the RBI before opening any new branches. The share fell its limit of 20% on the news.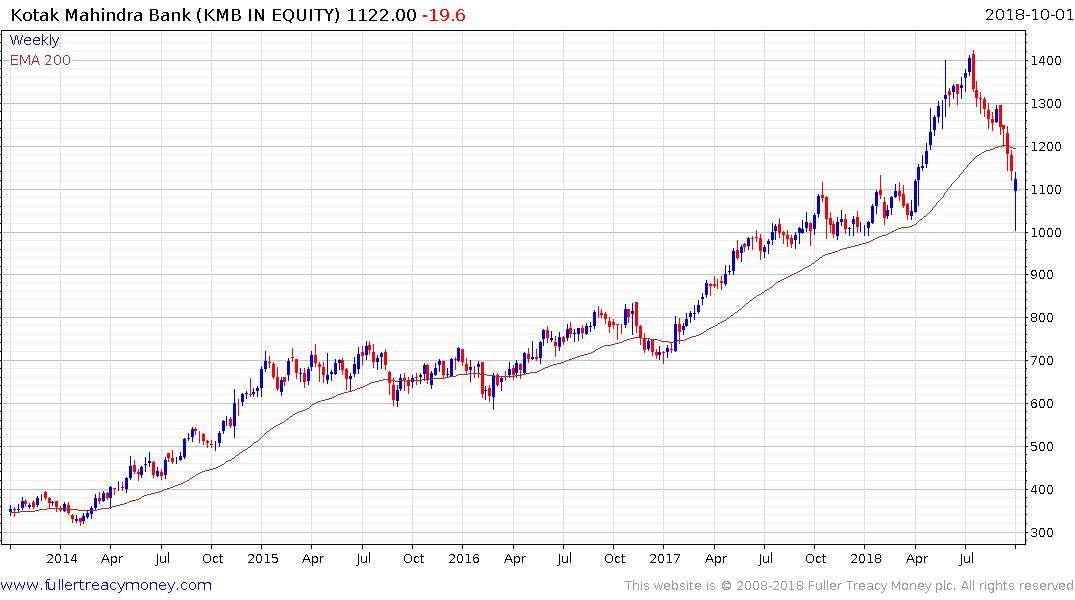 Kotak Mahindra Bank reversed an early steep decline to find more than INR1,000 off its lows but it needs to sustain a move back above the trend mean to confirm a return to demand dominance beyond steadying.
Back to top