A deep-dive into demographics; healthy demand ahead
Thanks to a subscriber for this report from Deutsche Bank which may be of interest. Here is a section:
Based on our studies, we expect healthy annual primary property sales of 1.5- 1.6bn sqm over the next 3-5 years. For property prices, we expect 5% price appreciation across China in 2018 (in view of low inventory and healthy demand) and conservatively assume flat prices beyond 2018. We believe the key drivers of demand will be:

Further growth in the population which won't peak until 2030F at which time it should be 1.45bn (implying a CAGR of 0.35%);

Urbanization to reach 70% by 2030F, translating into an annual increase of 18-20mn people in the urban population (including natural growth);

The population aged 25-39 (identified as key property buyers) to remain healthy until 2023F from 2010 at 315-330mn; n Strong upgrade demand for larger living space (~29 sqm net area by now is lower than the level in developed countries) and better living conditions (48% live in houses built before the year 2000);

A further decrease in household size from 3.1 persons in 2016 to approach the international level of 2.4-2.6 persons per household;

Affordability has remained stable over the past decade (except for T1 cities);

MOHURD targets 5.8mn units shanty-town redevelopment in 2018 (15mn units in total for 2018-2020) versus ~6mn in 2015-2017.
Here is a link to the full report.

China's property market represents a potent source of potential trouble at some point in the future. However, it has not stopped going up, and until it does the layers of leverage that constitute every bull market will not be exposed.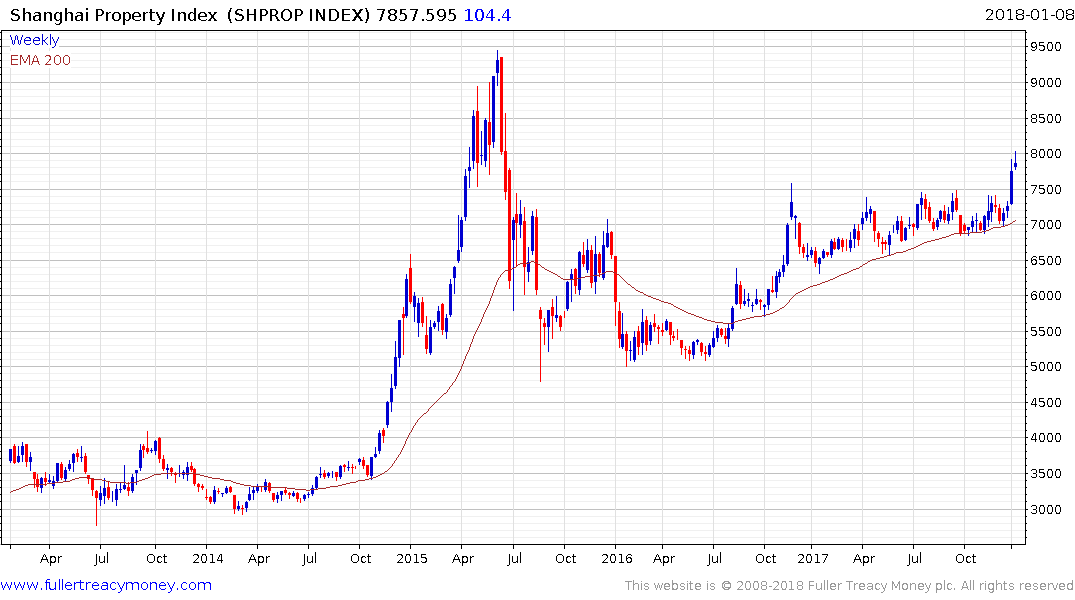 The Shanghai Property Index surged higher in the first few days of the year to complete a more than yearlong range. 8000 represents a short-term area of resistance but a sustained move below 7500 would be required to question medium-term recovery potential.
A number of the Index's constituents have experienced even more impressive breakouts and while some consolidation is looking likely, clear failed upside breaks would be required to question returns to demand dominance.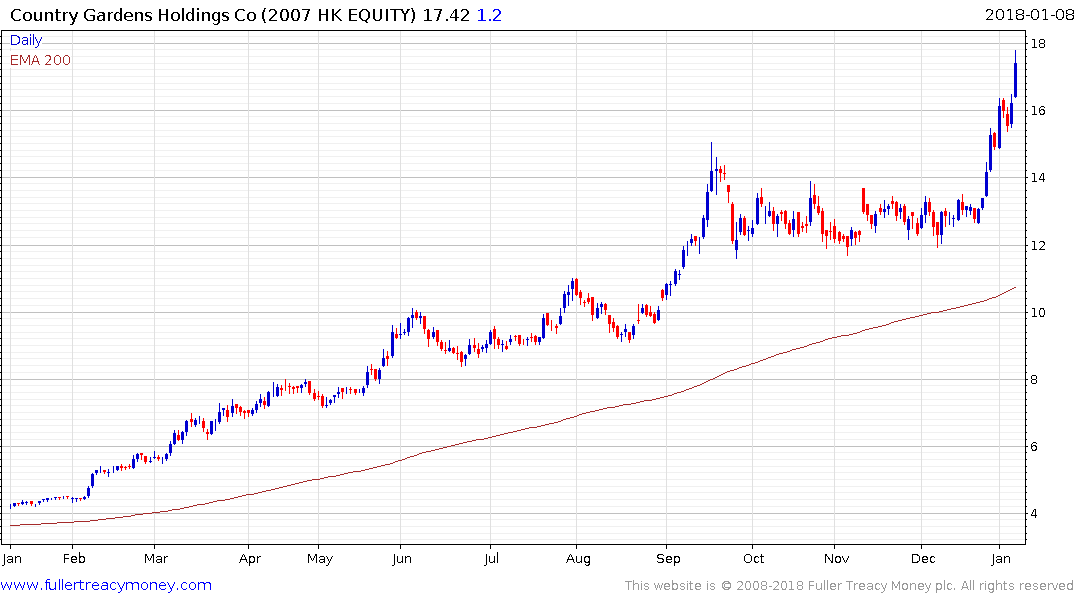 Country Garden Holdings is a notable example.
Back to top