Wall Street analysts keep one-upping each other to be biggest bull on red hot Nvidia
This article from CNBC highlights some interesting psychological activity evident in the market right now. Here is a section:
Wall Street is falling over itself to have the most bullish call on Nvidia, the market's best performing stock in the past year.

Right after Citi Research raised its Nvidia price target to a street high of $180 Thursday morning, another analyst decided to one-up its peer with a higher price target for the semiconductor company.

Bank of America Merrill Lynch analyst Vivek Arya told investors to buy the Nvidia shares, citing the large opportunity in the artificial intelligence market Thursday evening:

?"NVDA is trading at a premium multiple, but the momentum could persist given: (1) Only 17% ownership by large-cap active US managers (vs. large-cap semi comps 25%-39% ownership; (2) Potential expanding ownership by Softbank vision fund, per media reports; and (3) Scarcity value as the only proven way to gain exposure to nascent AI/machine learning trend which could be a 10-20x growth opportunity. This weekend's E3 gaming show typically marks start of 2H seasonal strength."

SoftBank Group bought a $4 billion stake in Nvidia, according to a Bloomberg News report last month.

Arya raised his price target for Nvidia to $185 from $155, representing 16 percent upside from Thursday's close. He now has the highest price target on the company out of 34 analysts, according to FactSet.
Nvidia shares have been going up quickly which means analysts have been playing catch-up with their estimates for how high it will rise. In an effort to get ahead of the curve they begin to get more ambitious. That means they start projecting future growth rates rather than historic growth rates. Since all analysts are in the same situation they start competing for who can come up with the rosiest picture of the future.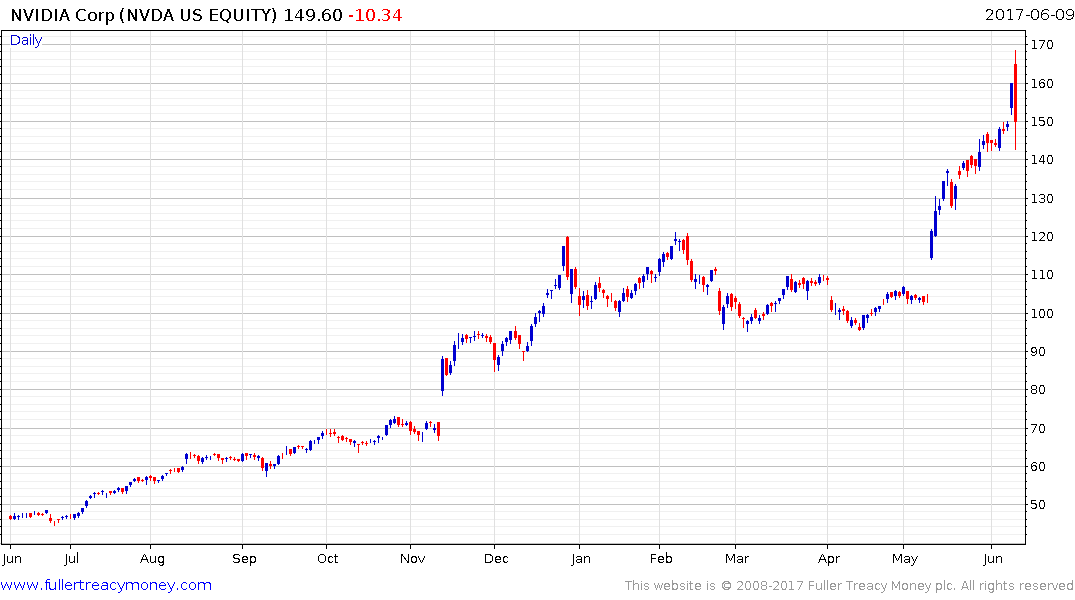 Investors racing to buy into the story have a vested interest in pursuing the most bullish story because it helps them to rationalise the decision to enter the market now when prices have already surged higher. Of course new entrants in an accelerating market have the most to lose so they naturally migrate towards the most aggressive forecast. One of David's oldest adages is that aggressive forecasts tell us more about what people have done with their money than what they are going to do.

Nvidia hit a high today or $168 and closed near $150. The company makes graphics cards which are primarily used in the booming gaming sector. Its chips have potential future applications in autonomous vehicles and artificial intelligence so this is a company with earnings potential. Unfortunately a lot of that potential has been priced into the share in a very short period of time and it is looking increasingly likely that a process of mean reversion is now unfolding.

While some of the heat may be coming out of high momentum shares like Nvidia and even Tesla, the relative strength of the Nasdaq Biotech sector is particularly noteworthy today. The Index has firmed impressively from the region of the trend mean and a sustained move below 3000 would be required to question medium-term scope for additional upside.
Back to top