Argentina: Scioli Emerges Victorious In Primary Election
This article from InSerbia may be of interest to subscribers. Here is a section:
Thus, in this year's primary election, Scioli, the Governor of Buenos Aires Province and Vice-President Under Kirchner, represented the FpV Alliance as its lone candidate while 'United For a New Alternative' put forth lawmaker Sergio Massa and José Manuel de la Sota, the former three-time Governor of Córdoba Province. The 'Federal Compromise,' meanwhile, presented Senator Adolfo Rodríguez Saá as its candidate.

On the conservative end of the spectrum in the primaries was Mauricio Macri of the right-wing Republican Proposal (PRO). Macri headed the 'Cambiemos' ('We Are Changing') coalition, an unlikely alliance between his PRO party and the Radical Civic Union (UCR), a left-leaning centrist party that traditionally remains independent or unites only with much smaller parties. The Civic Coalition ARI (CC-ARI), a social-liberal party, is also in the coalition.

PRO is led by Macri, the Mayor of the Autonomous City of Buenos Aires since 2007 after a failed bid for the same position four years prior. Meanwhile, Ernesto Sanz heads the UCR and Elisa Carrió is the head of the CC-ARI. The primary was to determine who will lead the coalition's candidacy but it was almost guaranteed to be Macri with the other two then running on behalf of the coalition for other prominent positions.
Governance is Everything but it is a relative consideration. Our basic consideration is not where the level is but is it getting better? Argentina's October election will let us know whether the disastrous administration of the Kirchner's will be prolonged or whether a new reform-minded government will be ushered in. At present the odds are not looking favourable.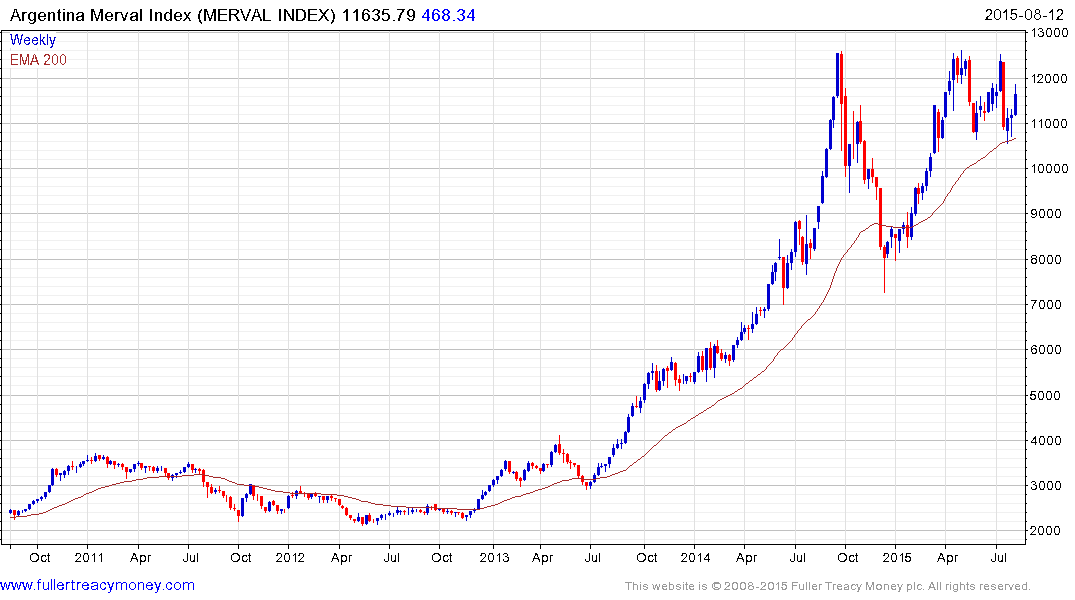 The Argentine Peso has been in a steady process of devaluation for much of the last decade. The domestic inflation rate is reflected in the performance of the Merval Index which has been consolidating in the region of the 2014 peak since April. A sustained move below the trend mean would question potential for additional upside in nominal terms.
Back to top