Teva to Buy Allergan Generic-Drug Unit for $40.5 Billion
This article by Chitra Somayaji and David Wainer for Bloomberg may be of interest to subscribers. Here is a section:
Allergan, which makes the blockbuster wrinkle treatment Botox, said Sunday it would buy the biotech company Naurex Inc., which is developing a fast-acting antidepressant. The $560 million all-cash transaction is expected to close by year-end.

Teva expects its Allergan transaction, which both boards backed unanimously, to close in the first quarter of 2016 and boost earnings per share. Also today, the company raised its earnings per share estimate for 2015 to between $5.15 and $5.40, up from an earlier forecast of $5.05 to $5.35. Earnings per share were $1.43 in the second quarter, Teva said.

Teva had been pursuing a $40.1 billion deal to buy Mylan since April, a merger rejected by Mylan management as culturally unfit. Last week, Mylan's independent foundation exercised an option to acquire shares that let it control half of the company in a move that rendered Teva's attempt to win over a majority of its shareholders much more difficult. Abbott Laboratories, Mylan's top shareholder, in June said it backed Mylan's plan to avoid being taken over by Teva.

Bloomberg reported on July 25 that Allergan was exploring a breakup of the company, including the possible sale of its generics business.

Mylan is pursuing Dublin-based Perrigo, a campaign that may now get fresh impetus as pressure mounts to become bigger. Perrigo, which makes prescription and over-the-counter drugs, has thus far rebuffed Mylan's $33 billion offer.

Mylan will continue its pursuit of Perrigo and expects that Mylan shareholders will vote "in the next several weeks" to support a purchase, the company said in a statement. Perrigo shares rose 2.4 percent in premarket trading as of 6:55 a.m. in New York.

Teva, which had accumulated a 4.6 percent stake in Mylan ahead of a potential legal battle, said today it will "review its options" on the holding.

Teva may have a key advantage in integrating Allergan's generic business because its own head of generics, Siggi Olafsson, formerly led that business at Allergan. Olafsson was brought in to Teva after leaving Actavis Plc, which switched its name to Allergan after agreeing to buy the maker of Botox in November 2014 for $66 billion
M&A activity both within the pharmaceutical sector and the health insurance sector has accelerated this year and particularly over the last month. Increasing competition to capture market share has been given fresh impetus by the risk that ultra-low borrowing costs might not be on offer indefinitely and that a failure to act now will result in companies becoming targets themselves.

Healthcare is a truly global business but the rise of a global middle class represents a major evolving growth trajectory. After all, once people make some money they begin to think about living long enough to enjoy it. This is a subject progressively more people will have an interest in over the coming decades.

Generic drug manufacturers compete on price but within a growing market where they are becoming increasingly technically proficient. The growth of the biosimilars sector where generic drug companies have reverse engineered complex molecules and manufacturing processes is a testament to their growing technical expertise which is likely to continue to improve.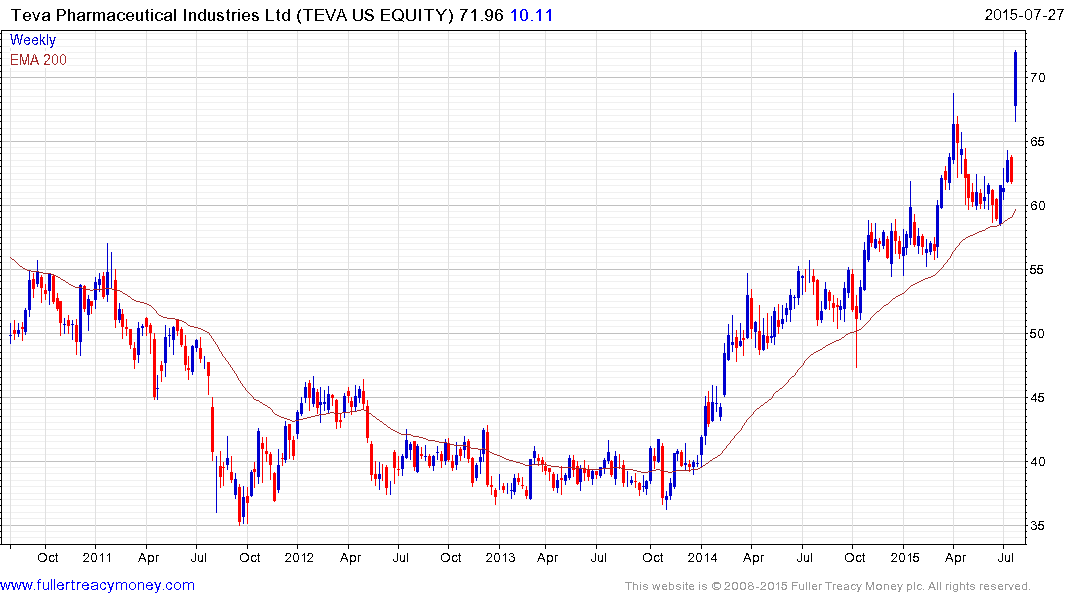 Teva Pharmaceutical rallied to a new high on today's news. Some consolidation is possible but a sustained move below the 200-day MA would be required to question medium-term uptrend consistency.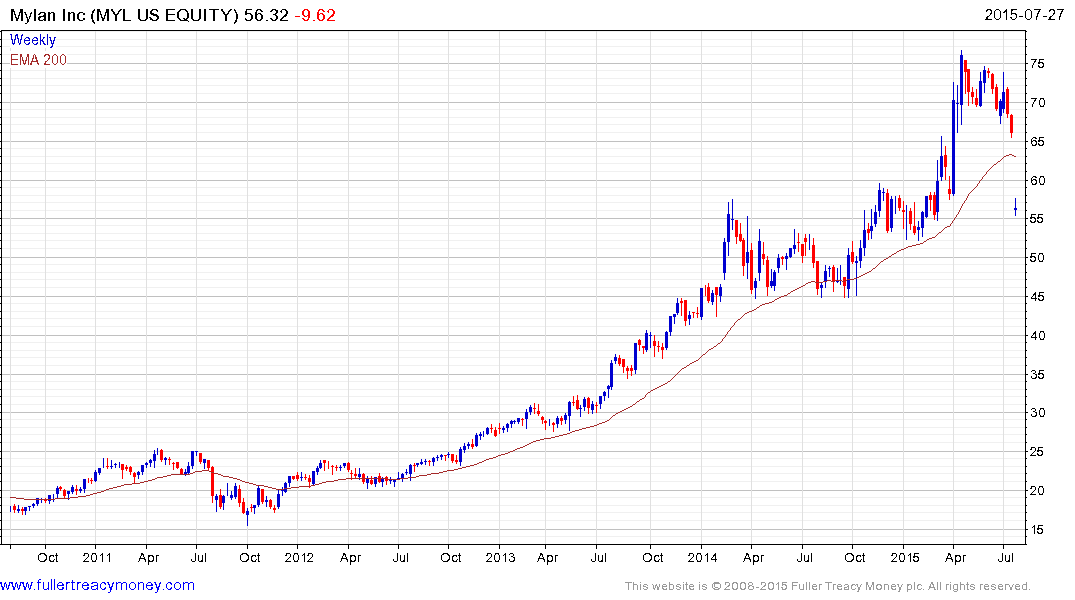 Mylan lost favour with Teva's change of focus and dropped to day to break the lengthy progression of higher reaction lows.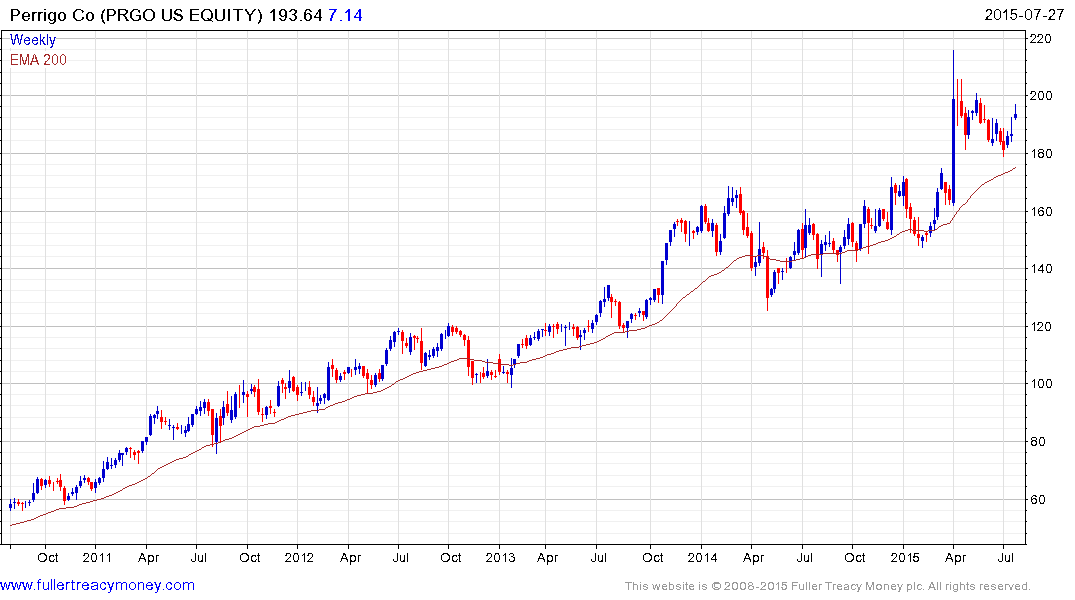 Perrigo continues to firm from the region of its 200-day MA.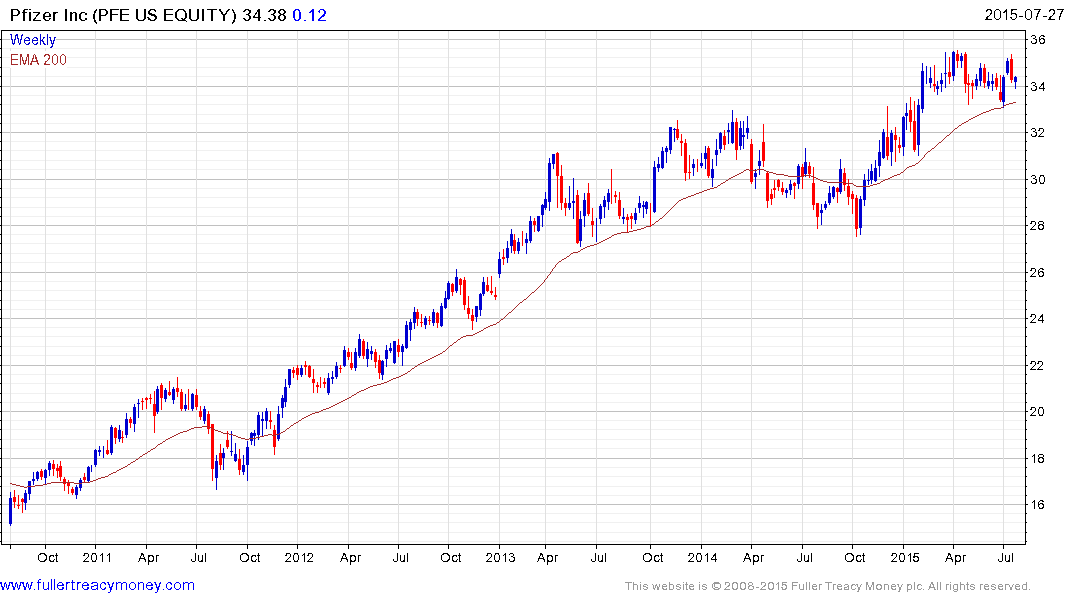 Pfizer acquired Hospira earlier this year and continues to range mostly below $35.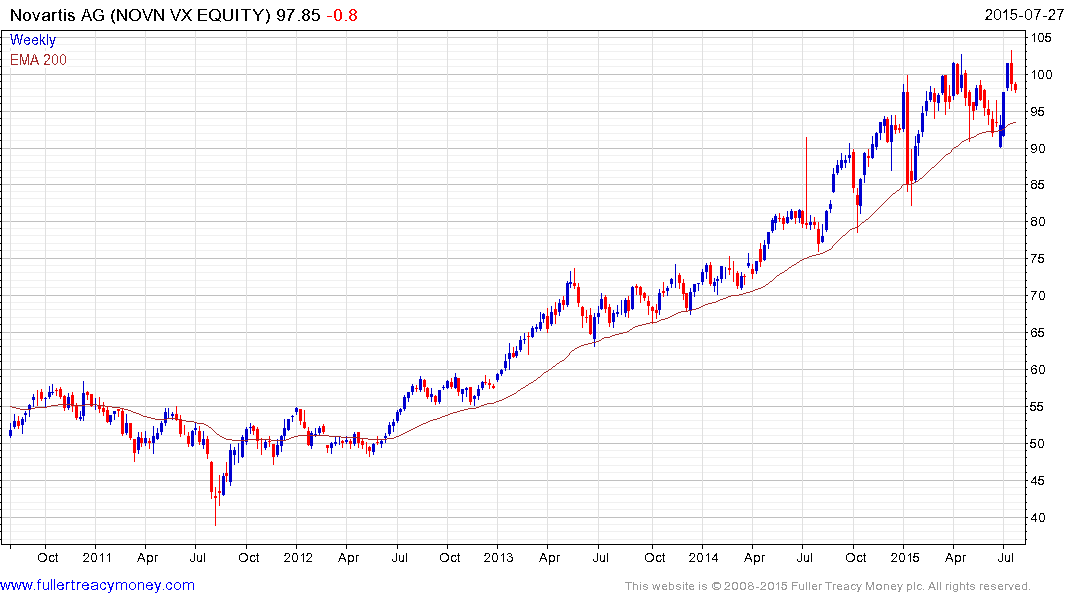 Novartis is Sandoz's parent company. The share continues to hold a medium-term progression of higher reaction lows but will need to hold the region of the 200-day MA if a deeper consolidation of the last four-year's gains is to be avoided.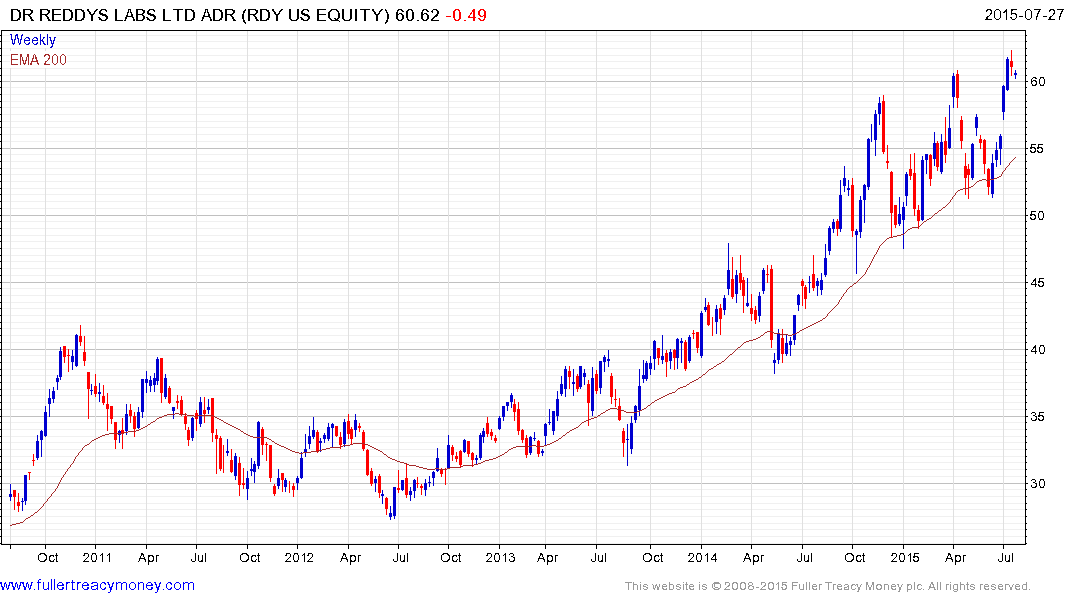 Dr.Reddy has paused in the region of its peak following the break out to new highs three weeks ago. A sustained move below the 200-day MA, currently near $54.30, would be required to question medium-term scope for continued upside.
Back to top