Portugal Regains Investment Grade Rating From S&P on Growth
This article by Joao Lima for Bloomberg may be of interest to subscribers. Here is a section:
Portugal's credit rating was restored to investment grade by S&P Global Ratings as the country's economic growth accelerates.

The rating was revised to BBB- from BB+, which was one level below investment grade, S&P said in a statement on Friday.

The outlook is stable. Portugal had been rated junk by S&P since January 2012, when the country was going through a bailout program provided by the European Union and the International Monetary Fund.

"The upgrade reflects our improved forecast for Portugal's growth during 2017-2020, as well as the solid progress it has made in reducing its budget deficit and the receded risk of a marked deterioration in external financing conditions," S&P said. The company raised its forecast for the country's economic growth through 2020 to an average of about 2.2 percent a year.

Tourism and exports have been boosting the economy, with the Bank of Portugal forecasting growth will accelerate to 2.5 percent this year. The faster growth is helping the country's minority Socialist government manage the budget deficit, which last year was the narrowest as a percentage of gross domestic product in four decades of Portuguese democracy.
It's been a decade of tough decisions for the Eurozone's peripheral members but they are slowly but surely returning to growth; helped in no small part by the low borrowing costs the ECB has supplied through its quantitative easing program.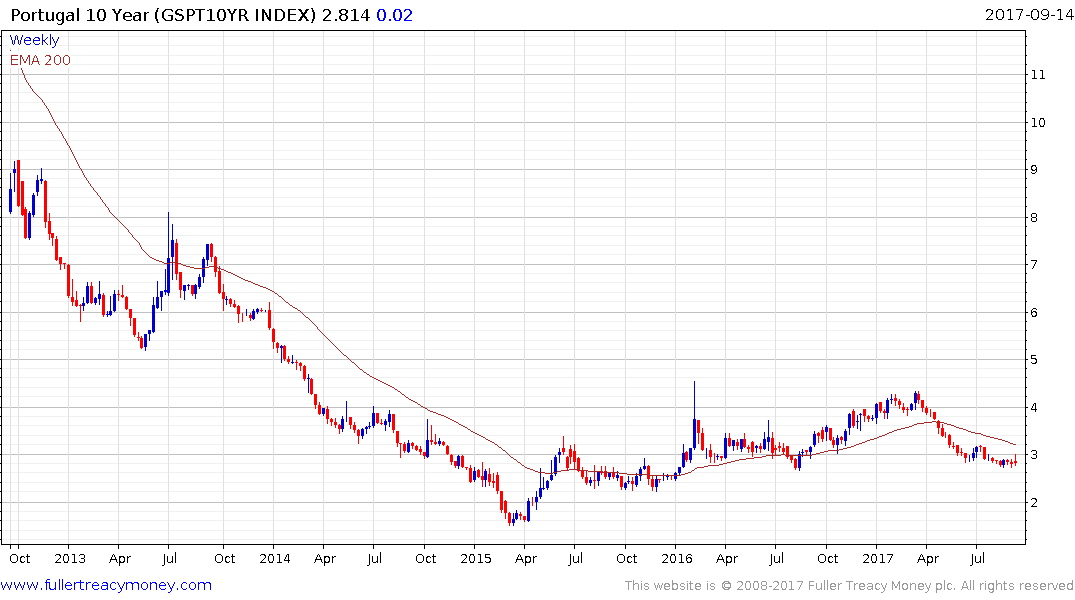 Portuguese 10-year bonds currently yield 2.8% and the spread over Bunds is contracting on the above news. Nevertheless, the low absolute levels of yields within the Eurozone area highlight just how pervasive the ECB's bond buying program is.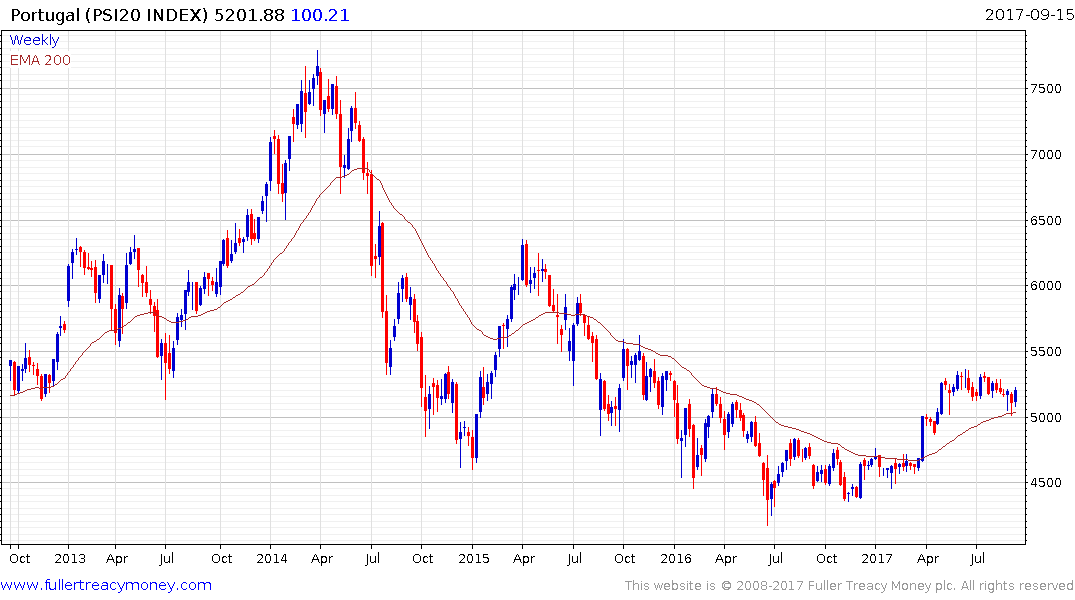 Meanwhile the Portuguese stock market is bouncing from the region of the trend mean and remains on a recovery trajectory.
Back to top