Ports, a Sign of Altered Supply Chains
This article from the Wall Street Journal may be of interest to subscribers. Here is a section:
"The running joke going around is that flat is the new growth," said Jett McCandless, chief executive of transportation-technology startup project44.

Freight volumes are stagnating despite strong consumer spending, which rose for a fourth-straight month in July. The problem for traditional retailers: More of those dollars are being spent online, or on entertainment and services such as health care.

Many retailers are stuck with large amounts of unsold goods as a result, reducing their need to import more merchandise. Even after a year of attempting to slim down inventories, retailers' ratio of inventories to sales, a measure of excess stocks, touched 1.5 in June, close to a seven-year high, according to the Census Bureau. In their most recent earnings reports, Target and Lowe's reported inventories up more than 4% over the same period last year.

J.C. Penney is placing "slightly smaller orders…or holding back quite a bit" to reduce inventories, Mike Robbins, J.C. Penney's executive vice president for supply chain, told investors in June. The company has reduced the size of some orders at the beginning of major shopping seasons by as much as 70%.

The focus on reducing inventories is proving to be a drag on growth because it signals that businesses are spending less, and might be pessimistic about future demand. Inventory drawdowns cut second-quarter growth by 1.26 percentage points, to just 1.1%.

Shipping lines are struggling to plan their routes as order volumes become more difficult to predict, said Niels Erich, spokesman for a group of 15 major shipping lines known as the Transpacific Stabilization Agreement. In the past, carriers could count on the peak summer months to make up for slower winter trade.
There is no doubt that the disintermediation which characterises online retail has a deflationary impact on how economic growth is measured because it inhibits the velocity of money. I do not view it as a coincidence that the Velocity of M2 has been contracting since 1997 when the internet began to have an impact on the retail sector.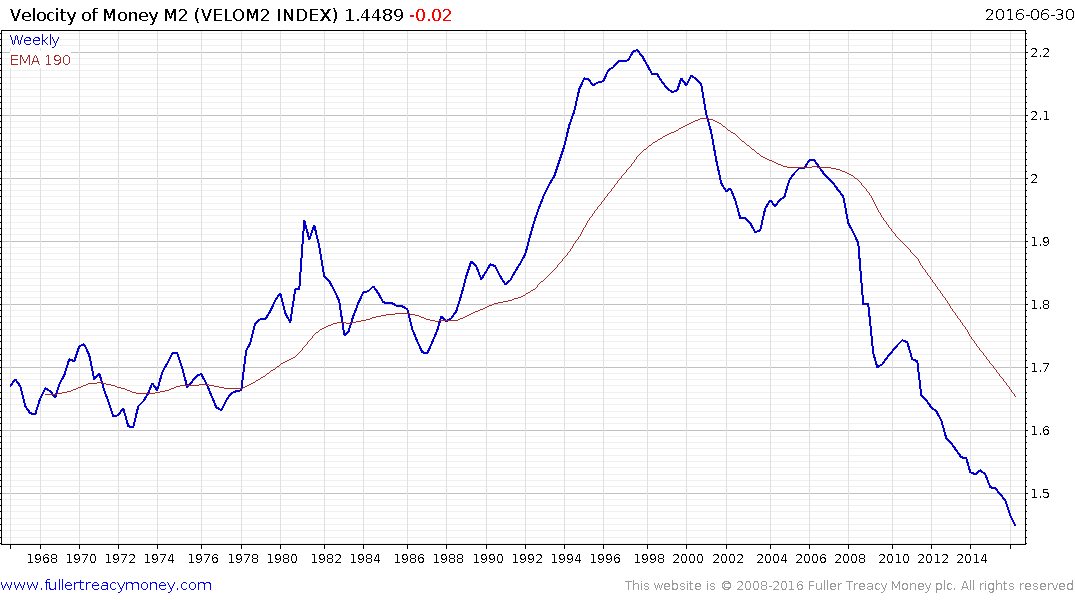 The fact it is at an all-time low, and accelerating lower, represents a challenge not only for how inflation is measured but for central bank policy overall. The classical response is that if the number of transactions is deteriorating the Fed has little choice but to run easy monetary policy to ensure there is enough liquidity in the system to encourage growth. Unconventionally, it also makes the case for running loose fiscal policy more compelling because it is one of the only ways to get consumers to engage in more transactions.

With the Fed angling towards raising rates again, they have to balance the deflationary forces of technology, over which they have no control, with their response which has already had a distorting effect on valuations in the bond and equity markets. They have no choice but to proceed carefully because the risk is they will cause a recession by acting too aggressively.

The increasingly high cost of healthcare is an additional obstacle to increasing consumer spending since if people are spending their available cash on insurance they are not spending it elsewhere.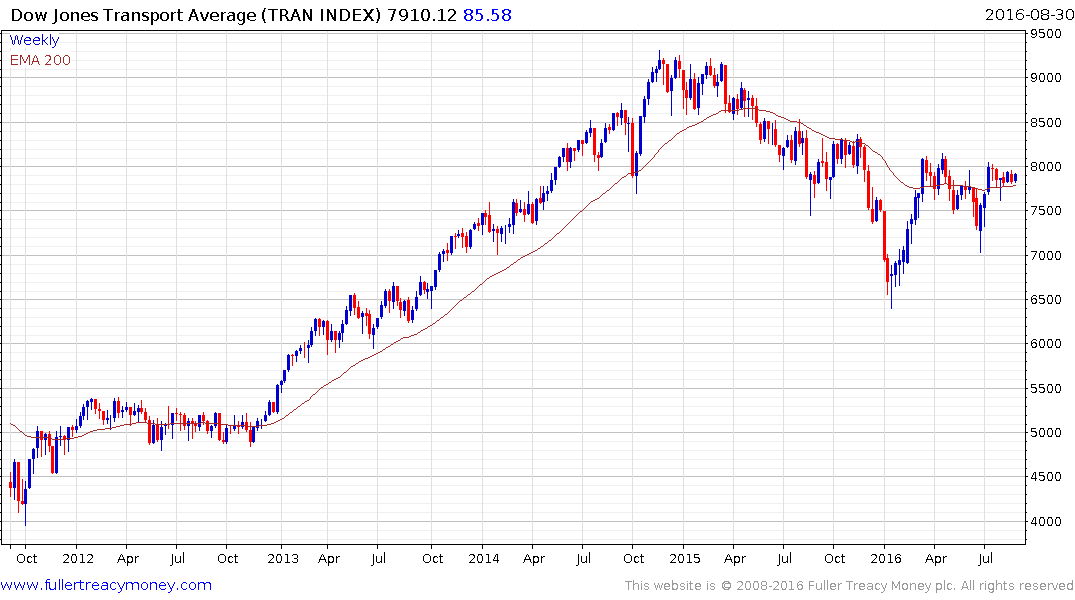 The Dow Jones Transportation Average underperformed by a wide margin from late 2014 and has rebounded to test the region of the 200-day MA from early this year. A sustained move above 800 would bolster the argument that demand is returning to medium-term dominance but it is so far not confirming the Dow Jones Industrials breakout from a Dow Theory perspective..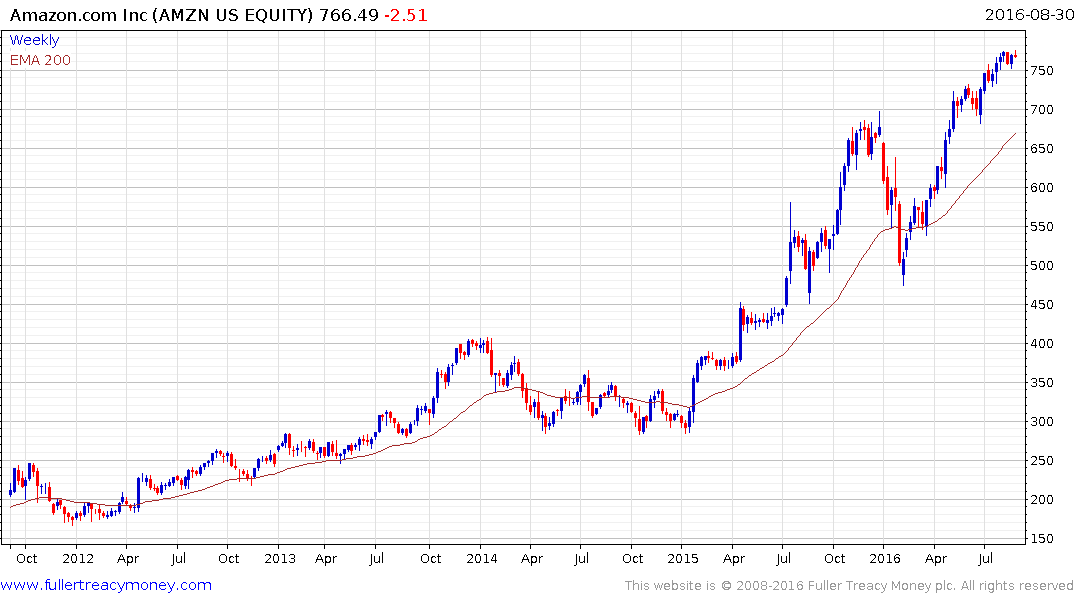 Meanwhile Amazon, the company that has arguably benefitted most from disintermediation, remains in a steep uptrend but is increasingly susceptible to mean reversion.
Back to top